KUALA LUMPUR, April 27 — Umno president Datuk Seri Ahmad Zahid Hamidi has filed a defamation suit against former prime minister Tun Dr Mahathir Mohamad.
Zahid is demanding an apology and compensation over remarks that he allegedly went to meet Dr Mahathir to discuss his court case prior to the latter's reappointment as prime minister in 2018.
The suit was filed on April 20 at the High Court here.
In his statement of claim, Zahid alleged that Dr Mahathir maliciously made untrue, unsubstantiated and defamatory remarks against him.
Zahid was referring to Parti Pejuang Tanah Air chairman Dr Mahathir's remarks on February 23 at a Pejuang event held at the Perdana Leadership Foundation, Putrajaya in conjunction with the Johor state election, with the remarks featured in a video stretching over 56 minutes on news portal Astro Awani's YouTube account.
Zahid referred specifically to remarks made by Dr Mahathir in a portion of the video lasting less than two minutes, including allegations that Zahid had met with Dr Mahathir before the latter became prime minister in 2018.
Zahid said such remarks by Dr Mahathir were also published through articles by other online news outlets.
Claiming that Dr Mahathir's remarks were made with the intention to lower his reputation, Zahid claimed that the allegedly defamatory statements would be understood to mean that he was a dishonest and untrustworthy person who uses "shortcuts" to postpone or resolve his ongoing criminal trial.
Among other things, Zahid claimed Dr Mahathir's remarks also carried the meaning that he had sought the prime minister's help to interfere with, postpone or resolve the ongoing criminal trial, or to interfere with or stop investigations against him.
Zahid also claimed that he never met Dr Mahathir to discuss any court case or investigation by government agencies against himself before Dr Mahathir was appointed Malaysia's seventh prime minister in May 2018.
"The plaintiff at all material times had complied with all court orders and the law during the course of hearing for the plaintiff's criminal case," Zahid said, referring to himself as the plaintiff in this defamation lawsuit while saying that his criminal trial at the High Court in Kuala Lumpur is still ongoing.
Zahid claimed that the innuendo in Dr Mahathir's remarks was that he was unfit to be a leader and had no credibility as someone who had a high position as a former deputy prime minister.
Zahid also claimed that Dr Mahathir's allegedly defamatory remarks were made to bring down his credibility as Umno president and Barisan Nasional (BN) chairman and as an individual with a good public image, further claiming that the remarks indirectly gave a negative image to BN which was contesting in the Johor state election.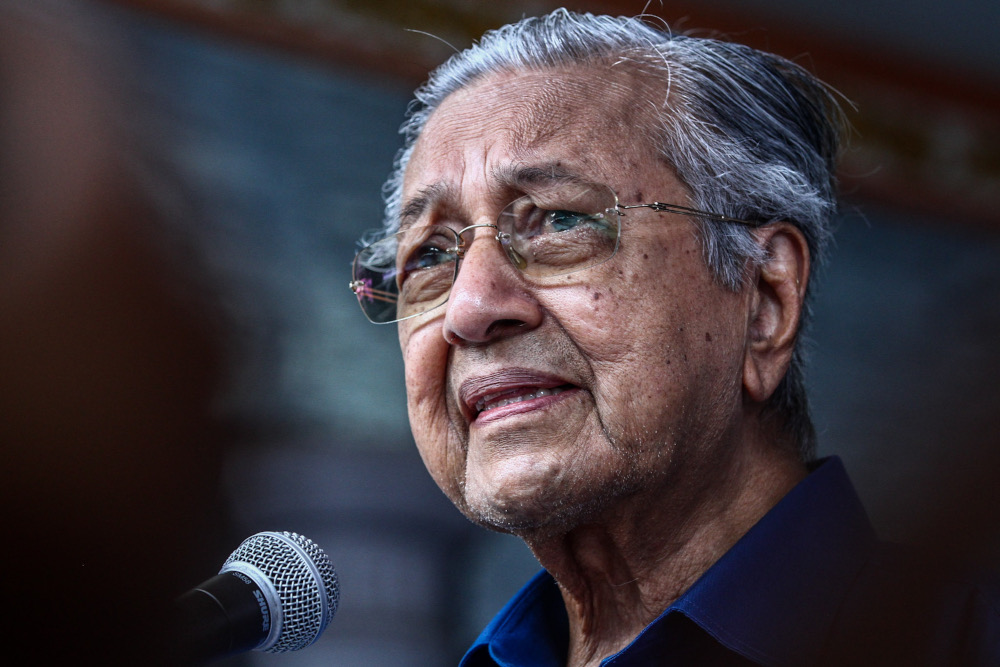 Pejuang chairman Tun Dr Mahathir Mohamad speaks during his visit to Felda Ayer Hitam in Johor March 3, 2022. ― Picture by Hari Anggara

In this lawsuit, Zahid is seeking compensation in the form of general, aggravated and exemplary damages, as well as a court order to direct Dr Mahathir to publish an unconditional written apology in a newspaper to be determined by Zahid and using terms to be decided by Zahid.
Zahid also sought for several permanent injunctions to direct Dr Mahathir to retract the allegedly defamatory and false statements, and to stop him from publishing or republishing these statements or making further similar statements against Zahid.
Zahid also sought for the court to order Dr Mahathir to remove or cause the removal of videos by news outlets that had carried the allegedly defamatory statements, and for Dr Mahathir to write to news outlets to remove news reports on those remarks.
This case was scheduled for case management before High Court deputy registrar Nor Afidah Idris today.
In a statement issued today by Dr Mahathir's lawyer Mior Nor Haidir Suhaimi, the lawyer said the High Court has fixed June 17 as both the case management for the defamation lawsuit and for the hearing of Zahid's application for an interim injunction.
"Our client, Tun Dr Mahathir Mohamad, denies each accusation and claim of defamation as stated by the plaintiff. Our client is not budging that the statement made by him is true and reserves his right to file a counterclaim if necessary in the court in the future," Dr Mahathir's lawyer added.
Prior to the filing of this lawsuit, Zahid's lawyers had sent a letter of demand dated February 25 to Dr Mahathir over the alleged defamatory remarks with several demands including for an apology and compensation, while Dr Mahathir's lawyers had through a letter dated March 2 rejected the claims and demands made by Zahid.
Zahid was deputy prime minister from 2015 to 2018, while the BN coalition that he was part of had lost in the May 2018 elections and which then led to then Pakatan Harapan chairman Dr Mahathir being appointed as the country's seventh prime minister.
BN has since returned to being part of the ruling coalition following two further changes in federal power, with the country now under the ninth prime minister Datuk Seri Ismail Sabri Yaakob's leadership.
Zahid was in October 2018 charged with 12 counts of criminal breach of trust in relation to charitable foundation Yayasan Akalbudi's funds, 27 counts of money laundering, and eight counts of bribery charges.
The trial where Zahid is facing 47 charges had began in November 2019 and is still ongoing, with the trial now having entered the defence stage where Zahid has to defend himself against all the charges.
Zahid had on April 13 started testifying as the first defence witness in the trial, and had also testified on April 15. He is expected to continue testifying on May 23.