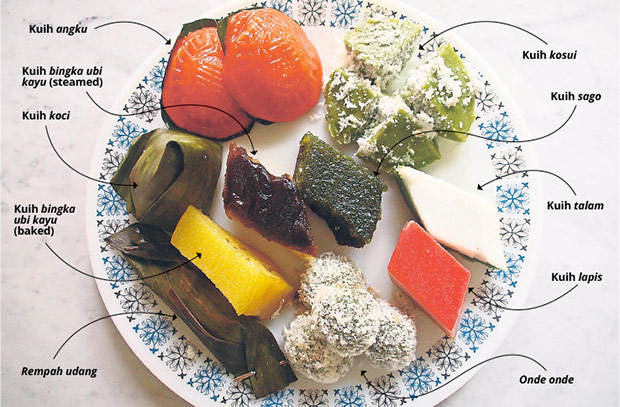 KUALA LUMPUR, Sept 18 — Searching for good Nyonya kuih is often a mammoth task in this city. It's tedious to make them from scratch using traditional recipes and without the right skills, you sometimes get kuih that is hard and inedible.
An essential ingredient for kuih is coconut milk to ensure that your kuih is fragrant. Traditionally, kuih is steamed, grilled, baked or boiled.
Usually, kuih is steamed in circular trays and cut into dainty diamond shapes. Some are even wrapped in banana leaves that impart a lovely fragrance to the kuih when it's steamed or grilled, like kuih koci and rempah udang.
The Nyonyas also prepare different kuihs for different occasions; weddings, ancestor worship ceremonies or even funerals. Depending on the occasion, the kuih is coloured accordingly.
For instance, red is a predominant colour for weddings, while darker colours are reserved for unhappy occasions. Some even use kuih angku to announce the arrival of a newborn when it turns one month old. The shape is important as it determines the sex of the baby: the tortoise is reserved for a boy while the peach symbolises a girl.
Tricycle stall in front of Restoran Nam Chuan
Lucky Gardens, Bangsar, KL
Open: 3pm to 6pm. Closed on Wednesday.
Look for this tricycle stall run by an old couple. They have been in business for 40 years. There's about 10 varieties like kuih talam, rempah udang, kuih kosui and kuih koci. Everything is well prepared by the uncle who picked up the recipes from his Nyonya mother-in-law who came from Taiping. Our favourite is their onde onde or those pandan flavoured nuggets coated with freshly grated coconut. Bite into one and a liquid gula Melaka filling will squirt in your mouth. Do also try uncle's own special recipe for kuih bingka ubi kayu where it's steamed rather than baked and topped with a brown gula Melaka layer.
A'Han Nyonya Kuih
16, Jalan 21/22
Seapark, PJ
Open: 8.30am to 5pm
You will be spoiled for choice here as this shop serves a mind boggling assortment of kuih, all handmade by the owner Mrs. Lim. Our favourite is their soft slightly chewy kuih angku filled to the brim with mung bean paste. Other goodies include their pulut tai tai with kaya and kuih sago.
Stall at Restoran Yong Len
2, Jalan Tun Mohd Fuad 1
Taman Tun Dr Ismail, KL
Open: 7am to 3pm. Closed on Mondays.
Located right in front of the busy corner coffee shop, this stall does brisk business with its selection of around 40 to 50 types of kuih and snacks. What's most impressive is their variety of multi-coloured kuih angku with at least seven types of various fillings. Select from fillings like mung bean paste, peanuts, coconut and red beans. Even the mung bean paste has three variations; traditional, a saltier version and pandan flavoured. There is also delicious homemade otak-otak. You can also dine on these goodies at the eatery or pack them back.
Imbi Nyonya Kuih
Stall at carpark in front of Restoran Win Heng Seng
183, Jalan Imbi, KL
Open only for Wednesday, Thursday and Saturday: 5.30pm to 8.30pm.
Make time to visit this legendary stall run by an old couple. The stall is only open three days a week as they still make everything from scratch. Be patient as they will cut the kuih themselves for takeaway or to eat at the open air food court that starts in the evening. You will find kuih talam, kuih sago, kuih lapis and another version of kuih talam studded with red beans. They also serve yam cake and red bean soup for tong sui.
Debbie's Food for Thought
For orders, please SMS or whatsapp: 012-2200537 or email [email protected]
This made-to-order place is strictly for fussy Nyonya ladies who are searching for the authentic taste. It's run by Debbie Teoh who is also a cookbook author; she only uses the traditional ways to prepare her kuih. The kuih is sold by the pieces (for the wrapped versions) or by the tray. There is also a minimum order required. A crowd favourite is her aromatic kuih seri muka with its luscious pandan custard and blue white glutinous rice layers. You can also get the rarely seen kuih bongkong that is wrapped in banana leaf and filled with gula Melaka syrup. Orders must be placed at least one week in advance and pick-up is required from Subang Jaya.