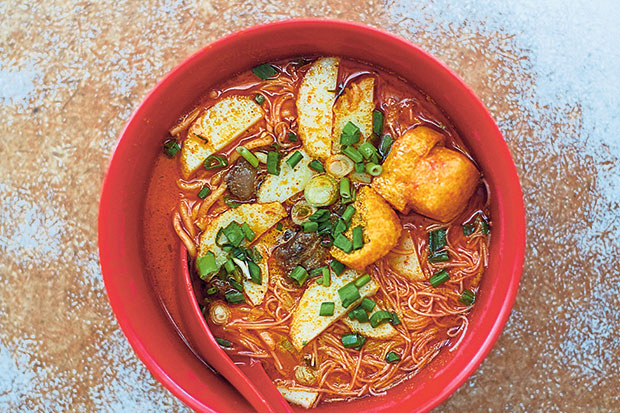 MALACCA, May 17 — Eating out in Malacca means enjoying freshly prepared local cuisine in no-frills spots, be it kopitiams in secluded industrial sites or in a food court next to a wholesale market. Tourists who are after hipster cafés with repurposed thrown-away household items or fine linen tablecloths over their foldable plastic tables as they dine by the roadside will be sorely disappointed.
To get a taste of what locals enjoy, I have enlisted the ultimate Malaccan food guide: Debbie Teoh, the popular Peranakan cookbook author. Having a Malaccan Baba as her father meant Debbie grew up eating the best the historical town has to offer, far from the tourist hordes hounding Jonker Street these days.
Breakfast: Kopitiam-style laksa and yee kiao noodles
We wake up bright and early. Debbie whisks us off to a quiet part of Taman Peringgit Jaya, more of an industrial area than a neighbourhood, really. Our destination, Kedai Kopi Juat Lye, offers three types of noodle dishes – prawn mee, laksa, and the Malaccan-only yee kiao mee.
We are lucky to grab a table as most are already occupied by families — all locals, Debbie informs me — happily tucking into their noodles or waiting good-naturedly for their orders to arrive.
"Notice how peaceful it is? No one is shouting or talking at the top of their voices. Everyone is patient here. There is no rush," says Debbie.
I can understand why: the good stuff is worth waiting for. Juat Lye's yee kiao mee is perfectly executed, as the Malaccan boy in me can attest. Bouncy fish balls, sliced fish cake, slivers of foo chuk (bean curd skin rolls), and diced spring onions are added to yellow noodles and mixed with just enough soy sauce — never so much that it becomes a wet mess.
The true gem is Juat Lye's homemade laksa though. Imagine a rich gravy that is almost "creamy" from hours of boiling. Simple ingredients such as fresh cockles, sliced fish cake, tau pok (bean curd pockets), and bean sprouts allow the broth to shine.
Tan Joon Hai, the 57-year-old owner, is a former national cyclist and the third generation to run the kopitiam. He shares, "The laksa is based on my mother's recipe. Over the years, my regulars told me they wanted less noodles and more ingredients so I complied with their wishes."
Don't be put off by the layer of oil on top of the laksa broth. Consider how the layer of oil on ramen broth in Japan helps seal in the heat and contains additional umami-rich flavours: it's the same here, ensuring the laksa is good till the last drop.
Also, don't miss out on the scoop of homemade sambal that accompanies the laksa; it's an essential accompaniment. Debbie says, "It's hard work, toiling over the fire for four and a half hours just to produce a kilo of sambal! It's something I do for my own Peranakan dishes so I understand the effort. It makes a huge difference. Notice how Tan's sambal is more savoury than sweet — delicious!"
The drinks are typical kopitiam fare: the older patrons order the kopi O kaw, a heavy brew of black local coffee, while the younger ones prefer the cham, a luxurious blend of coffee, tea and thick condensed milk. Ask for his special concoction of Nescafe Shake, which is not on the menu, for a thirst quencher of warmer mornings (which is most mornings — Malacca is one of our hottest states, climate-wise).
Nothing goes with the coffee better than Hainanese toast; here they use real butter to go with kaya that is redolent of pandan and fresh eggs. It's something sweet to end our meal after the noodles. A piece of advice: wait till the worst of the service rush is over before ordering the toast and Tan himself will be the one grilling the bread.
"The trick to a great toast is to keep turning the slices of bread so they don't burn on one side," he reveals. As with everything good in life, it takes time and plenty of loving care. The proof is in every bite — this is the best Hainanese toast I've had, bar none.
Lunch: Mee kahwin, where "matrimony" meets muhibbah
When most tourists to Malacca venture outside the Bandar Hilir town centre, it's usually to head to the nearby Portuguese Settlement in Ujong Pasir. Little do they know they might have missed another local delicacy right beneath their noses!
Debbie takes us to Restoran Ming Huat along Jalan Ujong Pasir, which despite its name, looks more like a Malay warung with its steady stream of Malay clientele. She explains, "It looks like a Malay coffee shop from the outside given the number of Malay customers but it's actually Chinese-owned and serves halal food. In Malacca, the muhibbah ('goodwill') spirit is well and alive; different races gather in harmony and enjoy their food together."
In this particular instance, everyone is queuing up at the mee rebus and rojak stall run by Abdul Rahim Jenu and his son Mohd Nishar. Their umami-rich mee rebus is legendary while the recipe for the rojak's special peanut sauce is still a closely guarded family secret. The aroma wafting from the large cauldron of the gravy is enough to entice one to beg for the secret recipe.
"But if you think either dish is delicious on its own," says Debbie, "then blending both together is truly 'a match made in heaven.'"
Debbie is talking about Abdul Rahim's mee kahwin, an inspired pairing of his mee rebus and rojak (hence its name, which means "married noodles" in Malay). It can also be considered a "marriage" of five distinct flavours — sweet, sour, savoury, spicy, and nutty — melding perfectly into a most singular taste.
The swiftly blanched yellow noodles are topped with taukua (fried beancurd), hard-boiled egg, potato cubes, fresh bean sprouts, crunchy cucur udang (prawn fritters), and cut green chillies, before generous ladles of his magic gravy are added.
Absolutely lip-smacking — you might find yourself ordering a second plate before you've even finished your first!
Dinner: Asam pedas at the pasar borong
Malaccans eat dinner earlier than their compatriots in other states. It's barely dark and Debbie has us dropping by the pasar borong (wholesale market) in Batu Berendam. Next to the market is a food court — basically a long row of individual stalls. What's remarkable is that nearly every stall is selling asam pedas, a spicy and sour fish stew.
"My favourite stall for asam pedas is Ah Boy Asam Fish, which is on the non-halal end of the food court. Besides asam pedas, the stall also offers sweet-and-sour pork and stir-fried green vegetables, but that's about it," says Debbie.
The stalls here open from 6pm till the wee hours of morning. According to Debbie, they mainly serve the pasar borong workers and locals in the know. Our asam pedas arrives — fresh ikan bawal (pomfret) cooked with okra, long beans and pineapple chunks in a mouthwatering spicy-sour gravy — and it's hard to imagine eating this without an extra bowl of steamed white rice to soak up all that savoury goodness.
The inclusion of pineapple chunks wins over Debbie as it's reminiscent of her gerang asam (a Malaccan Peranakan spicy-sour fish curry). Do try calling and ordering in advance though as even the green vegetables will run out (as it did this evening), much less the popular asam pedas.
"It's hard to believe it, but you can actually find some of the best sweet-and-sour pork here next to the pasar borong!" says Debbie. "Unlike other places that serve it, the sweet-and-sour pork here is uniformly tender without any of the hard gristle or tendons."
Looking at how the stall owner pummels every piece of pork with a well-used meat mallet, it's no surprise Debbie loves the dish here. Coupled with a tomato-infused gravy that's not overly acidic or sweet, every bite is a delight. It will be hard to chew on tougher versions elsewhere from now on.
To wash it all down, try the soy milk from the neighbouring stall. A large poster entices with dozens of unusual tau foo fa (soy curd) toppings and syrups such as sesame cream, corn, lemon, jelly, red bean, coconut milk, white longan, lychee, and even wheatgrass!
Keep it simple though and stick with a glass or two of hot soy milk that is spiced with a heady ginger syrup. Unlike the syrup you get with soy milk elsewhere, the ginger syrup here is made from the real thing and packs a punch.
A perfect end to a day of eating in Malacca... with the divine Debbie Teoh.
Kedai Kopi Juat Lye
371G, Taman Peringgit Jaya, Malacca
Tel: 06-283 3619
Open daily 7:30am-2:30pm except Mon closed

Abdul Rahim Jenu's Mee Kahwin
Restoran Ming Huat
55-C, Jalan Ujong Pasir, Malacca
(Opposite the entrance to the Portuguese Settlement)
Open daily 10am-2pm except Fri closed

Ah Boy Asam Fish
Next to Pasar Borong Taman Merdeka
Off Jalan Mohd Zin Dsh, Batu Berendam, Malacca
Tel: 016-916 7383
Open daily 6pm till late