KUALA LUMPUR, Dec 16 — Jam'iyah KL and Selangor is an NGO at Jalan Rahmat, KL, just opposite of the Gombak river.
The NGO usually helps the local underprivileged community such as the urban poor and homeless by providing them with daily essential items, food aids, as well as organising educational classes and workshops for them.
They have been hit with flash floods not once, but three times since December last year and another of couple more times in April and May this year, with April being the worst one.
Advertisement
Karimah Koh Siow Ken, who's the head volunteer there, along with a group of volunteers, were arranging and packing a truckload of daily essential donations, which had arrived earlier during the April 24 incident.
She and another volunteer were trapped inside the centre due to the sudden overflow from the Gombak river, which flooded the whole ground level of the building within moments.
Both of them were rescued on a boat brought in by the National Disaster Management Agency (Nadma).
Advertisement
Jami'yah lost about RM6,000 worth of donations along with appliances and items used in most of their classes and workshops while Karimah, who had stayed back to salvage what's left of the donations, had lost her own car.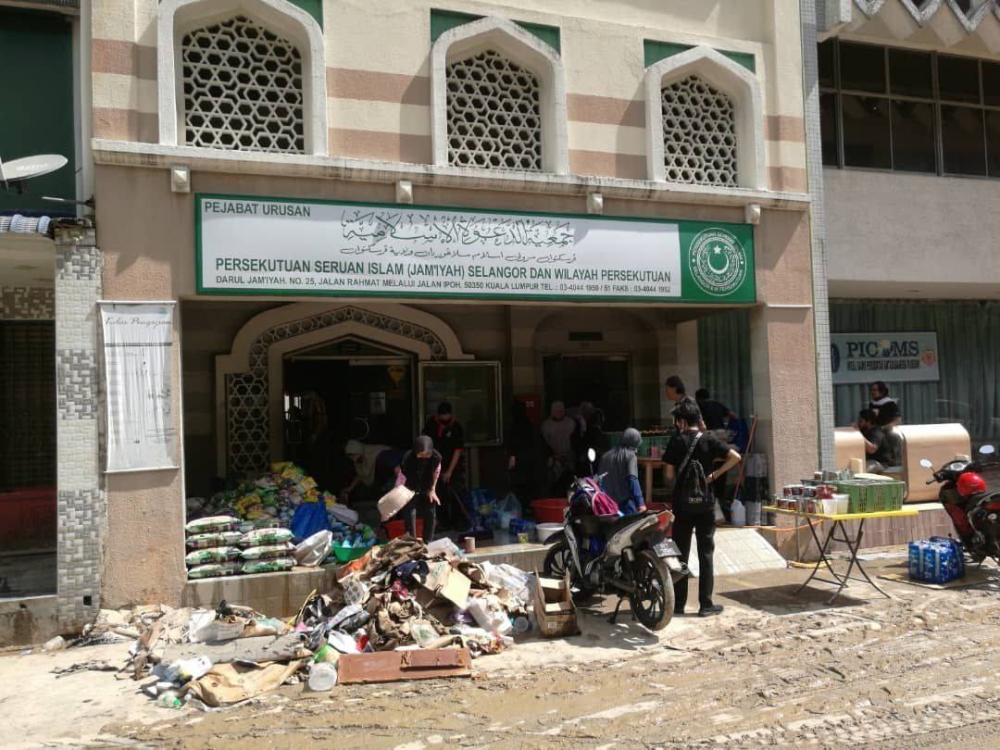 Karimah admits that the incident has left her feeling anxious whenever it rains as she fears another flash flood could hit the centre again.
"It's a concern because cleaning up is messy and very time consuming.
"We have lost other essential items such as food items from our food bank, electrical appliances, freezer, chiller, rice cooker, oven, blenders, valuable books, al Qurans, documentations, receipts, computers and other stuff besides cars.
"It didn't deter us from giving food aids. In fact, our food aid continued right after we were done with the cleaning," Karimah said.
Malaysia experienced one of its worst flash floods last December, which displaced over 30,000 people across eight states due to continuous downpours.
Several areas in Klang Valley, including Shah Alam, Klang, Hulu Langat and even the Kuala Lumpur city centre were badly hit by the flash floods, while some had to face it a couple more times in April and May this year.
As Malaysians are living with the increased cost of living due to rising prices of goods, floods could mean total devastation in livelihood for some.
While some parts of Klang Valley had already seen flash flood occurring again with the monsoon season's arrival, past flood victims are left feeling restless as they hope to avoid another incident.
Hazwan Haniff Mohd Hanifah, an IT personnel at Jami'yah, said that he could recall the April 24 flash flood vividly as it was his first time experiencing it after working there close to three years now.
During the April incident, he recalled being in amongst a mob of people evacuating from a flooding car park, hearing the ear-piercing flood warning siren for the first time and getting away just in time before the whole street submerged in waters.
He ran into Karimah and her group of volunteers while picking up his belongings at the office and had told her to evacuate quickly as the river was overflowing before making his way out.
Since then, Hazwan added that he also would feel uneasy whenever it rains nowadays as he fears he would have to go through the whole flash flood incident again.
However, he also pointed out that since the more recent flash flood in May, he had seen some sandbags being placed around the area as precautionary measures taken by the city council.
"Alhamdulillah, the water hasn't risen as critically as last time since they put up the sandbags.
"Even though it's raining, the water level is not as bad as in April and May so far," he said.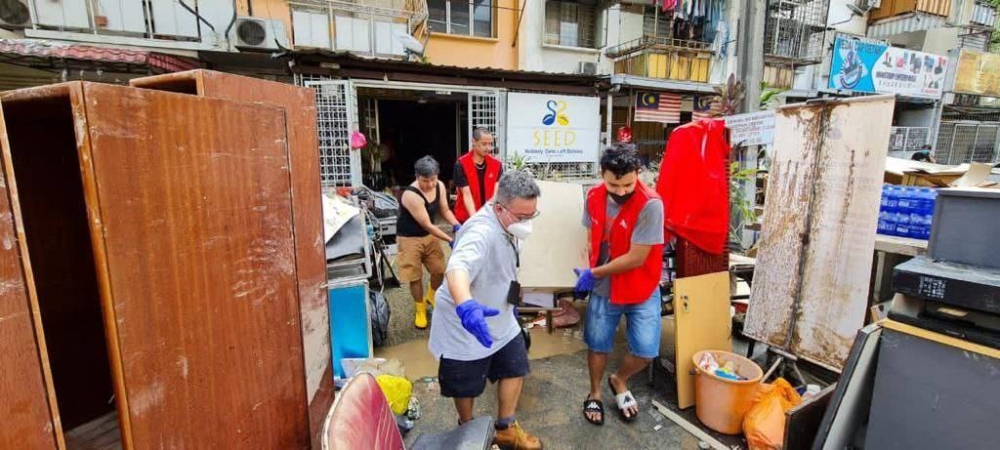 Starting anew
Seed Foundation Malaysia, had to abandon their office in Jalan Tiong Nam in the city centre after it was submerged by last December's flash flood.
Seed's executive director, Mitch Yusof was heartbroken to see all their years of documentation and hard work gone in just one night.
He was more devastated to see the damage the flood had done to the poverty stricken neighbourhood.
Jalan Tiong Nam is a congested area in the city centre nearby Jalan Raja Laut with a row of single storey houses and buildings more than 70 years old.
"I have never seen my Kuala Lumpur like that. The road was muddy, filled with debris left by the flood. It's like we'd been at war.
"I saw people who had lived here all their lives, and I saw all their destroyed belongings in front of them.
"TVs, mattresses, cupboards, clothes, all those were from their hard-earned money and all of it gone in just one night," Mitch said.
The Seed Foundation's office in Jalan Tiong Nam has been there since 2015 and they've been helping the homeless and urban poor transgender community around the area by providing lunch and other necessities including medical help, daily provisions and a shoulder to cry on.
Since the Covid-19 pandemic, they had chosen to offer their help to other communities as many were struggling or left jobless due to the Movement Control Order (MCO) in 2020, which has resulted in temporary restrictions on most business operations and other services nationwide.
Following the flash flood, Mitch said that they had to make the tough decision of starting anew by finding a more secure location as they no longer feel safe in the old office and they don't want to risk losing all of their work again.
They did crowd funding and collected donations from the public to rent a new office on the first floor of a triple storey shop lot in Jalan Raja Laut.
"We moved here in the middle of March this year, and it's still an ongoing process, but we're here now.
"And it is sad to leave our old place, because that place is really our ground zero. Our office is on the ground floor and most people living upstairs are those who rely on us for assistance.
"But at this new place, we still have people who came from Jalan Tiong Nam for the food. Some, we had informed them earlier that we're moving. There are also some new faces as well," Mitch said.
Still facing trauma
Ilma Fuad is a media personnel who had just gotten her house in Taman Sri Nanding, Hulu Langat renovated in October last year.
She has been living in Hulu Langat with her father for over 20 years and has had experience with flooding but nothing as bad as the one last year.
Her newly renovated home was submerged during December's flood and although she managed to save some valuable things such as their cars, her laptop and other electronic devices, she has suffered approximately RM35,000 in losses.
Ilma admitted that she was left traumatised by all the flooding to the point where she would most likely cancel all her plans if it's raining outside in fear of another flash flood.
The 34-year-old had switched some of her home appliances such as her closet and cupboard to ones made of plastic or steel as it could last longer in case of another flood compared to those made from wood.
Aside from that, she admitted that her fear of flooding has made her more cautious and wanting to be better prepared in the future.
As she's looking to perform her Umrah obligations this December, Ilma has slowly been stocking some of her housing appliances such as kitchen utensils, blender, rice cooker, as well as her TV at her brother's home in Seri Kembangan.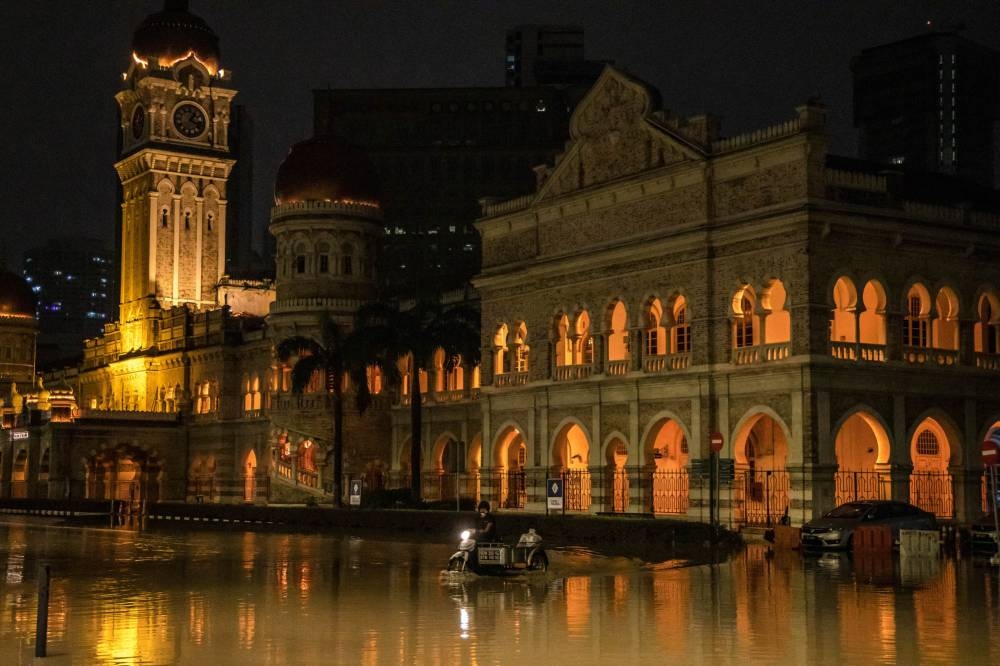 For 28-year-old Aideed Elhaeqal, the December 18 flood has left him staying at home with just the occasional run to nearby stores for groceries and food for the next few days.
This is after Aideed and his wife, along with their friend, spent over 12 hours stuck in traffic from Batu Tiga, Shah Alam heading towards Bukit Jelutong.
The trio started their journey at around 3pm however, was caught in a massive traffic jam as some main roads and exits were flooded which left them reaching home at around five in the morning.
Aideed shared that he had to comfort his wife who's having a mental breakdown during their journey and he, at some point, had almost lost it himself.
"All I could think of was to bring them home safely.
"I had to keep reminding myself to keep a clear mind as it would only get worse if I lost it too at that time," he said, adding that he managed to calm himself enough to get through that night.