PETALING JAYA, Jan 14 — When you eat the ais kacang, cendol, homemade buns and Nyonya kuih at Kwong Wah, you will feel like you have travelled back in time. The icy treats and snacks are that authentic.
Opened in mid-December last year, this tiny place housed in the Happy Mansion flats in Section 17 here is run by third generation owners Teng Wong and Mun Wong.
"We wanted to do something small and continue our grandfather's legacy," explained Teng Wong. Assisting them in this family venture is their mother, Aunty Eng, 59.
The Kwong Wah brand can be traced back to 1939 when their grandfather Chong Yok Wah started a soap business using local ingredients.
After the war, business faltered since imported soaps were in vogue. The enterprising man decided to switch to selling fresh fruits.
In 1958, he branched out to sell rojak, drinks and ais kacang at the Medan Selera PJ Old Town, earning him the nickname "Rojak Ah Pek."
Business thrived and he opened a branch at the Medan Selera in Section 14, PJ that was run by Aunty Eng's brother. About two years ago, Aunty Eng decided to retire from the business.
When this particular space was up for rent, the siblings decided to revive the brand. "You cannot eat this anymore as you cannot find traditional and authentic local delicacies," said Teng Wong.
Almost all their offerings are made in-house, cooked to their exacting standards, with the help of family members.
Experience also counts towards the making of their signature ais kacang as Aunty Eng has been working at her father's stall since she was 15!
Another pre-requisite is a sharp blade which has been custom made to their requirements. Aunty Eng's husband will sharpen the blade himself every three to four days.
They also don't buy commercial ice but prefer to use ice blocks made in-house from filtered water.
Previously the syrup was made from brown sugar sourced from India and Thailand. At this new place, they have upped the syrup's taste by using pure gula Melaka.
It's personally sourced by the family who make regular trips down to Melaka to bring them back.
You will also find that their ais kacang is more fragrant as they only use freshly squeezed coconut milk. Teng explains that this requires constant refrigeration to ensure it does not go bad.
The fillings like the corn niblets and jelly are also made in-house. We especially like how their cooked red beans are not overly sweet with a soft but not mushy texture. It's only the cendol and grass jelly that are bought since making them is incredibly tedious.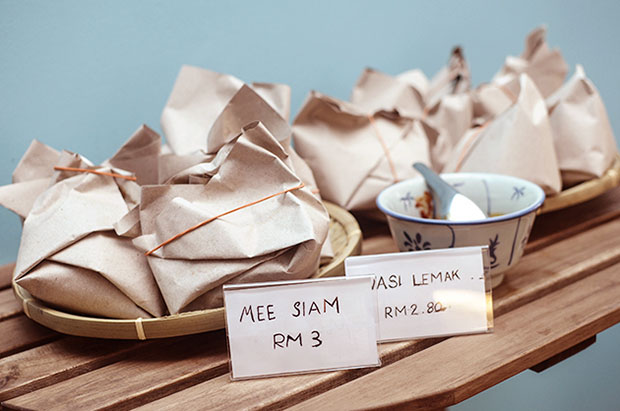 You can also get homemade buns, cookies and cakes here which are made under Mun Wong's supervision. She has always been fascinated with baking and enrolled in a course at the Malaysian Institute of Baking to learn her craft.
She also runs a bakery in Overseas Union Garden with her husband.
Go for the freshly-baked coconut buns — stuffed generously with gula Melaka scented fresh coconut — which are such an old-school treat from the past. Equally delicious are their ikan bilis and BBQ chicken buns. Occasionally, they offer a tuna bun too.
For the cakes, they offer a plain butter cake and gula Melaka chiffon cake.
There is also a small selection of Nyonya kuih, made by one of their aunts. Sample items such as kuih angku, kuih bingka, pulut panggang, seri muka, kuih talam on a daily basis.
They also offer light snacks like mee siam and nasi lemak, packed to-go in brown paper. Later, there are plans to also add rojak as another of their offerings.
Kwong Wah
No. 5, Block C, Happy Mansion, Jalan 17/13, Section 17, Petaling Jaya
Open daily: 11am to 6.30pm
Facebook: https://www.facebook.com/kwongwah17/