PETALING JAYA, Sept 3 — Hands up those who remember Mr Ho's Fine Foods in Bangsar Shopping Centre (BSC)! Many of us grew up eating his roast pork, salted beef and sausages.
After a 10-year absence from the F&B scene here, Ho Kim Loon (or Mr Ho as he is popularly known) is back with The Butcher's Table.
This time, the eatery located in the heart of PJ's SS2, sees his daughter Tiffany also helping out. As usual, you can find Mr Ho's wife Melinda Siah by his side.

The smoked pork knuckle goes through a long process of curing, slow cooking and smoking before it is served.

Mr Ho's culinary career started at the rather late age of 30. Previously a Daihatsu car salesman, he had relocated from his Rawang home base to Klang.
Advertisement
Looking for a change of environment, he came across an advertisement for a job as a butcher at Euro-Deli's factory in Klang. Since he always had an interest in cooking, he decided to try it out.

All the meats are made in-house like their pancetta, the Italian version of bacon (left). One of Mr Ho's signature items is this meltingly, tender Signature Salted Beef that is served with gherkin and mustard (right).

"It was something new for me as I had never dealt with meat before except cooking it during camping trips," he explained. At Euro-Deli, he learnt butchery and charcuterie skills from a Swiss chef. As the company often conducted outside catering for customers, he even picked up BBQ skills.
He recalls how there would be four butchers, including himself, tackling a whopping 500 kilograms of meat every day; carving the meat into belly and topside cuts. They would cut and clean the meat to be free from bones, skin and hair to make the sausages, preferably meat from the female pig or sow, as it made sausages that had a firmer texture.
Advertisement

The pancetta is from pork belly meat and cured.

The meat would also be flavoured with various spices. "You can create 1,000 flavours of sausages," said Mr Ho.
In 1997, he opened Mr Ho's Fine Foods at BSC serving his own range of meats and sausages. The business even expanded to Mid Valley Megamall.

Pair the caramelised Grilled Pancetta with the comforting Mash Potatoes for a satisfying meal.

However in 2009, he was forced to close all his outlets due to financial reasons. Later he moved to Sarawak to start a similar business. After five years in Kuching, he relocated to Kota Kinabalu where he spent another five years. Tired of the slower pace of life in East Malaysia, he came back this year to set up this place.
Customers at The Butcher's Table will get to sample Mr Ho's range of homemade sausages. He uses a mix of 80 per cent topside lean meat with 20 per cent fat to create these sausages.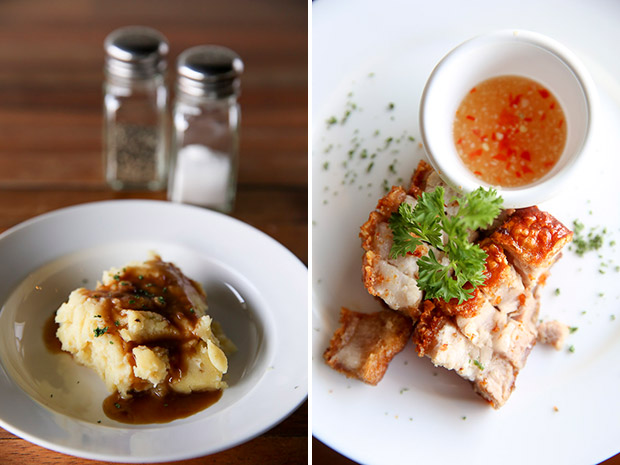 Mash Potatoes is incredibly comforting with tender chunks of potatoes (left). Crispy Roast Pork that ticks all the right boxes with its crispy skin and tender meat is served with a homemade garlic chilli sauce (right).

There are five types with various flavours made with pig casings to whet your appetite. Each sausage is about 100 grams while the ring sausages are around 300 grams, making it equivalent to three sausages.
Start with the White Sausage, a mild-tasting sausage with a fine texture. The Garlic Sausage is a good choice for those who love the garlicky taste. There is also the Farmer's Bratwurst flavoured with parsley.
Popular with the customers, the Cheese Ring is filled with chunks of Cheddar cheese that ooze out when you slice through it. The cheese adds an appealing and juicier taste to each bite of the sausage.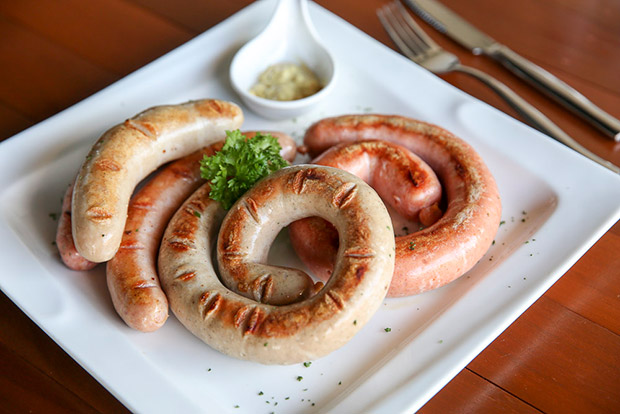 Enjoy a platter of homemade sausages like the Farmer's Bratwurst, White Sausage, Classic Ring and Cheese Ring.

Tiffany tells us that the sausage is sought after by the young ones. They have one customer who'll bring their 10-year-old twice a week to enjoy that sausage.
Most patrons like to pair the sausages with the Garlic Rice even though typical Western sides such as mash potatoes, French fries and coleslaw are available.
You can also look forward to more flavours as they will be introducing smaller-sized sausages made with sheep casings. There will be the Cumberland, English Oxford, Italian with oregano, Vienna and Hot & Spicy.
For those who love the burning heat, they will be happy to know the Hot & Spicy Sausage will feature bird's eye chillies or cili padi and chilli powder for that extra kick. Plans are also underway to retail these sausages at the local supermarkets' deli counters in the near future.

A crowd favourite is the simple but delicious Bacon Fried Rice (left). Smoked Pork Knuckle is tender with a slight, smoky taste and is served with sauerkraut and mustard (right).

A staple from Mr Ho's BSC days is the Signature Salted Beef (RM34 on its own, RM39 with sides). His first exposure to this item was when he visited London's Selfridges department store where many would queue for a sandwich made with salted beef and tongue, gherkin and mustard.
When he returned home, he experimented with beef brisket, brining the meat to produce his own meltingly tender version. At The Butcher's Table, he serves thick slices of the salted beef (RM39) with gherkin and mustard — a satisfying meal all on its own.
Don't forget to order a plate of Crispy Roast Pork (RM12 on its own, RM17 with sides). In his old BSC days, Mr Ho tells us, he slowly introduced this to walk-in customers by giving away samples of the roast pork made in a small oven at the shop.

In the near future, you will be able to shop for these sausages in your local supermarket.

Since he is not a fan of the Chinese five-spice powder, he prefers to use Western herbs to marinate the pork belly cut. Here the roast pork satisfies on all counts: golden, crunchy, puffy crackling with succulent meat and fats. It pairs well with the homemade garlic chilli sauce served on the side.
More on the garlicky side, the sauce made with chopped garlic and chillies with a mixture of lime juice and fish sauce undercuts the fattiness of the meat.
Here they also serve a Smoked Pork Knuckle (RM65 on its own, RM69 with sides), a more unusual version compared to the ones available at German places as it's slowly cured for 10 days, slow cooked for two hours and hot smoked using natural wood chips for 30 minutes.
Mr Ho may not make his own sauerkraut but he does add his own twist to it, by adding herbs like bay leaves to give it extra flavour. Customers will always pack home the bone since it's perfect for making porridge or even soup.

Find the eatery at this row of shophouses near the SS2 fire station.

Currently not on the menu but available upon request is the superb Grilled Shoulder Loin that is juicy and tender. We recommend you pair it with their Mash Potatoes (RM5).
Here, that comfort food is made from real potatoes versus potato powder, as you can discover tender chunks of potatoes within the mash. If you prefer, they also offer a smoked cold shoulder loin for RM13 on its own, or RM18 with sides.
On the same comfort level is the Grilled Pancetta (RM12 on its own, RM17 with sides) with its caramelised edges.
If you're looking for a one-dish meal, try their popular Bacon Fried Rice (RM15). The aromatic dish is simple stuff well executed that has a salty fragrant taste from the use of bacon, egg, black pepper and finely chopped spring onions. A fried egg also tops the dish.
Other choices on the menu include pasta dishes like Bacon Carbonara or Aglio Olio Pasta with Roast Pork.
The Butcher's Table
26, Jalan SS2/103
Petaling Jaya
Tel: 03-7728 2843
Open: 11.30am to 11pm
Closed on Mondays
https://www.facebook.com/MYButchersTable/