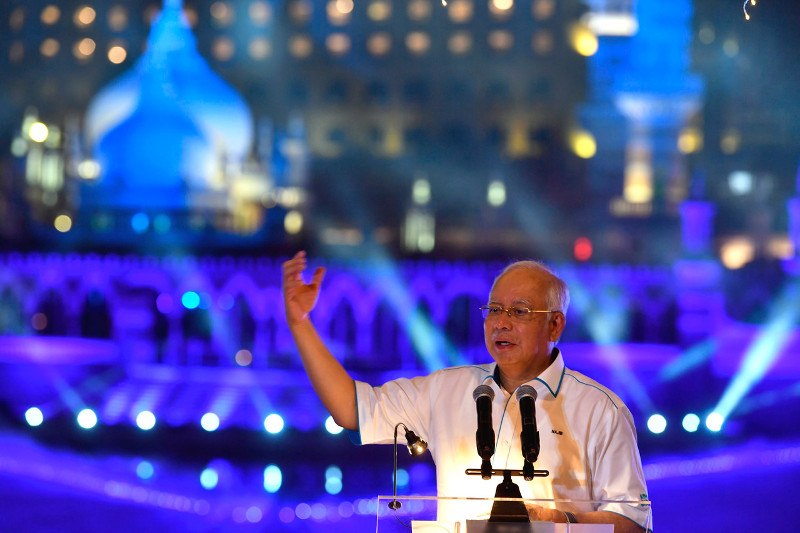 Subscribe to our Telegram channel for the latest updates on news you need to know.
---
KUALA LUMPUR, Aug 28 — Datuk Seri Najib Razak tonight launched the first phase of the River of Life (ROL) and Blue Pond project at Jamek Mosque here which will change the quality of water in a major river in the Klang Valley from an unsafe level to safe for recreational use.
The Prime Minister was accompanied by his wife Datin Seri Rosmah Mansor as well as several members of the Cabinet including Federal Territories Minister Tengku Adnan Tengku Mansor, Minister of Natural Resources and Environment Datuk Seri Dr Wan Junaidi Tuanku Jaafar, Minister of Communications and Multimedia Datuk Seri Dr Salleh Said Keruak, Minister in the Prime Minister's Department Datuk Seri Jamil Khir Baharom, Minister in the Prime Minister's Department Datuk Seri Shahidan Kassim, Minister of Tourism and Culture Datuk Seri Mohamed Nazri Abdul Aziz, and Chief Secretary to the Government Tan Sri Ali Hamsa,
The ROL, which was launched in 2011, is a pioneer project under the Greater Kuala Lumpur/Klang Valley initiative and will make Kuala Lumpur a world-class city.
It is aimed at reviving the Klang River and Gombak River within the city and transforming the banks into waterfront areas with economic and commercial value through river cleaning, beautification and land development.
The first phase of the river beautification for Precinct 7 of the ROL project involves historic sites like Dataran Merdeka, the Jamek Mosque and Central Market which are at the confluence of the two rivers.
A new attraction is the pedestrian bridge which would be built to link Jamek Mosque with the Sultan Abdul Samad Building and Dataran Merdeka, cutting travelling time by 50 per cent.
The ROL project have so far completed 110 km of cleaning works in eight rivers, namely Gombak River, Batu River, Jinjang River, Keroh River, Bunus River, Ampang River, Klang River and Keroyong River.
ROL uses a river-cleaning method known as the 'Interceptor system P7' which will help improve water quality by holding-up and treating dirty drain water.
The Interceptor pipes will divert waste water and refuse from homes, commercial premises and buildings to treatment plants to be treated before it is channelled back as IIB Class water (safe for recreational use with body contact) back to the rivers.
The plants are capable of creating a natural conducive environment for aerobic micro-organisms to breed which could reduce bio-chemical oxygen demand of ammoniacal nitrogen and suspended solids.
The Blue Pond, a new icon in Kuala Lumpur, is the brainchild of the Prime Minister who wants to optimise the potential of the ROL area as catalysts of national economy and draw more tourists to the area.
The blue pond will provide a view of the river with colourful lights and water fountains accompanied by music. — Bernama