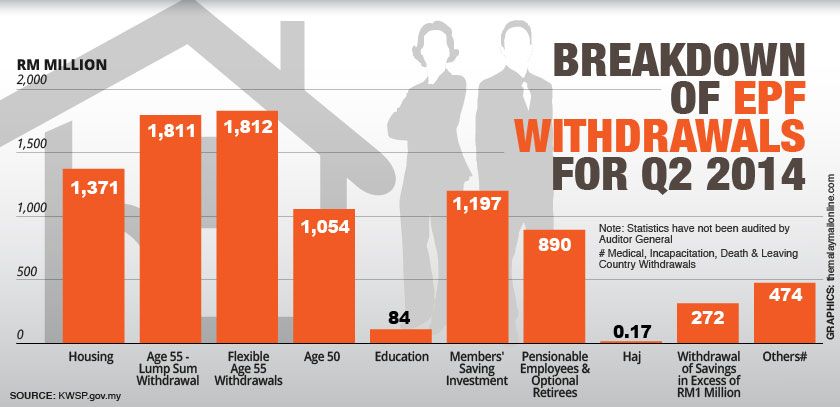 Subscribe to our Telegram channel for the latest updates on news you need to know.
---
KUALA LUMPUR, Oct 5 ― Malaysia may be headed for a retirement crisis as tens of thousands of Malaysians depart the workforce for their golden years with less savings than is needed to keep them out of poverty.
According to recent figures from the Employees Provident Fund (EPF), the approximately 70,000 active 54-year-old contributors have an average savings of just under RM167,000 last year. The recommended minimum savings level is RM196,800.
The situation is made more alarming by the revelation that 69 per cent of all EPF contributors of the same age have less than RM50,000 in their accounts, as made known by the fund's chief executive, Datuk Shahril Ridza Ridzuan, last month.
But even RM167,000 is scant consolation. As the average Malaysian expected to live until 75, retiring at 60 with that amount would mean surviving on just RM700 a month for the rest of their days.
With that amount, retirees would technically slip below the RM830 per month threshold that is indicative of poverty conditions in peninsular Malaysia, based on the Statistics Department's poverty line income (PLI) for 2012.
According to Harveston Wealth Management financial adviser Annie Hor, a nest egg of RM167,000 could be made to last, but only if the retiree is completely free of debt and need not pay for accommodation.
"Otherwise you would be suffering a bit because if you just want a simple life, with three meals a day, maybe just get from point A to point B, petrol, you would need at least RM1,000 to 2,000 per month because, not forgetting when you are older, medical bills are expensive," she told Malay Mail Online recently.
She added that her 60-year-old mother needs at least RM2,000 to get by in the city, even with her simple lifestyle.
'It's quite worrying'
The concern with low retirement savings is compounded by the fact that it is the only significant form of savings for most Malaysians, due to rising cost of living and wage stagnation.
Hor said that currently only about 10 to 20 per cent of Malaysians are considering non-mandatory retirement savings and investments to supplement their EPF contributions.
"It's quite worrying. That's why we are here to educate as much as possible that they have to start planning, be it how small, start it because it's discipline. Once you get it rolling, then you will continue," she said.
While many target to begin saving when their incomes grow, Hor pointed out that spending invariably expands to match available funds as many get tempted by the latest gadgets, holidays, and other extras.
"My theory is you should have some life and some style also but not to that extent, you need to have a balance," she said.
How much do you actually need?
To estimate how much one needs for retirement, Hor said it is necessary to determine one's monthly expenses sans loan instalments ― assuming the individual is debt-free by retirement--and to increase this by 5 per cent annually to factor for inflation.
This sum is then multiplied by 15, based on a retirement age is at 60 and the average life expectancy of 75.
"But what I establish with the client is not worry about the figure but start looking at where your existing resources is and how can you can start planning, because you have 30 years, so it's easier to plan, rather than at 50, you only have 10 more years, that's tough," she said.
Meanwhile, Private Pension Administrator (PPA) chief executive officer Datuk Steve Ong said the rule of thumb is to ensure that one has two-thirds of the last drawn salary to maintain one's lifestyle past the retirement age.
"To put it simply, if a person is drawing a monthly salary of RM6,000 prior to retirement, he or she will need about RM4,000 as his monthly retirement income to enjoy the same quality of life which the person has been accustomed to," he said.
This requires an individual to put aside the equivalent of at least one third of his salary every month.
As daunting as that sounds, Ong pointed out that most workers already have what amounts to 23 per cent of their salary going into their EPF ― 11 per cent from the individual and 13 per cent from the employers.
"As such, the gap we need to address is 10 per cent, which the public can now contribute to the PRS (Private Retirement Scheme)," he told Malay Mail Online over an e-mail interview.
PPA provides the central administration for the PRS, which was introduced in 2012 as a voluntary long-term investment scheme for retirement savings, which is currently eligible for up to RM3,000 in annual tax relief.
Since the launch of the first PRS fund on October 31, 2012, there are now over 96,000 PRS members with assets under management totalling RM475 million, he added.
The government also rolled out the PRS Youth Incentive to encourage those between the ages of 20 and 30 to set up accounts by depositing a RM500 one-off incentive into each account that amasses a minimum of RM1,000 in a year.
EPF's initiatives to increase retirement savings
On its part, the EPF has implemented measures to enhance members' retirement savings, such as the mandatory 13 per cent employer's contribution for those earning under RM5,000 monthly, the standard is 12 per cent, and flexible Age 55 Withdrawal that allows members to choose lump-sum withdrawal, partial removal of funds, or a monthly payment.
In July, the EPF also introduced its Retirement Advisory Service (RAS) at the Jalan Raja Laut, Kuala Lumpur and Jalan Gasing, Petaling Jaya branches, which offers free advice and impartial guidance to members on how they can make vital decisions about their EPF savings and make their money last longer throughout their golden years.
Meanwhile, it also has the 1 Malaysia Retirement Savings Scheme for those who are self-employed who can contribute voluntarily based on what they can afford.
'Once it's finished, how am I going to get more money?'
Retiree Subramaniam Ramasamy, 66, said he had RM200,000 when he retired at 60. His monthly expenses are about RM1,200.
He told Malay Mail Online that he gets by because his house mortgage was paid off from his EPF funds, he does not own a car and his live-in daughter pays two-thirds of the household expenses.
His wife, who has always been a homemaker, sometimes supplements their income by cooking for other families, while his daughter provides them transportation when she is able, though the couple mostly travel by bus.
"We can spend about RM5,000 a month if we wanted, of course, but once it's finished, how am I going to get more money?" he said.