KUALA LUMPUR, May 19 — For over 30 years, Malaysia has seen various efforts to not only combat HIV/AIDS but to find ways to make testing and treatment as accessible as possible.
As Malaysia has a goal to end HIV/AIDS by 2030, various stakeholders are taking new innovative methods to ensure the 95-95-95 target is met.
The target is to get 95 per cent of people living with HIV (PLHIV) to undergo screening, 95 per cent of those diagnosed positive to receive antiretroviral treatment and 95 per cent of those receiving treatment to achieve undetectable levels of the virus.
To do so, digital health and e-prescription provider Doc2Us has jumped on the bandwagon and launched its virtual HIV clinic to offer free consultation and other services.
Advertisement
Speaking to Malay Mail, the mobile app co-founder and chief executive officer Dr Raymond Choy said the platform offers free teleconsultation services to users who wish to consult doctors online for any HIV/AIDS or sexually-transmitted diseases.
"The HIV Clinic, in particular, operates on Wednesdays from 1pm to 5pm, where licenced doctors will be online to attend to visitors via the app."
Dr Choy said users can also have access to doorstep HIV/AIDS test kits.
Advertisement
"Upon consultations for PLHIV, doctors can also issue e-prescriptions for HIV/AIDS medication, where the medicine can be delivered directly to home."
Dr Choy noted that the newly-launched app was initiated to encourage more people to get tested and seek advice about HIV/AIDS-related matters.
"Through this, we can provide a comfortable digital space that will give them the courage to get tested and access the right medication.
"We hope it will offer another alternate channel for PLHIV to seek evidence-based advice and management."
According to Dr Choy, some PLHIV or key populations who do not feel confident, are afraid, unsure or reserved about going to a physical facility in fear of discrimination or stigma surrounding HIV/AIDS.
"Stigma causes people to be afraid of making the first move to get tested or seek treatment and this virtual clinic mechanism will help them bypass that hurdle through a hybrid mixture of online and offline care.
"Once they take the first step, they will realise that they are not alone."
Dr Choy said he hopes the platform would encourage more PLHIV to take the first step towards knowing their status and seeking early treatment.
"We need to normalise seeking medical treatment for PLHIV.
"As such services become common practice, especially among the younger generations, we realise how conveniently technology can help us manage different medical conditions."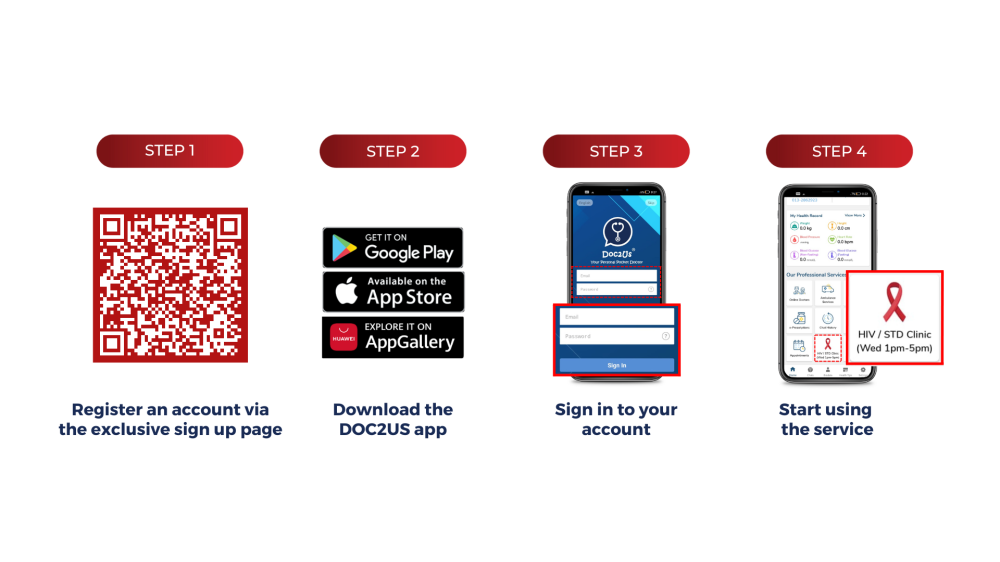 While a virtual clinic may offer many advantages such as accessibility, affordability and convenience, Dr Choy said it also comes with several drawbacks.
"It is limited to non-urgent primary-level care and consultation and can't replace certain processes that require a thorough physical examination."
He said it also lacks the personal and empathetic care of physical visits, while also has limited diagnosis methodologies for more serious cases.
Moving forward, Dr Choy said they are exploring the possibilities of home-based healthcare in the future, where a doctor will visit the patient instead of the patient visiting the doctor, faithful to the traditional house call practices of doctors in the past.
"This is in the pipeline leveraging on our subsidiary service designed to provide straight to residencies."
Highlighting the importance of having innovative ways to deal with HIV/AIDS patients, infectious disease specialist Prof Dr James Koh said some newly-diagnosed patients often don't have the courage to go to the hospital and seek treatment due to the stigma surrounding HIV/AIDS.
"Therefore, it is good to have an alternative way to encourage patients to make the first contact to know their status and seek treatment.
"If somebody just got to know that they are HIV positive and is scared to go to a clinic, then the virtual alternative may be much welcomed."
Dr Koh, who is also the International Medical University deputy dean, said ideas like virtual clinics are becoming a global trend and are the way forward.
He said although it may take some time for people to get familiar with virtual clinics, it would become a norm once more people learn about it.
"I also foresee we may have a human interface and artificial intelligence to be included in virtual clinics and platforms to provide a better user experience in the near future."
The Virtual HIV Clinic was launched recently by Doc2Us and the Malaysian AIDS Council in conjunction with the International AIDS Memorial Day 2023.
The virtual launch also saw a panel discussion between industry experts who touched on various issues including challenges that PLHIV face due to discrimination towards the community.
The panel included former Healthy Ministry infectious disease national advisor and founding president of the Kuala Lumpur AIDS Support Society Datuk Dr Christopher Lee, Dr Koh and two PLHIV guests.