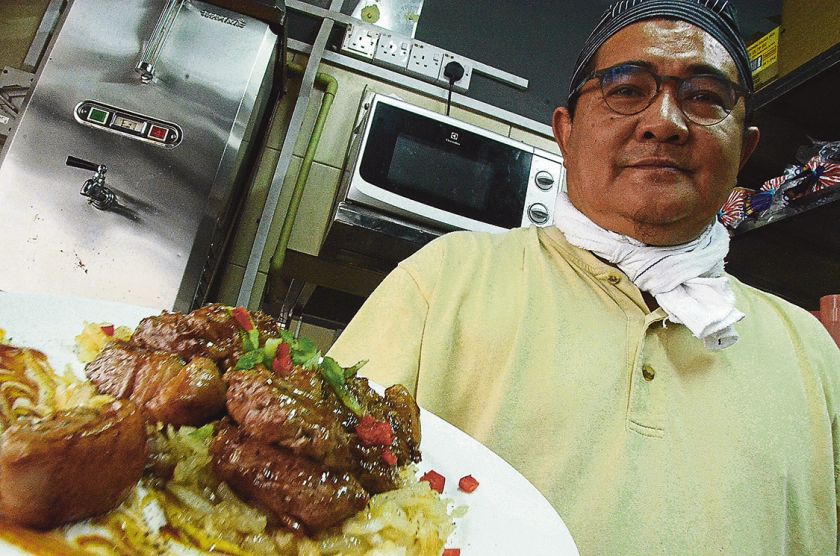 KUALA LUMPUR, Sept 26 — There was a time when restaurateur Mustaffa Othman was living on the streets of London not knowing where his next meal would come from.
He slept in mosques and the underground for almost three months. It was so cold and once, a group of men tried to rob him.
"I thought I was going to die. I had no money. I had nothing. I asked them if they wanted to fight and I bit myself until I bled — that must have scared them," he recalled.
Roughing it out was not a problem for the young man and the generosity of strangers kept him going.
Now the 62-year-old is owner of the thriving Me'nate Steak Hub chain of steak restaurants in Kuala Lumpur.
But it was so different back when he was in his early 30s as he used to wash produce for fruit and vegetable vendors and dispose of rubbish for a token payment.
The tide turned when a Pakistani butcher offered Mustaffa a job. He was impressed as the Kota Baru lad had no qualms working long hours.
"The owner told me I was talented and wanted to get me a better job in a big company" said Mustaffa at his Setapak outlet.
But Mustaffa stayed for a few years to learn his trade before moving on to work in an abattoir owned by the United Kingdom's Down Group of Companies which specialises in beef and lamb.
There he was responsible for chasing the cattle into the killing queue. After four years of rigorous training where he honed his skill in handling livestock and learning about animals, he was seconded to work in Buckingham Palace.
Years of rigorous training paid off when he became a master butcher and later chef to Queen Elizabeth II and the late Lady Diana Spencer for two-and-a-half years.
These days, he splits his time between the three outlets he owns (Me'nate means animal in Kelantanese slang), the first of which opened in Ampang in 2009, the second in Wangsa Maju (2012) and the third in Setapak (2014).
The entrepreneur, who specialises in wagyu beef, has never forgotten his past.
Today, he visits the homeless every day between 1pm and 3.30pm, bringing them food and drinks.
"When I see them, I'll stop and have a chat,'' shared Mustaffa, who added he never asked them how they ended up on the streets.
"When they ask who I am, I like to tell them that 'God sent me to bring you food and drinks'."
Mustaffa recalled how his parents could not afford school fees for his five siblings and meals were often hard to come by. They only cooked beef once a year.
"The food that I loved most was beef and it was a luxury,'' recounted Mustaffa who went into business when he was 16, bringing in cattle from Thailand.
His love affair with beef continued after Mustaffa and family relocated to Kuala Lumpur in the 1980s with the young man opening a stall selling beef at the Subang Jaya wet market.
But the daily grind of running a stall was not his cup of tea and he left for the United Kingdom to seek his fortune.
"I wasn't satisfied and wanted to gain more knowledge by travelling to the UK," said Mustaffa who did not speak English then.
Now happily married to Mastura Lehman, 44, who was with him from the beginning, they have four children — Muhammad Ezman, 26, Amirul Aiman, 24, Fareza, 23, and Khaisofi, 21 — all of whom work for him.
"I love my wife so much. We started out with nothing and now, I want her to enjoy life," said Mustaffa who has not allowed his new found wealth to change him.
"Yes I can afford to buy a few good cars and nice things. I should be thankful. What I don't want is to become arrogant," he said.
Mustaffa's credo in life is simple: 'Be as good as you can. Be nice to people and they will be nice to you'.
As a father, Mustaffa is a tough task master and his children don't have it easy.
"They have had a tough time with me because I told them from the start I am the employer ... you are not my son and you are not my daughter ... you are my employees,'' he said
"In business, you have to remember the most important person is the customer," said Mustaffa, whose business philosophy is to allow everyone to enjoy and afford wagyu.
He said business owners should be grateful to customers patronising their establishments.
"They don't come here asking for free meals. So, if you are arrogant and cannot tolerate a customer, don't open a business."
Mustaffa believes for businesses to thrive, the people behind it come first.
"I try to nurture the people who work with me and then only think about expansion. When you talk about profits, if you do nice things, profits will never stop looking for you."