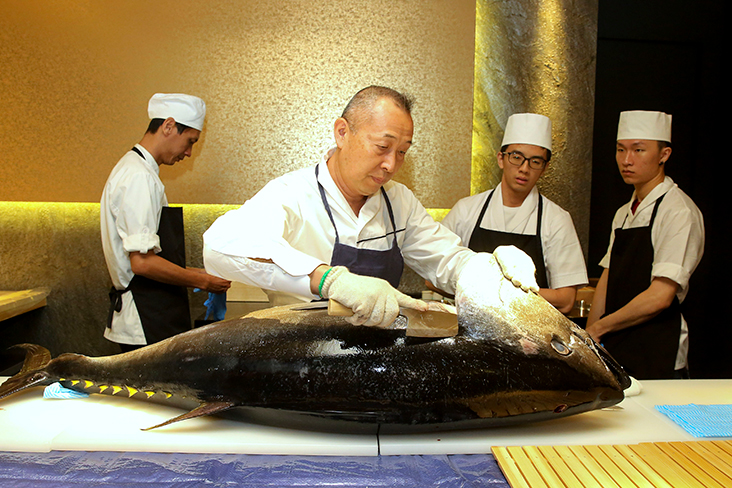 KUALA LUMPUR, Oct 21 — Love Japanese food? You're in luck as there seems to be a flurry of new Japanese restaurants opening in the city.
Here are two which will satisfy your cravings for sushi and sashimi. At very different budgets.
Sushi Ryu
This premium sushi joint opened its doors mid-September this year. Under the skilful hands of Chef Kiichi Okabe, you can relish exquisite Japanese flavours with seasonal produce from Japan and premium ingredients like caviar, uni and truffles.
Prior to coming to KL, Okabe was the executive chef of Shoukouwa, a two-star Michelin restaurant in Singapore. He had also worked in the US and Dubai.
The menu offers two omakase choices. For lunch, the omakase is RM279++ while the dinner omakase is RM579++. Think chopped otoro, where the melt-in-the-mouth tuna is topped with caviar pearls. Or white fish sashimi drizzled with truffle shoyu.
You can also relish cold noodles served with creamy uni and caviar. Heighten your dining experience with their selection of sake from boutique breweries, the likes of Nabeshima, Kokuryu and Kid.
Taking centrestage here is the hinoki wood sushi counter that seats up to 11 people. In total, the place can accommodate up to 33 people with private dining rooms too.
Complementing your experience here is Bar Shake next door. Decked out in dark wood and leather seats, the intimate bar is the domain of Osamu Kinugawa or Sam as he is better known.
Previously from Bar Kinugawa, he has built up a devoted following in KL for his innovative Japanese cocktails. Expect an emphasis on cocktails using fruits.
According to Sam, you can infuse sake with any fruit. So far, he has tried mangosteen, nangka, white grapes, passionfruit and longans.
Complementing the whole experience here is Sam's unique own-made items. As he doesn't like bottled tonic water, he has come up with his own tonic water for his cocktails, infusing it with lemongrass, orange rind, citric acid and agave syrup.
Using a soda water machine, he can also control the amount of gas that goes in. He also makes his own ginger ale and a sweet tasting tomato juice made from Momotaro tomatoes here.
Should you want an alcohol-free drink, Sam also has his own range of mocktails that use his own-made fruit vinegars like kiwi, strawberry and pineapple. You can also enjoy craft beers, wines, craft gins and whiskies, all from Japan, hand picked by Sam during his travels.
Sushi Ryu
Unit 3.3, Level 2, Tower 1, Platinum Park, Persiaran KLCC, Kuala Lumpur
Tel: 03-21811533/019-3313595
Open: 12pm to 3pm, 6.30pm to 10pm (Mon to Fri), 6.30pm to 10pm (Sat)
Closed on Sunday
Facebook: https://www.facebook.com/sushiryumy/
Website: http://ryu-sushi.com/
Bar Shake
Level 2, Tower 1 Platinum Park, Persiaran KLCC, Kuala Lumpur
Tel:03-21811533
Open: 4pm to 12am
Closed on Sunday
Facebook: https://www.facebook.com/barshakekl/
Website: http://bar-shake.com/
Tsukiji No. 8
Heading the restaurant is Chef Yasuro Usumai who has 28 years' experience. The friendly chef comes from a family of rice padi planters and the fishing industry.
Opened since early May, this restaurant is located at the heart of the city. Owner Rodney Ther and his friends decided to open this eatery to offer Japanese food that won't break your wallet.
It is Ther's first F&B venture as he is in the business of dealing with cars. A visit to Japan opened his eyes (and stomach) to what Japan has to offer, hence he wants to recreate the same experience here.
Previously, he worked at Midori, a restaurant in Tokyo, while his father runs a restaurant in Tokyo. He has been in Kuala Lumpur for nine years. This includes a stint at the ever-popular Ichiro Sushi Bar in 1Utama Shopping Centre. Assisting him is
Chef Takuji Teshima who has more than 20 years experience working in Tokyo, Australia and Malaysia.
Here, they specialise in fresh seafood brought in from Japan. The focus is sushi and sashimi but they do also offer other menu items like tamagoyaki, grilled items and tempura. For lunch, there are specials limited to 20 portions every day. Priced at RM23, you can choose from bara chirashi, salmon and ikura don, unatama don or their nigiri sushi set.
Omakase is also available at RM260 where you will be served various courses including a seafood carpaccio, four kinds of sashimi, six pieces of nigiri sushi and etc..
A signature of the restaurant is Ocean's 8 (RM98), presented in a crab shell. The sushi rice base is topped with crab meat, negitoro, ikura, snow crab, scallop, crab paste, sea urchin. Crowning it is gold leaf. The name is a nod towards the use of eight ingredients from the sea.
You also have seasonal specials, like the rarely seen kani miso sourced from southern Hokkaido. The soft paste with its dark grey colour may not be Instagram-friendly but try it once and you will be hooked on its sweet, delicious taste. It's said to be made from the brains of kani crab, a winter specialty.
Available till the season runs out by the end of the year, the kani miso specials come in a salad form or different sushi forms. You can also have hotate kani miso yaki or grilled scallops with the kani miso.
Pair your meal with a bottle of sake too as the restaurant offers an extensive handpicked list of the Japanese rice wine. Previously, they held a sake pairing dinner so look out for the next one.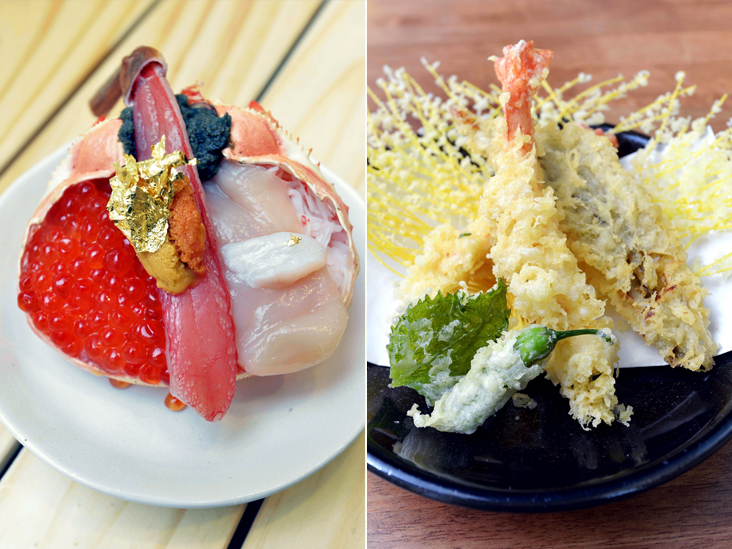 The seafood is flown in three times a week from Japan. Unlike the usual supply chain, Ther tells us that they source their own seafood from a new player in town hence some items found here are unavailable at other restaurants.
Sit next to their tall glass windows and you have a sweeping view of the busy Jalan Raja Chulan. There is also the sushi counter, if you prefer to watch the chefs at work.
And if you are entertaining clients, the restaurant offers three private dining rooms. Each room has eight seats. You can also combine two rooms to accommodate 20 diners. In total, the restaurant can fit up to 68 people.
And what's with the name? Ther explains to us, it's a nod towards the renowned Tsukiji fish market in Tokyo which has now moved to its new site in Toyosu. The number 8 holds double significance as it means prosperity in Chinese and is also a tribute to their supplier's cabin location.
Tsukiji No. 8
Lot 136/8 First Floor, Wisma Lim Foo Yong, 86, Jalan Raja Chulan, Kuala Lumpur
Tel: 03-2143 8889
Open: 11.30am to 2.30pm, 6pm to 11pm
Closed on Sunday
Website: http://tsukijino8.com