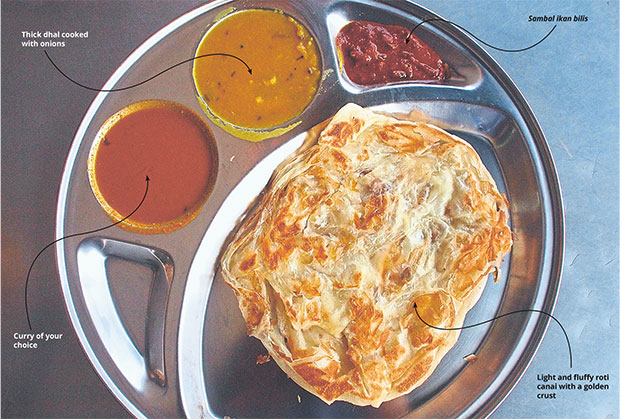 KUALA LUMPUR, Sept 6 — The quintessential roti canai makes a satisfying breakfast or even a supper item especially when paired with a glass of rich creamy teh tarik. The flatbread is made from a dough of flour, water and ghee. Some stalls add a touch of milk to give it a richer taste. Once the dough is kneaded until smooth, it's flattened and a layer of ghee is added to prevent it from drying out. The oiled dough will be left to proof and rise.
The proofed dough is flattened then tossed around to allow the dough to stretch until it is paper thin. It will then be gathered together to form a long twisted rope, which is knotted and flattened again. This method creates the inner layers.
The flattened dough will be cooked on a hot griddle until it's golden brown on both sides. Just before it's served, the crispy flatbread is fluffed up by patting it vigorously with two cupped hands.
You can add all kinds of fillings within the stretched layers of the dough – a beaten egg, chopped onions, sardines and even bananas, before it's folded together. Usually, the plain roti canai is eaten with dhal, curry and sometimes sambal to amp up the heat levels.
Restoran I.V, 117, Jalan Pandamaran Jaya 62, Klang
Brave the traffic and crowds for this hidden spot in Pandamaran village. The roti canai here is good just eaten on its own, as it's got an appetising taste with a hint of saltiness. Equally good is their thin crispy roti telur with an egg cracked within the layers. Even though it's often crowded, service is brisk as they have many counters to produce their light and fluffy roti canai.
Raj's Banana Leaf, 38, Jalan Telawi, Bangsar Baru, KL
This newcomer in Bangsar is pulling in the crowds with their food. The roti canai served here is a light and extremely crispy one. Ask for a garing version and it'll come with flaky crumbly bits dropping off. Unlike the flat versions of roti canai, this one has puffed up layers, as it's given a few vigorous claps with cupped hands just before it's served. You can enjoy the roti canai on its own. For a more substantial meal, order their fried items or add a plate of tender chicken varuval with your roti canai.
Restoran Fawwaz, No. 12, Jalan SS14/1, Subang Jaya
Started since the 1980s, this mamak stall serves a thicker roti canai. What makes their roti canai delectable is the golden crust. Even their curries are excellent and full of flavour.
Restoran Sri Melur Jaya, No. 26, Jalan SS19/6, Subang Jaya
Long touted as being THE roti canai, this fluffy version is served all day long from 6am till the restaurant closes at 1am. Enjoy the crispy light roti canai with their thick dhal sweetened with onions and a dollop of their sambal ikan bilis. You can also pair it with the curry of your choice.
Valentine Roti, Stor No. 1, Jalan Semarak, KL
As night falls, this is the place to satisfy your roti canai cravings. This stall opposite Menara Celcom is opened from 4pm onwards. Their roti canai, which they proudly proclaim to be the best on their signboard, is worthy of their boasting — light fluffy and stretched thinly with a crispy texture from careful pan-frying on the griddle. If you prefer something different, go for their Roti Valentine with a filling of sardines, chopped cabbage and onions.