APRIL 8 — The story of how a little action flick called John Wick suddenly became a deeply reliable and monstrous Hollywood franchise is one that I've always found fascinating.
Let's not forget that the making of the first John Wick film was a true underdog story — the script was written by Derek Kolstad (whose previous works were direct-to-video action flicks One In The Chamber and The Package, respectively directed by DTV staples William Kaufman and Jesse V. Johnson) and first-time directors Chad Stahelski and David Leitch were stunt coordinators and stuntmen who lobbied to get the job, and the whole thing was an independent production with a relatively low budget of around US$20 million (RM88 million) that struggled to secure theatrical distribution (because action films like these are usually dismissed as straight to video fodder) until Lionsgate finally purchased the distribution rights.
And let's not forget that Keanu Reeves' career then was experiencing a bit of a lull, hence the difficulty in securing theatrical distribution because his recent box-office numbers back then were considered poor.
Don't get me wrong, I've always loved DTV films, as can be evidenced by my never-ending efforts to champion films like Ninja 2: Shadow Of A Tear, Undisputed III and Universal Soldier: Regeneration as worthwhile whenever people start talking about action films, so to see an underdog like the first John Wick film become such a sleeper hit (earning around US$90 million) was really like seeing one of our own making it to the big time.
Advertisement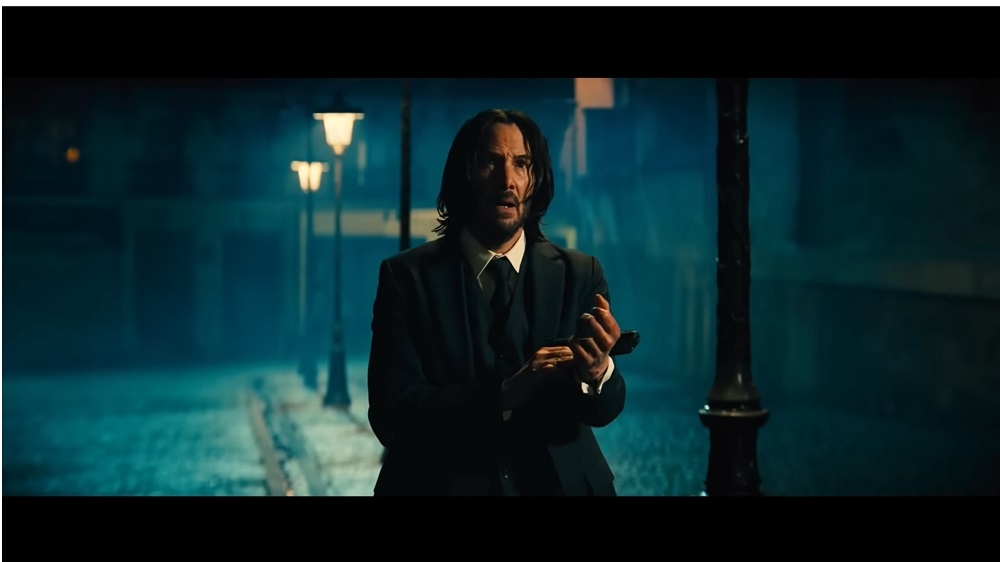 Stahelski and Kolstad have kept on making bigger John Wick films in the franchise while Leitch has gone on to direct big Hollywood movies like Deadpool 2, Hobbs & Shaw and Bullet Train, so it's really great to see talents from the DTV scene getting the appreciation and success they deserve.
Leitch hasn't been involved since John Wick: Chapter 2 and now even Kolstad is not involved as we enter John Wick: Chapter 4, with writing duties now taken over by Shay Hatten and Michael Finch.
Advertisement
Despite the seemingly fanciful world building that's been there even from the start, setting up this stylish world of assassins with their own codes of conduct and honour, there's an elegant simplicity to the stories told in all of the John Wick films, a nod to all the great fight flicks that came before, whether they're from Hong Kong, Thailand or even American ones from the DTV scene, and nowhere is this simplicity clearer than in John Wick: Chapter 4.
A runtime of 170 minutes might imply a long-winded and complicated plot, but this one's as lean as they come as the story is all about John, who was declared "excommunicado", now trying to regain his freedom.
Standing in his way is new bad guy Marquis de Gramont (Bill Skarsgard), a High Table leader taking the task to get rid of their John Wick problem.
All of this, of course, leads to a set of tasks that needs to be completed before climaxing with the classic hero-vs-villain showdown between John and the Marquis at the very end of the movie.
It's a simple set-up that enables director Stahelski to stage, with incredible precision and mind-boggling complexity, the film's true raison d'etre — the barrage of meticulously choreographed and expertly shot and edited action scenes.
I think I can confidently say that out of the film's 170-minute runtime, at least 80 per cent of it consists of nothing else but wall-to-wall action scenes that defy both logic and your ability to resist them.
Just take the set-piece right before the showdown climax, which happens on the Sacre-Coeur steps.
According to the film's plot, John would have to go up the stairs in two minutes, because that's the time he has left to show up at the appointed place for the climactic showdown, but in movie time I'm pretty sure that scene lasted at least 10 minutes or so, if not more.
I don't think anyone in the cinema watching it minded because the spectacle served to us not only by Stahelski and Reeves, but also by all the villains/stuntmen who keep on falling down those stairs, repeatedly, is just too awesome to resist.
And the film is chock full of this kind of works of art, martial arts that is, which not only involves what I imagine must be hundreds of hours of planning and training for the fighting moves, but also the meticulous planning and attention to detail needed to choreograph the camera moves and break the shots down so that the fight scenes can be legibly edited and presented to the audience.
This technical complexity is why I have the highest respect for directors who can present a cleanly executed action scene, and to be really honest, there really aren't that many people out there who can do this well, and Stahelski is definitely right up there with the best of them, alongside Hong Kong legends like Yuen Woo Ping and Sammo Hung, DTV heroes Isaac Florentine and John Hyams, Indonesian nutjob Timo Tjahjanto and adopted Indonesian Gareth Evans.
If you've never been a fan of fight flicks, then this epic rampage from the desert to the streets of New York and Paris won't change your mind, but if you like, or kind of like, fight flicks, John Wick: Chapter 4 will make you squeal with delight throughout its 170 minutes.
It might even be the best John Wick film outside of the first one, which will always be special in my heart.
* This is the personal opinion of the columnist.