MARCH 9 — No shock, no tears after reading the home minister has done the Umno president a favour. Perhaps a chuckle.
It was always coming. The decision.
Umno passed a resolution at its January general assembly. It was a controversial one. It formally bars a contest for the top two positions in the party — president and deputy president.
Advertisement
Ahmad Zahid Hamidi is president and his deputy is Mohamad Hasan (or Tok Mat). They are the direct recipients of the resolution.
The Registrar of Societies (ROS) objected to the resolution as it is unconstitutional. Barring a presidential race is as unconstitutional as it gets.
The people who put the resolution to the vote knew that but they did it anyway.
Advertisement
The ROS wrote back and told Umno that it's not kosher. However, Home Minister Saifuddin Nasution used his powers to present an exemption. It kicked off a storm with the anti-Zahid camp expectedly up in arms.
Since the resolution, Umno has sacked and suspended key leaders.
Even if the decision is challenged in court, the elections are on March 18 — less than 10 days away. Undoing the resolution would undo the whole election results and force party-wide chaos.
The whys intrigue, but the Umno fiasco opens up a larger discourse about Article 10 of the Constitution — the right to associate and its sad history in Malaysia.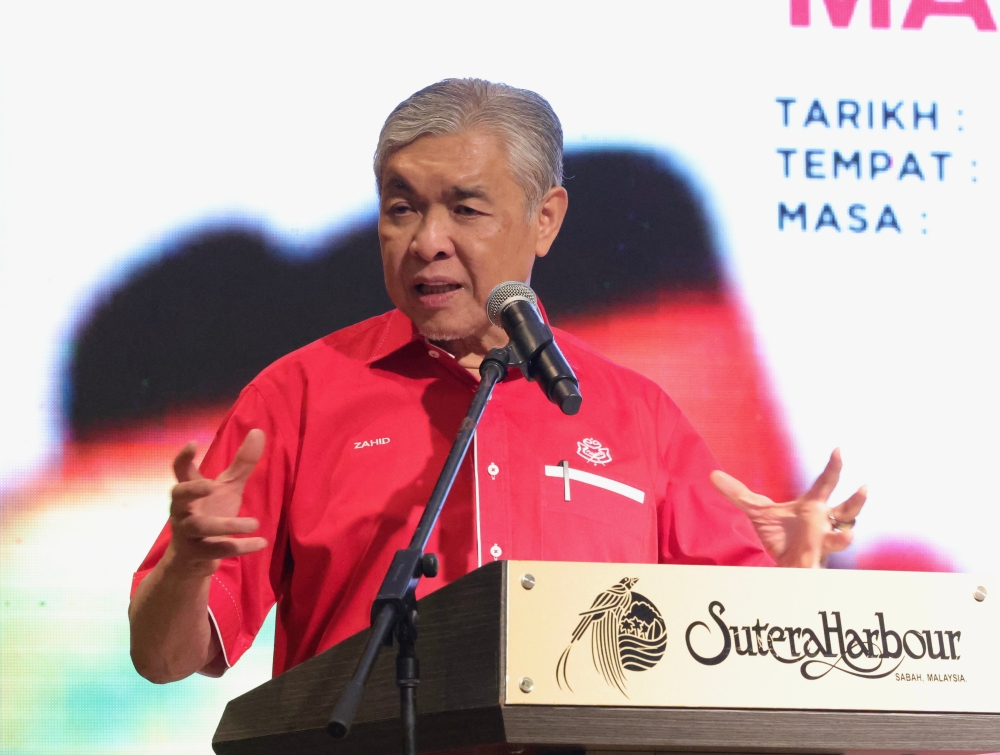 A bit of friendship, a bit of strategy
Saifuddin is — other than a senator and minister — the secretary-general of PKR which leads the unity government. Its president, Anwar Ibrahim, is prime minister. Zahid is one of his deputy prime ministers. He is central to Umno supporting the unity government.
For those late to the drama, Zahid presided over Umno's most calamitous election when it returned with only 38 MPs last November.
However, the other two coalitions ahead of Umno led Barisan Nasional (BN), Pakatan Harapan and Perikatan Nasional (PN) had no outright majority.
Beaten and bruised, Umno deposed as king turned into kingmaker. Zahid chose Pakatan to the chagrin of PN and many inside Umno.
To those unaware, Saifuddin, Anwar and Zahid get along very well, and have for a very long time. They were close in their Umno years, and despite the 1998 split kept on as tight pals.
The PKR-Pakatan and Umno relationship is in good stead when the trio lead their respective parties and coalitions.
The no-contest gift protects Zahid's Umno leadership for at least three years.
Both Hishammuddin Hussein, the former minister and party vice-president along with former minister and youth chief Khairy Jamaluddin waited in the wings to challenge Zahid.
Hishammuddin, a strong fan of PN, would switch Umno allegiances to PN away from Pakatan if he became president. Khairy has had court cases against Anwar and various Pakatan leaders, an Umno under the ex-health minister could have been as acrimonious.
The resolution killed off their hopes. It emboldened Zahid to go on the offensive, the disciplinary committee suspended Hishammuddin and sacked Khairy.
With rebels muted or expelled, the feelgood relationship of Zahid, Saifuddin and Anwar dominates across both parties and solidifies the unity government.
Association of members
Article 10 of Malaysia's Constitution stipulates all citizens have the right to form associations. Political organisations epitomise "coming together" due to their lofty ambitions which affect the nation's immediate wellbeing.
Parties contest elections to have MPs who when in the majority in Parliament form, amend or repeal laws.
Therefore, enabling parties is crucial for a country's democracy.
But there is a distinction not emphasised enough. The party is the members not their leaders. They are the basis for existence. They share values or ambitions and therefore they associate.
A party constitution is standard rules for them to operate fairly. Same rules for all members.
This is where the Registrar of Societies (ROS) steps in. It is here to facilitate the process, to umpire and above all else protect members.
So annual reports and accounts are submitted to keep everything above board. And elections executed as per party constitution. These acts embellish egalitarianism within the parties and uphold transparency in process and power.
In the Umno conundrum, ROS decided a general assembly of delegates cannot override a key constitutional right for members to contest all positions.
The minister played his card and altered the equation.
Tyranny boomerangs back
Until 2018, Umno controlled the home ministry. Perhaps it still does since in the last five years it's been Umno graduates in charge; Muhyiddin Yassin, Leader of Opposition Zainuddin Hamzah and now Saifuddin.
How has the ROS treated Umno and its opponents in the last 60 years?
Starkly different.
It is not easy to exist as Umno's nemeses.
Parti Sosialis Malaysia (PSM) waited for 10 years and walked up and down courtroom steps in their pursuit. Courts ordered MUDA to be registered.
It's worse for the minor players. Siti Kasim was annihilated in the Batu parliamentary constituency race last year. She collected 653 voters from over 113,000 eligible voters.
Would she have fared better if her Gerak Independent was registered as a legal party, rather than her as a literal independent? Probably not, but that's not the point.
Regardless of whether Gerak Independent has 10 members or 10,000 members, its members have the right to associate and remain proud as Gerak Independent candidates even if the party only musters one vote from all voters.
The basic principle to associate is at stake here.
Umno has had a charmed life when it comes to the ROS.
It helps many times over when the minister in charge is also from Umno, and oh... the prime minister.
The other principle argument to be made here is that Umno has openly opposed open contests for top positions and the ROS generally allows the party's top leadership to do as it pleases.
Which is fine when Umno has clearcut leadership and dominant control of the federal government. It's this current situation where Umno is no more omnipotent that the contradictions begin to glare.
After all, since the 1987 party election debacle which split the party, open contests are taboo. Umno Baru in its first 30 years, 1988 to GE2018 did not have a presidential contest. Presidents are anointed by predecessors.
In fact, only one incumbent Umno deputy president lost internal polls; 1993 when Anwar defeated Ghafar Baba.
It is normal for top leaders to issue statements, advisories and cautionary tales for months before party elections to scold party members till they behave fait accompli to the edict.
If the largest party in the country with millions of members dissuades them from seeking power, meaning the party leadership tells the millions to just accept the scheme of things independent of elections, the ROS should have acted.
They are custodians for ordinary members, so they can associate fairly, even if the top leadership opposes. Even if the top leadership leads the country, therefore the home ministry therefore the ROS itself.
But it never did.
And neither did the leaders now from the outside looking in oppose when they themselves benefitted from a culture of no contest in the party.
Where were Muhyiddin, Khairy and Hishammuddin's objections then. That a principle was being derogated in order to please the top leadership or improve stability. Zahid and Tok Mat are entitled to repeat the same mantra even if it is morally bankrupt.
What is good for the goose is good for the gander, no?
Who is the bad guy?
When principles are abandoned at the first chance and arguments are stretched mercilessly, there are no heroes to be found.
Saifuddin is not acting wildly different from home ministers of the past. His predecessor Hamzah would have done exactly the same for Umno, if Zahid chose PN over Pakatan last November.
This is a nation of political expediency. Politicians who gather behind their bosses rather than principles are rewarded immeasurably. And who can blame them? The other path is filled with failures.
Most liberal Malaysians are complicit too since they rather Umno with Pakatan than with PN.
The numerous arguments about trusting devils you know, you may have known, you may have met in a ride-share app are too countless to mention.
But it does tickle the columnist the present charade. Those who for decades benefited from the one-sidedness of the ministry or leaders now play victim.
* This is the personal opinion of the columnist.