KUALA LUMPUR, June 23 — Malaysia's capital city was among the 10 cities globally that saw the largest rise in rank in a list of cities ranked by their "liveability" compiled by the Economist Intelligence Unit (EIU).
"The Global Liveability Index 2023" released today showed Kuala Lumpur ranked 94th, having moved up 19 places since 2022.
It was the 7th biggest mover up the ranking and had an index rating of 74.3 out of a 100 points.
"The shift towards normality after the pandemic has overall boded well for global liveability in 2023. Education has emerged stronger with children returning to schools alongside a significantly reduced burden on hospitals and healthcare systems, with some notable improvements in cities across developing economies of Asia and the Middle East.
Advertisement
"As the world's political and economic axis continues to shift eastwards, we expect the cities in these regions to move slowly up our liveability rankings," said Upasana Dutt, Head of Liveability Index at EIU, in an accompanying statement.
This comes as this year's edition of the index found that the average index score across 172 cities reached 76.2 out of 100, the highest score in 15 years.
It said "healthcare" scores saw the greatest improvement but "stability" saw a marginal decline, reflecting instances of civil unrest in many cities amid a cost-of-living crisis and rise in crime.
Advertisement
"In many cities, stability scores have fallen because of greater civil unrest. Elsewhere, inflation, dissatisfaction with working conditions and occasional shortages of goods have sparked wage strikes and protests," Dutt said.
"Strains on public order and economic headwinds have also increased instances of crime in some cities. These will continue to be a risk for the future, with much of the economic and socio-political headwinds likely to continue into 2024. All of this suggests that stability scores in our Liveability Index are unlikely to recover quickly."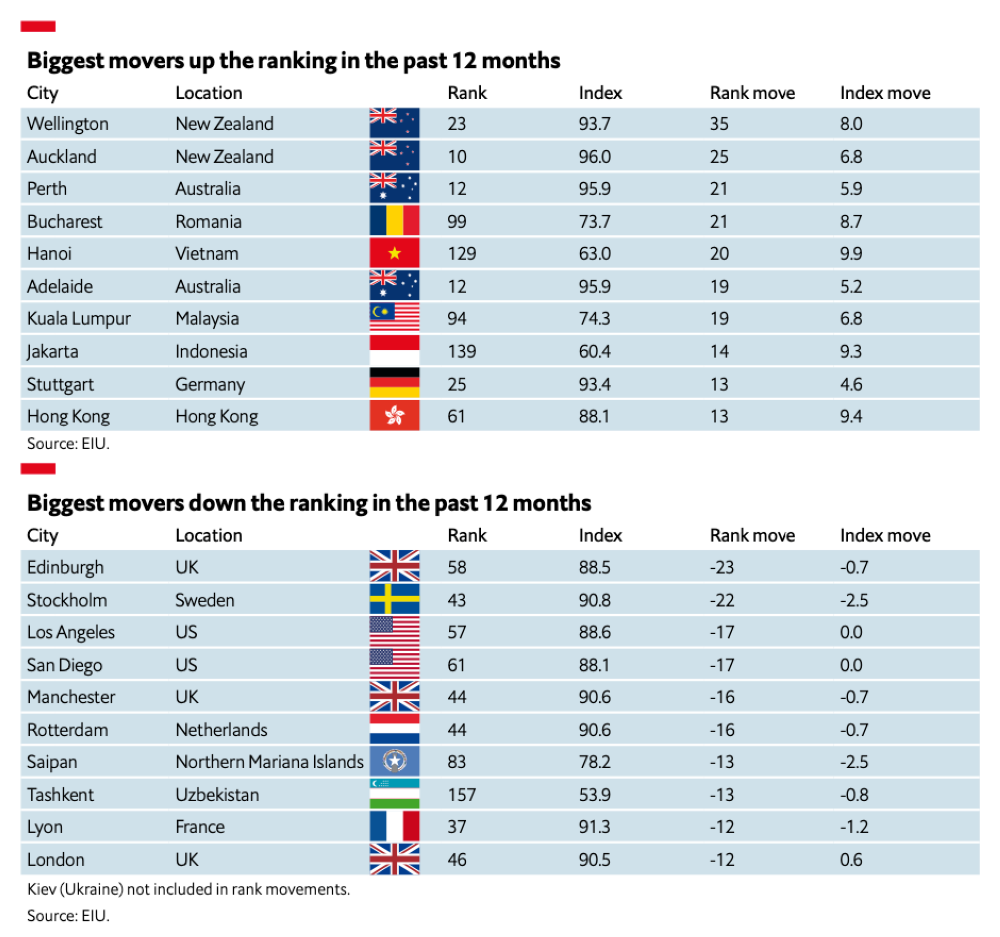 The three cities with the largest rise in rankings were New Zealand's Wellington which moved up 35 places and Auckland (up 25 places), along with Perth (up 21 places) in Australia. They were ranked 23rd, 10th and 12th respectively.
Other Asian cities among the ten biggest rank risers were Vietnam's Hanoi (ranked 129th, up 20 places), Indonesia's Jakarta (ranked 139th, up 14 places) and Hong Kong (ranked 61st, up 13 places).
EIU said that the list is put together by rating cities across five categories: stability, healthcare, culture and environment, education, as well as infrastructure. Each category contains several more variables that are looked at, such as the "prevalence of violent crime" or "threat of military conflict", which are under the stability category.
EIU said that qualitative variables are rated based on the judgment of in-house expert country analysts and a field correspondent based in each city, while quantitative variables are rated based on the relative performance of a location using external data sources.
There were a total of 173 cities ranked.
The top three cities found to have the highest liveability were Vienna in Austria, Copenhagen in Denmark, and Melbourne in Australia. Their index ratings were 98.4, 98, and 97.7 respectively.
Meanwhile, the bottom three were Algiers, Algiera with a 42 index rating, Tripoli in Libya (40.1), and Damascus in Syria (30.7).