PUTRAJAYA, Feb 27 — Datuk Seri Najib Razak derailed the entirety of his final appeal at the Federal Court over his SRC International conviction and sentencing last year when he changed his legal counsel at the eleventh hour, prosecutors said today.
Telling the Federal Court during the former prime minister's bid to have the apex court's decision reviewed, ad hoc prosecutor Datuk V Sithambaram said Najib's bid to change 'horses' so close to the scheduled hearing dates was a 'strategy gone wrong'.
Sithambaram's remark echoed his previous argument that Najib was the author of his misfortune and consequently cannot invoke the Federal Court's inherent jurisdiction to review its own decision in his final appeal hearing last August.
Advertisement
"If not for these changes, quite honestly I don't think this review would have taken place in front of Yang Arif today," he said.
Sithambaram again stressed how Najib had ample time to engage new counsels to prepare for his final appeal at a later scheduled date, but instead opted to dismiss Tan Sri Muhammad Shafee Abdullah at the eleventh hour and subsequently request for an adjournment.
Replacing Muhammad Shafee were Zaid Ibrahim Sufian TH Liew & Partners (ZIST) and Hisyam as his solicitors and lead counsel respectively.
Advertisement
However, ZIST opted to discharge themselves, leaving Hisyam as the remaining sole counsel in Najib's defence whose request for dischargement was however denied by the Federal Court.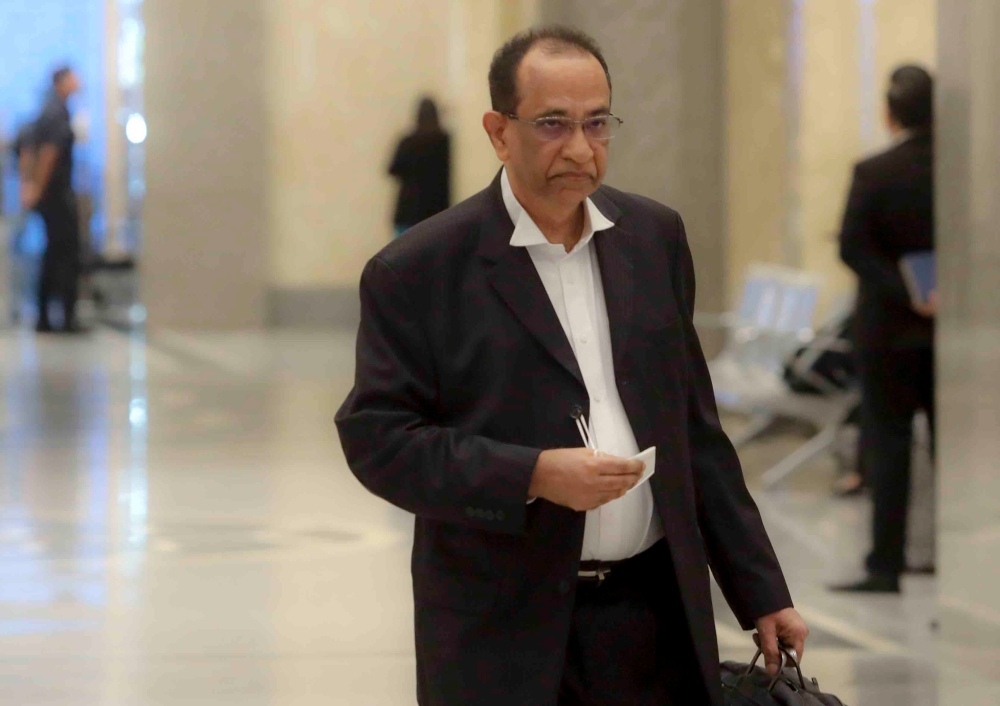 Sithambaram said even though an accused person has the right to counsel, said counsel must be prepared to take on the brief on the fixed dates if appointed and such changes are not done at will.
"Else it would open to 'floodgates' where everyone can come to court to seek an adjournment. This will lead to problems in the administration of justice," he said.
After lunch recess, Muhammad Shafee argued the request for adjournment after changing counsel was 'bona fide' as litigant and counsel requesting for time to prepare their case in order to honour court with their presence is legal.
Muhammad Shafee also reiterated that any claims of manoeuvre by the defence to postpone the hearing was untrue.
A five-member panel presided over today's hearing with Chief Judge of Sabah and Sarawak Datuk Abdul Rahman Sebli leading Federal Court judges Datuk Vernon Ong Lam Kiat, Datuk Rhodzariah Bujang, Datuk Nordin Hassan and Court of Appeal judge Datuk Abu Bakar Jais on the bench.
Following his incarceration, Najib has sought to challenge the Federal Court's five-member bench's August 2022 unanimous decision in affirming his conviction, sentence and fine meted out by the High Court for the misappropriation of RM42 million of SRC International Sdn Bhd fund.
On July 28, 2020, Justice Datuk Mohd Nazlan Mohd Ghazali found him guilty of seven charges: three criminal breach of trust charges, three money-laundering charges and one abuse of power charge at the High Court.
Mohd Nazlan, who is now a Court of Appeal judge, had sentenced Najib to 12 years in jail and fined him RM210 million in default five years imprisonment and his decision was upheld by the Court of Appeal on December 8, 2021.