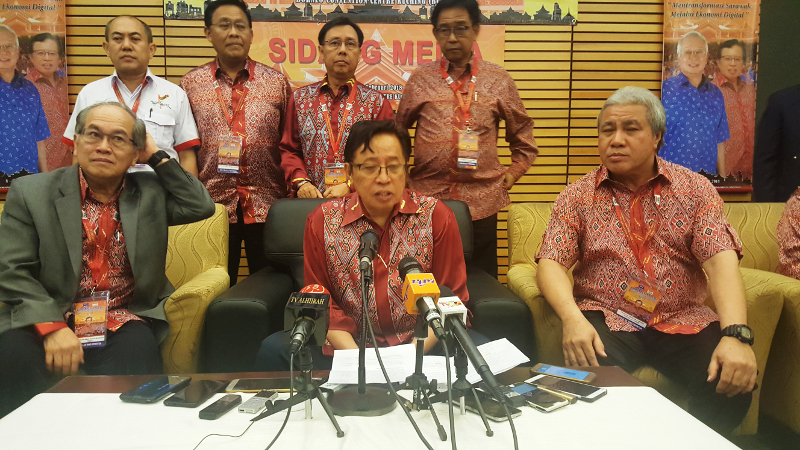 KUCHING, Feb 11 — Petronas must immediately apply for a prospecting licence from the state government if it wants to continue operating in Sarawak's territorial waters, Chief Minister Datuk Patinggi Abang Johari Openg said today.
Abang Johari, who is also PBB president, said this was the first time that the state government was exercising its rights in enforcing the Mining Ordinance on the national oil and gas company.
"Yes, it is immediate. The law says so, and we have not repealed our Mining Ordinance 1958," he told reporters at the conclusion of Parti Pesaka Bumiputra Bersatu Triennial Delegates Convention (TDC).
"If they want to mine in Sarawak, they must comply with the state law," he said, adding that Petronas can operate elsewhere if it does not want to comply.
Abang Johari said oil and gas came under state jurisdiction, in accordance with the Ninth Schedule of the Federal Constitution.
He said Item 8(j) of the Ninth Schedule states that mines, mining, minerals and mineral ores; oils and oil fields; purchase, sale, import and export of minerals and mineral ores and petroleum products come under the State List.
The chief minister said a prospecting licence is required if a company wants to mine oil and gas in Sarawak.
He said Clause 27(1) of the mining ordinance states that where an application for the renewal of a prospecting licence has been approved, such approval shall have effect upon payment of the prescribed fee.
He said if the applicant fails to pay the prescribed fee within sixty days after being notified of its approval, such approval shall be deemed revoked.
Abang Johari said that the state-owned oil company, Petroleum Sarawak Berhad (Petros), has already been issued with the licence to operate in the state's waters.
"With the licence being issued, Petros can start explore oil and gas," he added.
Abang Johari also said Petros has appointed its chief executive officer, but declined to reveal his name.
"All I can say is that he is a Dayak Bidayuh, having a wide experience in oil and gas business and upstream activities," he said.