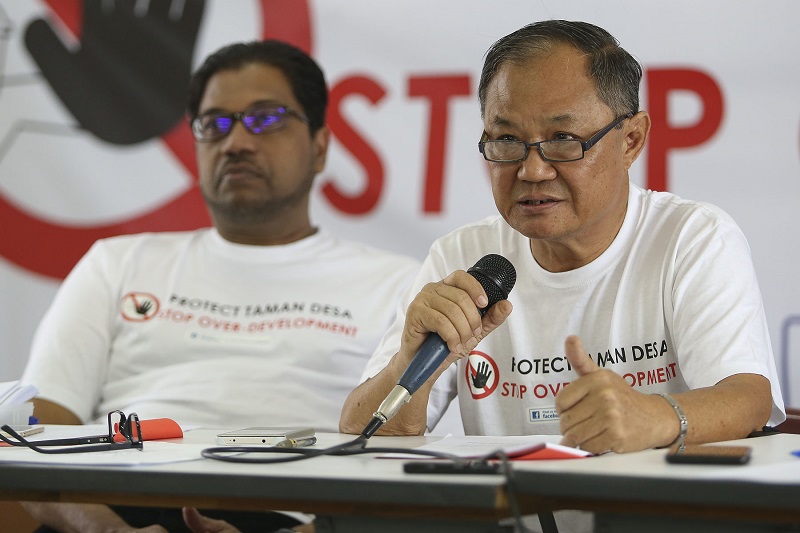 KUALA LUMPUR, Nov 12 — A group of 11 Taman Desa residents have filed a lawsuit against the Kuala Lumpur mayor to stop a new condominium project that is three to four times higher than their existing condominiums.
KY Khong, one of the 11 who sued, said the residents had no choice but to file the legal challenge after the mayor granted a planning permission for the project known as The Address.
"The Datuk Bandar also approved the Planning Permission despite the fact that the land for the Proposed Development has been gazetted as Tenaga Nasional Berhad (TNB) reserve land and not residential land. The land was marked as for utilities, and not for development.
"Further, according the latest city plan, the land for the Proposed Development is proposed to be gazetted as a green lung," he said during a press conference yesterday at the Taman Desa community centre, referring to the KL Draft City Plan 2020.
The 11 residents are from the three neighbouring condominiums directly affected by The Address project, namely 10-storey Tiara Faber which has 320 units, 13-storey Desa Eight (24 units), and 13-storey 1 Desa (104 units).
In tracing the events leading to the lawsuit, Khong said DBKL had in August 2016 issued a notice to say that it had received an application for planning permission for condominium project The Address with 649 units in three blocks of between 34 to 42 storeys, which would increase density from 60 persons per acre to 650 persons per acre.
Following residents' objections submitted to DBKL and an objection hearing on September 21 last year where DBKL officials allegedly did not address points raised, both DBKL and the developer did not hold any further meetings with residents, Khong said.
Although the residents' lawyers had on September 26 last year written to and given two subsequent written reminders to DBKL to immediately notify them if approval for the project is granted, the residents said they were "never informed" of any development and their lawyers' letters were not replied to.
It was only when the residents checked online this February at the Urban Well Being, Housing and Local Government's One Stop Centre Portal that they discovered that DBKL had already granted planning permission for The Address on December 13 last year, prompting the residents to file the lawsuit on March 13.
The 11 residents have on April 18 obtained leave from the Kuala Lumpur High Court for the judicial review to be heard, and had also applied on August 22 for a stay order on the planning permission.
The court has not fixed a date for the judicial review hearing and will be hearing on November 29 the developer's application to intervene and be made a party of the lawsuit. The developer's intervener application will have to be heard first before the residents' application to freeze works for the project can be heard, the residents' lawyer Syahredzan Johan said.
The press conference was organised by the community-driven Save Taman Desa coalition which included representatives from 17 residents associations and management bodies, with coalition chairman Frank Yeh emphasising that they are apolitical.
"We are not seeking any political affiliation, we don't want to be affiliated to any political parties," he said.
Clearing works
During a visit yesterday by the media and Taman Desa residents to the area where the project was located, land clearing works could be heard and seen carried out.
Khong noted that Taman Desa residents have noticed activity on the project site, including subsurface works such as clearing of the land.
"How can they commence work when they have not complied with requirements of local councils by getting relevant permit applications first?"
"All these hoardings, they have to get permits to hoard this place, where is the permit?" the Tiara Faber resident asked.
The project site is situated on a strip of land formerly belonging to power producer TNB, with electricity pylons still seen within the green hoardings. The green hoardings were seen placed directly next to Tiara Faber's fence.
Three schools — SK Danau Perdana, SK Taman Desa, SMK Desa Perdana — are located within a 500m radius of the project site, with some of the school buildings or compound located directly opposite the green hoardings and separated only by a road.
Safety, traffic, dust
Kervin Chong, a member of Tiara Faber's management council, said residents were concerned about their safety and dust pollution with the new high-rise development.
"There are three schools, they are going to bring in heavy machinery, for 30 to 40 storeys, tell me, they going to bring in cranes, piling machine...There is no buffer, there is no place to hide, if they crash into one of the residences or anything happens, who is going to be responsible?" he asked, having noted a recent incident where a crane at a Taman Desa construction site crashed and killed its operator.
He also noted that the existing three condominiums on the hill have a maximum height of only 13 storeys, questioning the safety for existing residents during construction work for the new condominiums.
Chong said traffic congestion and road access is a concern. The project site at the top of the hill shares two access points and roads with the schools and the three condominiums.
"They are not building any new facilities, they are not building any new schools, we have this increased population, where are they going to go? All these were not answered, all these were brought up during bantahan (objection session), 200 individual owners went there and they didn't even have the courtesy to reply to us individually.
"And they even sent a letter and said let developer explain to us the benefits and gains that we will get with the development coming in...they are not taking us seriously," he claimed.
Doubling population
Philip Phang, a spokesman for Save Taman Desa, highlighted that the Taman Desa area currently has 9,682 residential units with an estimated population of over 38,000 people and five schools with total capacity of 2,534 residents.
Aside from a single bus service every 30 minutes only to the Klang bus stand, Phang said: "So we actually have zero public transport transit system, there's no plans for any and it has been like that for the past 40 years."
He said Taman Desa residents currently know of 13 new projects comprising 29 blocks, namely two blocks of 48 shoplots and 168 office units and eight blocks of 3,325 affordable housing programme Rumawip units and 19 blocks of 3,721 condominium and serviced apartment units.
"The population of Taman Desa will double in the next few years, very soon, and it is all going to be relying on infrastructure that was planned and designed 40 years ago," he said.
Other efforts
The Save Taman Desa coalition's efforts are separate from a petition recently started by the Taman Desa Residents Association and Seputeh MP Teresa Kok to protest the "overdevelopment" in Taman Desa.
It is also understood that a separate lawsuit has been brought by a different group of residents to challenge the development order that was granted on March 13 for The Address project.