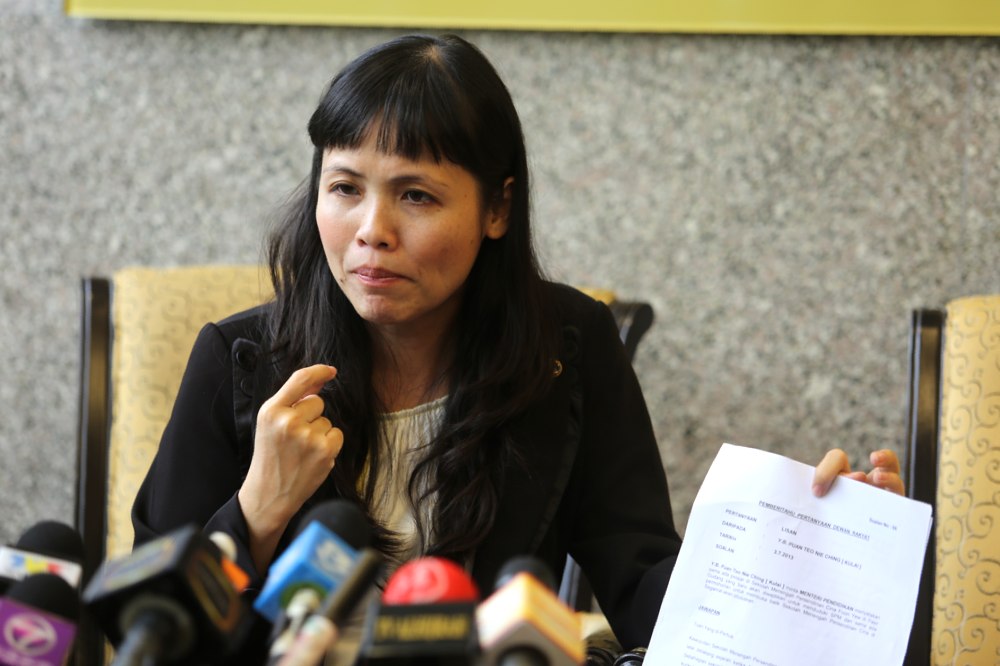 KUALA LUMPUR, Nov 15 — A DAP federal lawmaker scoffed today at Arul Kanda Kandasamy's explanation that 1Malaysia Development Berhad (1MDB) paid above-market prices for its energy assets in order to keep tariffs low, calling the reason "laughable".
Kulai MP Teo Nie Ching also questioned why Arul Kanda, who is 1MDB president, never explained this before, and why, if the assets were purchased to keep power tariffs low, no announcement on any tariff reduction was made in 2012 by the state-owned firm.
"It's only now that 1MDB is forced to dispose of its energy assets that 1MDB is now saying that it overpaid 'to reduce tariffs'," she said in a statement.
"However, Arul Kanda offered a laughable reason for overpaying," she added.
Teo, who is also DAP's assistant national publicity secretary, pointed out that many of the IPP (independent power producer) concessions acquired by 1MDB were already nearing their expiry and therefore, there had been no need for the firm to overpay for these assets.
One example, said Teo, is Genting Sanyen. The asset acquired for RM2.3 billion was only worth about RM400 million in Genting's books because there was less than three years left to its concession agreement, she said.
1MDB is reported to have paid RM18 billion for its energy assets purchase, spending RM8.5 billion for Powertek, RM2.3 billion for the Kuala Langat power plant, which is previously known as Genting Sanyen Power, RM1.2 billion for the Jimah power plant and RM6 billion in inherited debt.
Former prime minister Tun Dr Mahathir Mohamad has repeatedly questioned the reasons for overpaying for these assets, noting that the concessions were nearing the expiration of their licenses.
According to Dr Mahathir in June, if 1MDB had waited for these licenses to expire, the price for acquisition would be "next to nothing".
Teo agreed with this assertion today, saying: "They should be getting them for almost free!"
"There was absolutely no need for 1MDB to give Genting RM1.9 billion of extraordinary profits so that 1MDB can 'help reduce tariffs'!"
"So we wonder, what was the real reason for overpaying?" she asked.
The lawmaker then urged Arul Kanda to provide documents and proof to back his claim.
At a special briefing yesterday, Arul Kanda said 1MDB overpaid for its energy assets to keep power tariffs low and "help the rakyat".
The purchase could help the government save up to RM12 billion in the long run as 1MDB had managed to cut the tariffs by 1 sen per kw, he added.
Arul Kanda also revealed that the purchases of the IPPs included a "goodwill" payment, which he explained inflated the prices for the plants.