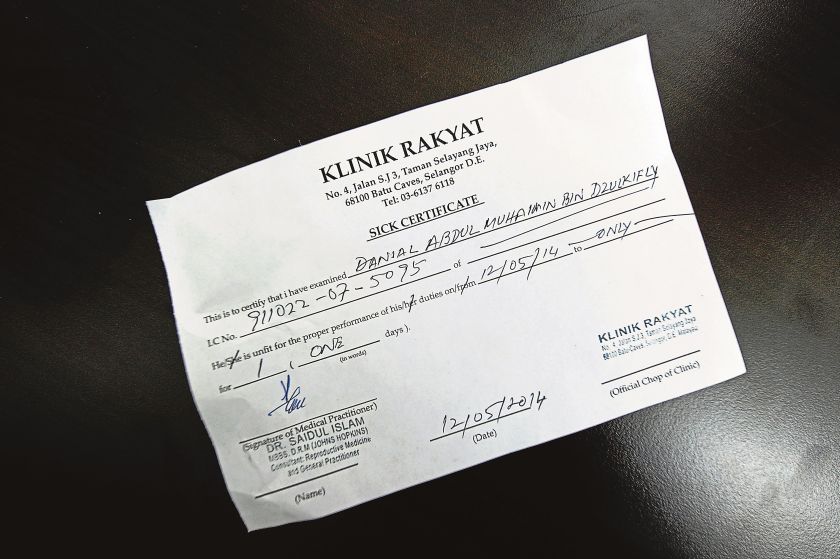 KUALA LUMPUR, May 20 — Doctors are required to stamp all medical chits (MCs) and official documents with the Malaysian Medical Council chop with the doctor's registration number on it.
Health Ministry deputy director-general Datuk Dr Jeyaindran Sinnadurai said it would be easier to track them down and verify with the ministry's database.
"The public can access the database via MMC's website and conduct their own verification by comparing the doctor's particulars as stated in the MC against what is recorded in the medical register," he said.
"With the information, it will be much easier for employers to verify if an MC is bona fide or otherwise."
Dr Jeyaindran said the ministry had received inquiries from employers to verify medical certificates.
"At times, the MC is a forgery with a fake name and at times, it is a stolen MC but with a fake name. If this is so, it is up to the employer to take the necessary disciplinary action," he said.
In this respect, employers had the prerogative whether to accept a medical chit from an employee and they can contact the issuing doctor to make a verification.
"However, if the employer wants to know the reason for a diagnosis, then he or she must have the consent of the employee first. This is because the individual employee's patient confidentiality has to be protected at all times," he said.
Dr Jeyaindran warned that doctors who issued MC without first examining the patient are in breach of the code of professional conduct and could be prosecuted.
"Action can also be taken against third parties (non-doctors) who are found issuing fake MCs," he said.
He was commenting on an expose by Malay Mail on the sale of MCs by Klinik Rakyat in Taman Selayang Jaya. Two days after the report was published, the clinic was raided by the Selangor Health Department. Several documents and an MC book were seized.
They also interrogated the doctor and his staff.
The clinic had sold an MC for RM25 and RM40 respectively.