KUALA LUMPUR, March 17 — When word got out that Frankie Woo was involved in the newly-opened Chinese Palace, many who still remembered his culinary creations made a beeline there.
Woo, who retired about 11 years ago, is well regarded for his fine modern Chinese food. The 61-year-old honed his skills in the kitchen since he was just 13 years old.
That appetite for mastering the intricacies of Chinese cooking led him to join various five star hotels and restaurants in Kuala Lumpur, Hong Kong and Singapore.
He is the master of combining Chinese, Western and Japanese cuisines to create his unique dishes served in a fine dining setting.
Advertisement
A notable dish is his Soft Boiled Egg with Foie Gras. The egg is steamed rather than poached to create a voluptuous texture and topped with a flavour bomb of pan fried foie gras, soy sauce and black pepper.
This egg dish wowed fellow chefs in New York when Woo was invited in 1994 to represent Asia at a prestigious James Beard Foundation charity event.
Before he hung up his chef's hat, he owned Gu Yu Tien at Chulan Square. At that time when course meals for individuals were reserved for Western restaurants, they were the pioneer for introducing their Chinese fine dining version.
Advertisement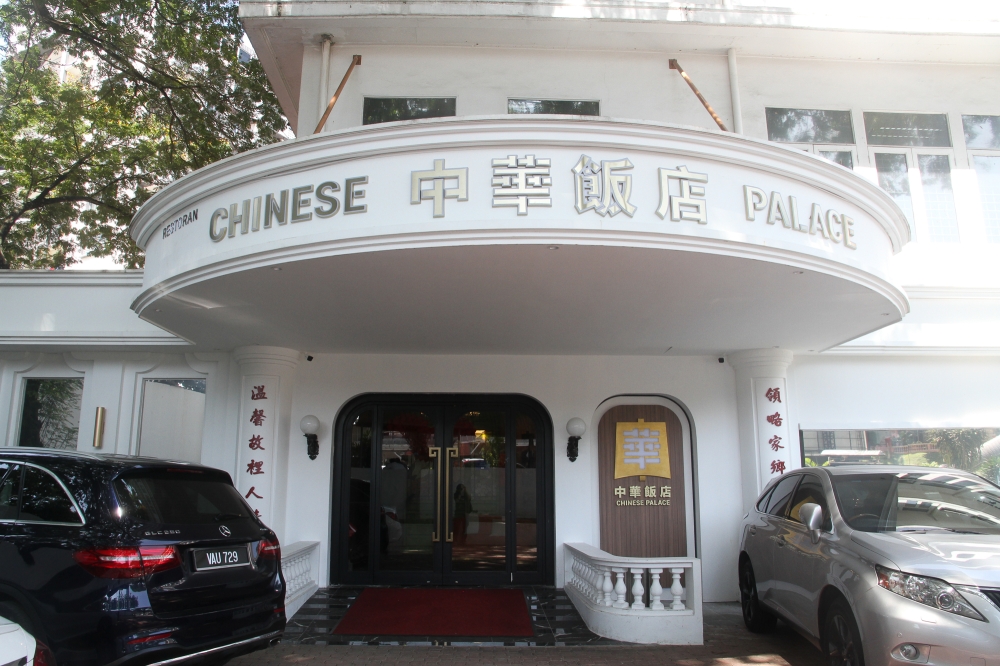 The owners of Chinese Palace – housed in the iconic KL & Selangor Chinese Assembly Hall – managed to coax him out of retirement to return as a consultant chef for their restaurant.
Since his retirement, Woo has been keeping a low profile. The avid foodie has been exploring places in Japan as he explained, "I want to enjoy life and eat well."
He also visited Singapore to catch up with friends he used to work with there. The homebody tells us he is most content with a simple meal of steamed egg or steamed pork with rice and soup cooked by his wife.
Chinese Palace which opened its doors just before Chinese New Year is a project by Managing Director Ivan Lim and his fellow partners. When Purple Cane Restaurant vacated the space after occupying it for more than 20 years, Lim explained that they were given the opportunity to take over the space. Lim's other projects include Malaya Garden and Good Luck Kopitiam.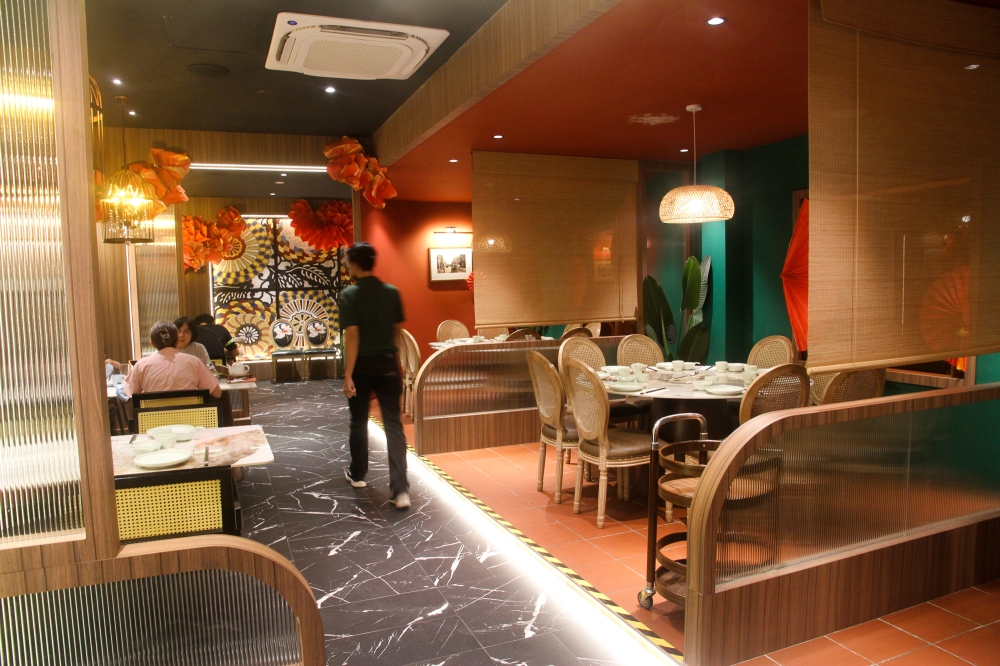 In the design for the restaurant, elements from Nanyang were incorporated to celebrate the migration of the Chinese to Malaya. The modern interiors have banana trees on walls and wooden dividers made to resemble a ship's bow.
Even their name card logo resembles a ship's sail, a nod to the long sea journey endured by the Chinese to their new homeland.
The restaurant includes a main dining hall and a total of seven private rooms. The rooms can also be expanded to accommodate up to 30 people. Lim explained that they added more private rooms as diners now prefer more privacy to hold their gatherings since Covid19.
As the building – constructed in 1923 – is gazetted as a heritage building, much care was taken during the renovation of the restaurant.
With Woo on board as the consultant chef, he advised on the design of the kitchen, lending his valuable expertise to making sure it's efficient to cater to the restaurant's needs. It's a large space, as Lim explained, which makes it capable of handling banquets held at the Chinese Assembly Hall for 80 to 100 people.
In the kitchen, Woo helped to handpick Sam Loo who runs the place with a total of 10 chefs under him. The menu at the restaurant is a focused one.
Woo is of the opinion that the menu should highlight their specialties rather than a large one where the chefs may have trouble perfecting the dishes.
You have special snacks and dim sum choices from steamed to deep fried versions. There's also a selection of home cooked dishes that will appeal to those who appreciate comfort food. This includes dishes like steamed minced pork with salted fish, braised grouper fish head with chili bean paste and eggplant or claypot beancurd with chicken and salted fish.
There's also their signature braised shark's fin soup with crab meat or double boiled fresh fish maw in shark's bone soup.
Select from their noodles menu with popular choices like Hokkien Mee, a stunning looking crispy fried noodles with fresh water prawns or stir fried vermicelli with fish paste sauce.
You also have cheese baked crab meat with garlic claypot rice or the flavour bomb of steamed rice with pork belly and shrimp paste.
Other special dishes include their oven baked Iberico pork ribs, deep fried soon hock fish, braised abalone and more.
The restaurant is also sponsored by Penfolds Wine and in February, Woo cooked for their Penfolds wine dinner where the wines were paired with a five-course meal. Woo has had a penchant for pairing wine with Chinese dishes since his days at Gu Yue Tien.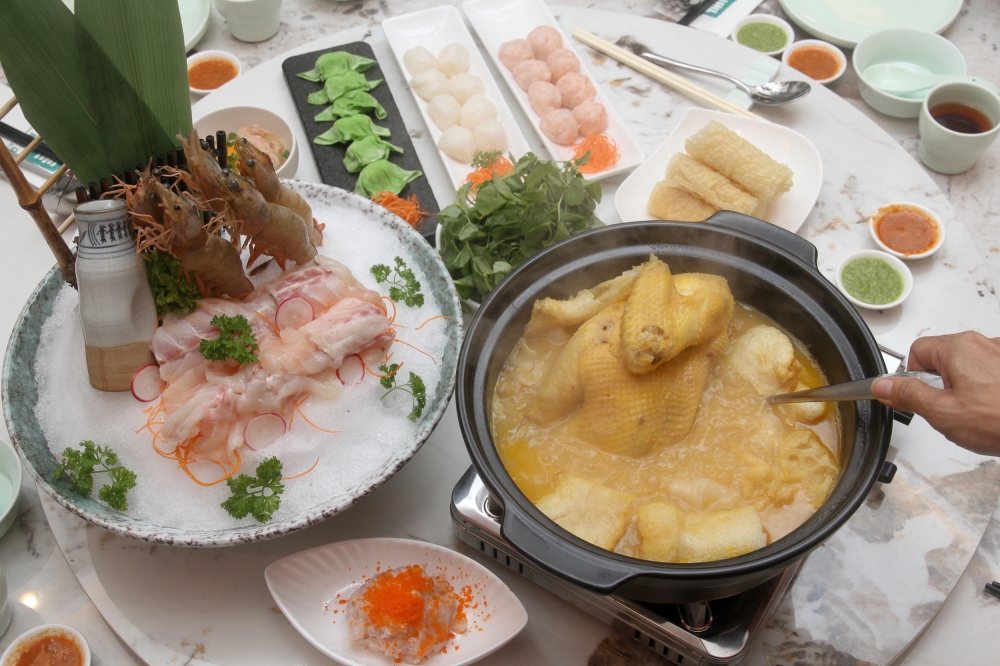 On March 15, the Chinese Palace unveiled a special hot pot promotion which will run up to April 30.
The highlight is the various soups where time is taken to ensure it's full of goodness. After all, Woo said, "The secret is good soup."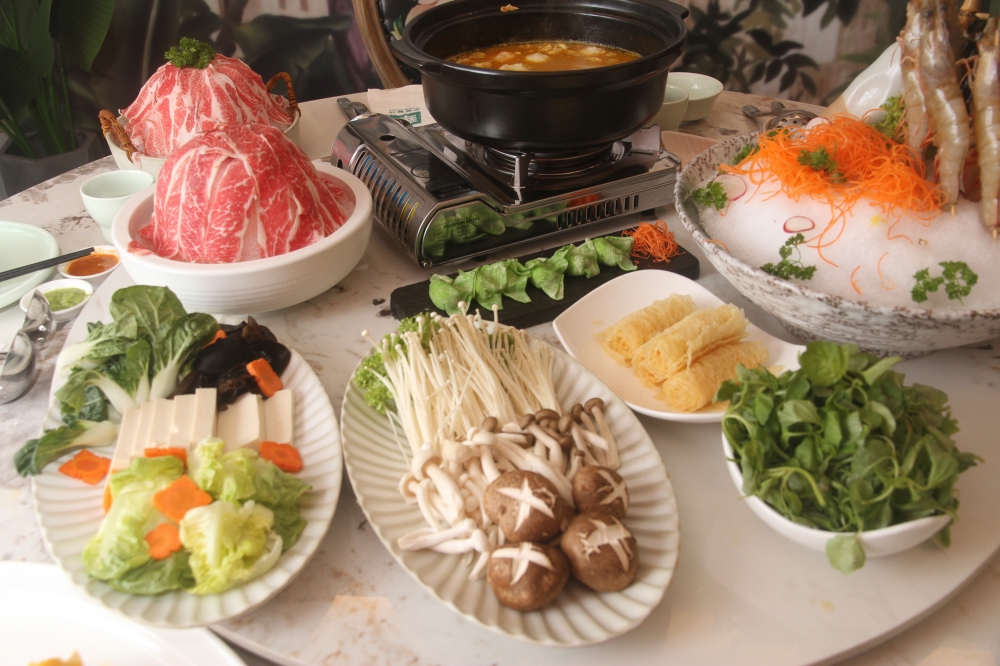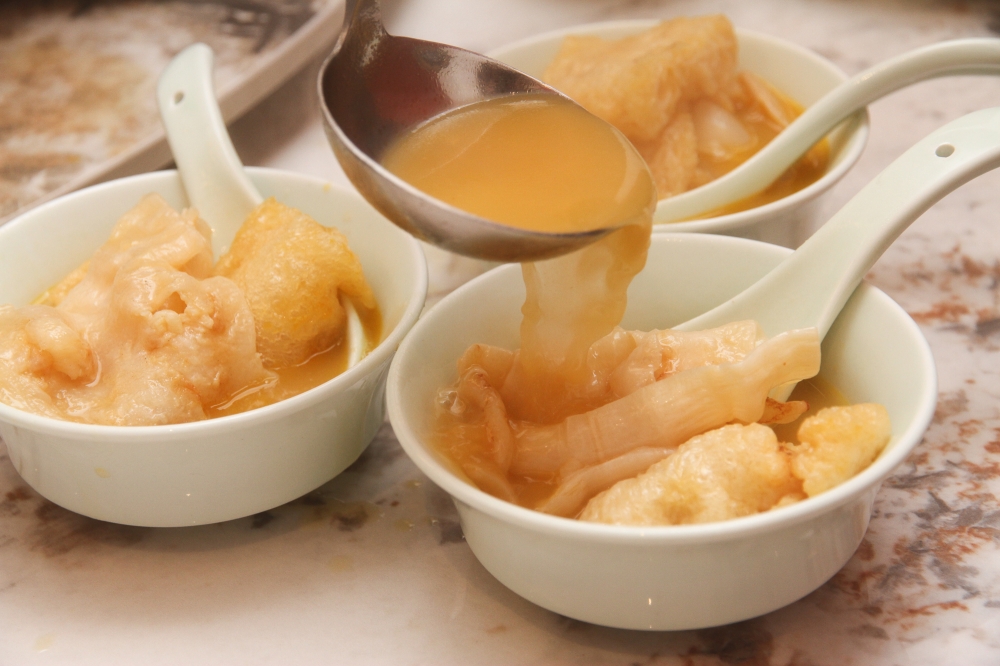 Select from six types of soup broths to enjoy with a variety of items. For the fish maw chicken, you get a nourishing soup that has been slowly boiled for many hours so each spoonful is full of goodness and collagen from the kampung chicken used. The chicken is also served on the side, making it a substantial meal.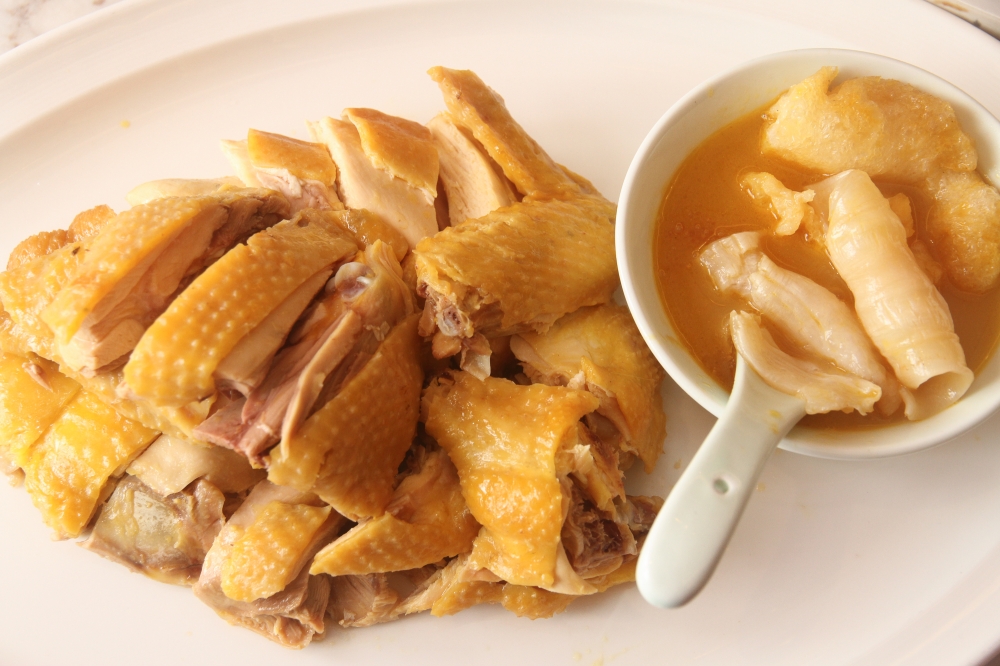 There's also a beef tendon, Hong Kong style beef brisket, giant garoupa (loong dan) head with lychee, Chinese cabbage with wolfberry clear soup and spicy mala. You can either order a single portion of the broth or if you cannot decide, pick two to get a feel of both flavours.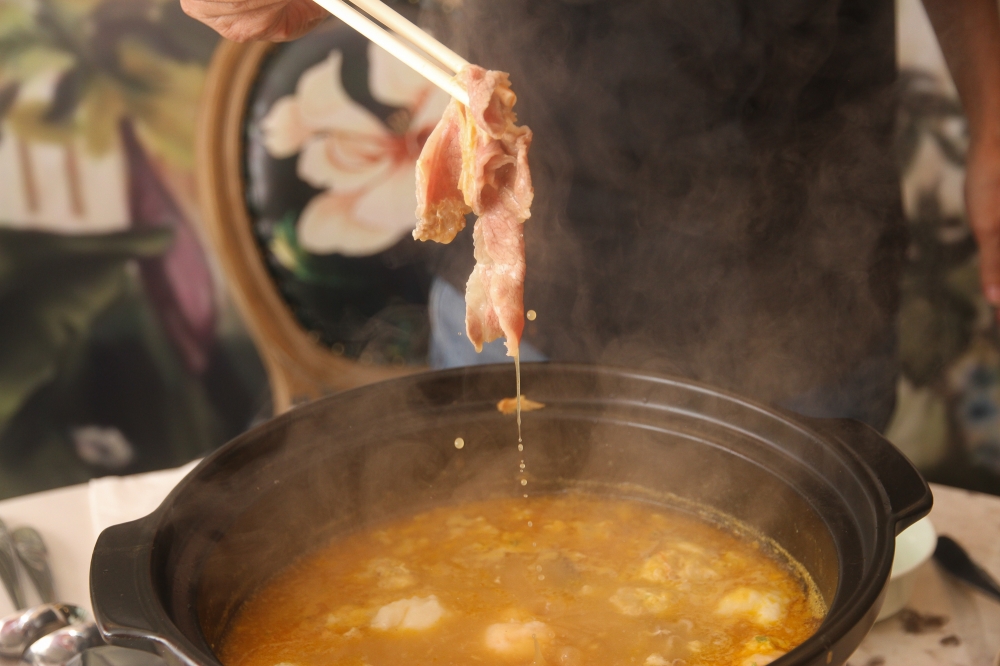 The menu also offers a choice for you to curate what you like. For instance, if you want more protein, there's a selection of Inner Mongolia lamb slices, premium US beef slices or Iberico pork slices. There's also pork shoulder slices and pork belly slices.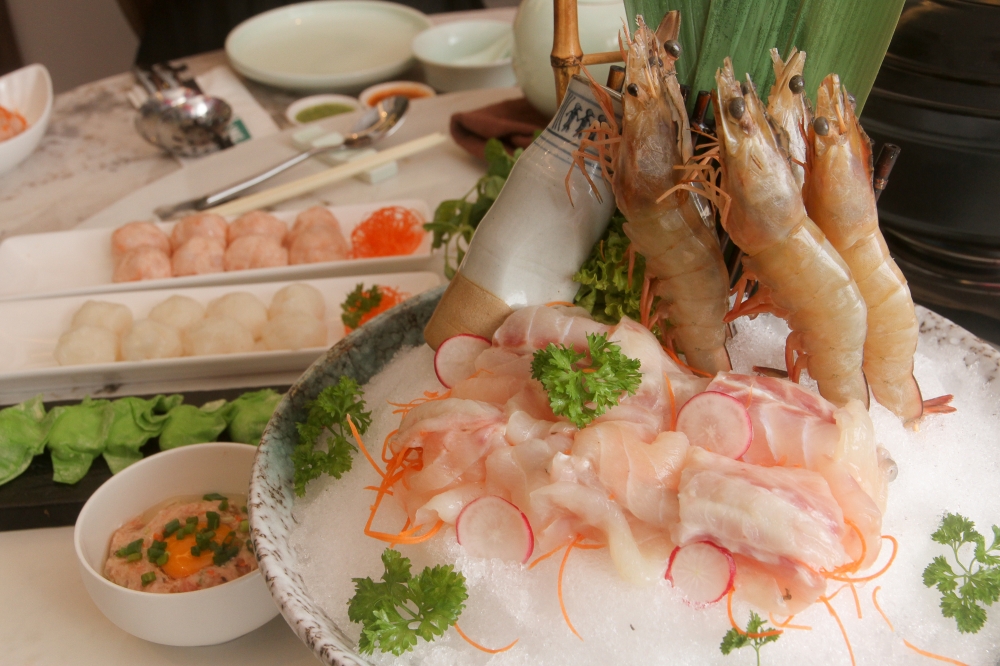 Seafood choices are also available. Whether it's premium fish like turbot, coral trout or soon hock, you will be spoiled for choice. There's also giant garoupa or loong dan. You also have a choice of Hokkaido scallop or Australian scallop, freshwater prawns or sea prawns.
You won't find ordinary fish balls here as everything is painstakingly handmade. This makes a real difference to the texture which has a springier bite. Select from cuttlefish, prawn, pork balls or beef balls with orange peel.
There's also handmade dumplings with either prawn, pork chive or dried shrimp chive filling. They also offer the prawn paste, pork paste and cuttlefish paste in a bowl, which can be added in smaller pieces to the hot broth.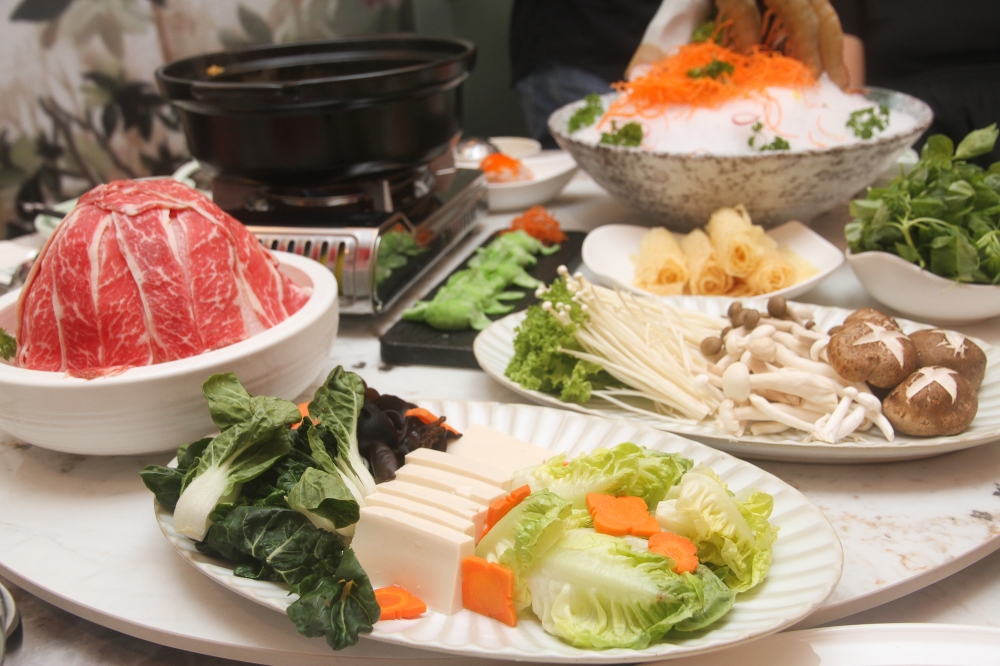 For vegetables, there is a mixed platter available. Or opt for individual choices like baby spinach or baby bok choy for your hotpot. There's even a mushroom platter with different types of fungi from enoki, shimeji, oyster to shiitake.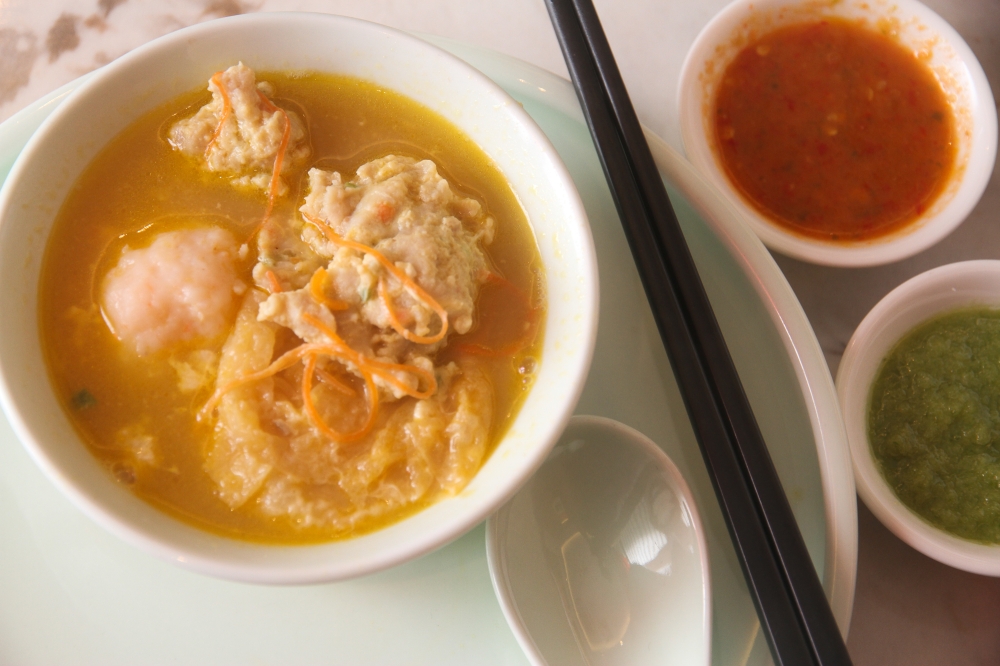 And every hotpot needs awesome sauces and here they meet the brief perfectly. You have red chilli and green chilli sauces. It's hard to choose which one is better so go for both when in doubt!
Chinese Palace, No. 1, Jalan Maharajalela (KL & Selangor Chinese Assembly Hall), Kampung Attap, Kuala Lumpur. Open daily: 11am to 2.30pm, 6pm to 10pm.You can call +6016-8336228 for reservations. Instagram: @chinesepalacekl
* Follow us on Instagram @eatdrinkmm for more food gems.