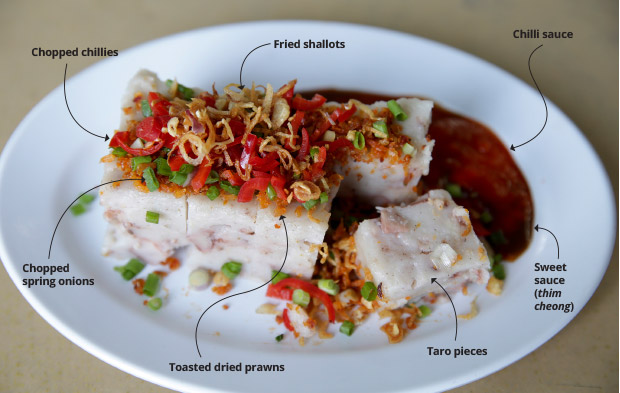 KUALA LUMPUR, April 2 — We know it as yam cake but in actual fact, it is made from taro.
The steamed savoury cake is often eaten for breakfast or even as an afternoon snack. You can usually find it sold in stalls or even restaurants.
For a simple item, it requires a lot of steps and skills to make a good version. Firstly, the quality of the taro is important as you need to choose fluffy and powdery textured ones.
As fresh taro can be expensive, some stalls substitute with commercially available taro powder to recreate the snack. To distinguish which ones are the real deal, look for tiny taro bits in the yam cake.
Traditionally, the taro is mixed with rice flour, chopped shallots and garlic, and seasoning before it is steamed in a tray. Some recipes also require a mixture of flours that range from tapioca flour, green pea flour, corn starch and so on to get that creamy fluffy texture.
For extra flavour, you may find chopped meat, shiitake mushrooms and dried prawns steamed together with the taro mixture.
Just before you serve the yam cake, garnish it with fried shallots and toasted dried prawns. You may also add chopped chillies and spring onions for extra colour.
The pieces of yam cake are eaten with chilli sauce and sweet sauce or thim cheong. As every stall has their own recipe, it is worth your time to try the snack out when you see it being sold.
Restoran Goodview Kopitiam
1091, Jalan 17/27
Section 17, PJ
Open: 7am to 5.30pm
Closed alternate Mondays
Look for the char kway teow stall at this corner coffee shop in Section 17, PJ. It is run by Yap Han Ling who also sells yam cake based on his grandmother's recipe.
Here the yam cake has a nice fluffy texture with chunks of taro. It is generously topped with aromatic dried prawns and fried shallots.
Yap tells us the secret for his fluffy yam cake is because he uses taro specially picked by his uncle who runs a vegetable stall in the wet market. He prepares two trays per day and it is only sold on Tuesdays, Thursdays, Saturdays and Sundays.
Best to come early as it sells out quickly. Yap who used to be do electrical wiring switched to F&B about three years ago for better prospects. His yam cake is pork-free and can be ordered three days in advance by the tray for RM90.
Pin Chou Cafe
14, Jalan SS2/103
SS2, PJ
Open: 7.30am to 2pm
Closed on Sundays
This neighbourhood cafe sells an assortment of food like mixed rice dishes, nasi lemak and Penang specialties like prawn mee and prawn paste chee cheong fun. They also have steamed otak-otak.
Their yam cake is an excellent version with a not too soft but slightly firm texture. As you chew a piece, you find there are bits of meat and chunks of taro. It is garnished with crushed toasted dried prawns. You can also order a tray for RM50 that requires one day advance order.
Restoran Tropikiri
2, Jalan BM 1/2
Taman Bukit Mayang Emas, PJ
Open: 6am to 3pm
Find the yam cake at the nasi lemak stall before it sells out. Here the yam cake has a very soft texture but it is tasty with minimal garnishes. The stall also sells glutinous rice or lor mai fan.
Oriental Cravings
359, Ground Floor Rainforest
1 Utama Shopping Centre
Bandar Utama, PJ
Open daily: 10am to 10pm
For a more luxurious version, try this place that serves two types of yam cake; steamed and fried. For a snack, try the steamed version that has pumpkin cubes, taro, Chinese waxed meat sausages, minced pork and dried shrimps.
The more popular fried yam cake is a light meal on its own with its medley of stir fried goodies like long beans, preserved radish and egg. It is topped with crispy dried shrimp and peanuts.
Imbi Nyonya Kuih
Stall at carpark in front of Restoran Win Heng Seng
Jalan Imbi, KL
Open: 5.30pm to 8.30pm (Wednesdays, Thursdays and Saturdays only)
Drop by this stall to sample their soft and tasty yam cake that is topped with ground toasted dried prawns. An extra bonus are the chunks of taro inside it.
Pair it with chilli sauce and sweet sauce for a satisfying meal. The stall run by an old couple only sells limited quantities of their homemade kuih so come early to score the goodies. There is also tong sui served here.