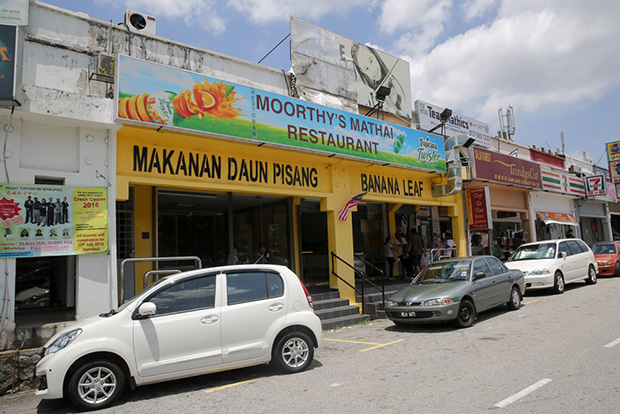 SUBANG JAYA, Oct 9 — Old timers would remember Mathai's from Brickfields. Started back in 1969 by K.O. Mathai who hailed from Kerala, the stall sold simple Indian food within a Chinese coffee shop that was located below the iconic Rumah Tumpangan Peking.
Everyone came for his delicious fare — rice doused with curry, vegetables, a choice of fried chicken, fried fish or mutton curry — served on banana leaves.
The star of his humble stall was the fried tenggiri fish. Looking unassuming and even a little dry with its crust of chilli powder and spices, the dark brown chunk hid a juicy surprise within... firm and sweet tasting fish flesh.
In 1992, it was time for Mathai to pass on the reins. His godson, Moorthy Rengasamy who was 36 years old at that time and working as a money changer in Singapore returned to Brickfields to start learning the ropes from Mathai.
He took over from Mathai who passed away in 2002. In 2007, the coffee shop closed when the building was renovated. The stall reopened at Mayflower Seafood Restaurant in January 2008 together with a few other hawkers from the coffee shop including Peter's Pork Noodles.
Popularly known as Money's Corner, that stall remains till today.
About four years ago, Moorthy passed the stall to his nephew to manage. Moorthy also expanded the business by opening another outlet in Brickfields that was nearer to the Monorail station.
They also opened a restaurant at the PJ Gasing area, right next to Raju's Restaurant. Tired of running the business, he sold the two outlets and took a break for one year.
He was coaxed out of retirement by his son Shiva about three years ago. Fresh from culinary school, his son wanted to continue his father's legacy so they opened a restaurant in Sunway Damansara.
About eight months ago, he opened this outlet in USJ4. Most people recognise the name Moorthy's Mathai when they sit at the traffic lights along the main road as it's usually a long two-minute wait.
Curious about the association with the famous stall, they will drop by to see if it's the same place from Brickfields. One taste of his curried potatoes and signature fried tenggiri fish, and it'll bring back old memories of that humble stall.
After Deepavali, they will be opening a third outlet in Ara Damansara that will be run by Moorthy's good friend, Leslie Lim.
For breakfast, there's a spread of roti canai, chapati, thosai and idly. If you love deep fried items, the puffy golden brown puri is a popular choice for many as witnessed by the many orders.
It's available up to 11am. You also have two types of vadai — softer ulunthu vadai and the crunchier masala vadai — for a light breakfast. These snacks make their appearance back around 4pm for teatime.
Unlike other owners who tend to be hands off when it comes to the behind-the-scenes work, Moorthy stills makes it a point to source the ingredients and cook most of the signature items himself.
His day starts from midnight when he makes a trip to the market to source for fresh fish. The fresh fish yields a far superior taste that trumps the frozen pre-cut fish slices that are often used in other restaurants. He only uses bigger-sized fish that weigh up to 4 kilograms as you get a tastier bite.
The origins of the recipe is fuzzy but Moorthy vaguely remembers that a woman taught his godfather this method that they have adopted for many years.
Another important step is removing the fish skin, a task that Moorthy undertakes himself. The fish is cut into chunks with a thickness of about three centimetres.
The fish pieces are marinated with the mix of chilli powder and spices before they are deep fried. Once it emerges from the hot oil, the dark brown colour may look unattractive but tear into a piece to discover a surprise. "You can feel the flesh which is juicy and warm inside," explained Moorthy.
Once the fish is prepared, it's time to cook up the dishes that include their aromatic prawn curry, tender mutton shanks with a thick curry and crab curry. By 7am, he's finished. Usually some of the vegetable dishes are cooked by his cook later in the morning just before lunch starts.
In the evening, they cook another round of food about 6pm. On a daily basis, most of the main dishes remain but the vegetables dishes vary depending on what's available in the market.
There are roughly about 30 to 40 dishes available every day. On weekends, expect to find the peppery crab or nandu rasam to clear your palate. There is also biryani rice, a choice of chicken and mutton.
During weekends, the place is packed with people who come in for their banana leaf lunch or a quick breakfast. This includes a regular customer Anita and her family. Her husband who has been a fan of the Brickfields stall recently discovered this place. Since they stay in Shah Alam, they often drop by to enjoy the food.
Moorthy's Mathai Restaurant
No. 24 & 26, Jalan USJ4/9G
Subang Jaya, Selangor
Tel: 03-8081 8430.
Open daily: 7am to 9.30pm
There is also another outlet at A26, Ground Floor, Jalan PJU 3/38A, Sunway Damansara, Petaling Jaya.