MARCH 11 — After months of campaigning and the last-minute sprint at all the precursor awards shows, we're finally closing in on Hollywood's biggest night of the year — the Oscar 2023 ceremony happening on March 13, 2023.
While last year's Oscars saw the totally unexpected last minute sprint and photo finish for CODA, which came out of nowhere to overtake last season's overwhelming favourite The Power Of The Dog by suddenly winning at the Producers Guild of America (PGA) awards just a week before the Oscars and ultimately winning Best Picture, there's nothing like that happening this year, unless we take All Quiet On The Western Front's (AQOTWF) huge win at the Baftas as a sign that Everything Everywhere All At Once (EEAAO) now has a similar surprise challenger.
This prediction game, however, is never about what I want or hope to happen, hence my inclusion of who I think will win (based on the patterns that can be discerned from the precursor awards) and who I think should win (which is my personal preference).
There's only so many categories that I can fit in here, so let's just go with the main categories, shall we?
Advertisement
Best Picture
As I mentioned before, with a clean sweep at the PGA, Directors Guild of America (DGA), Screen Actors Guild (SAG), and Writers Guild of America (WGA) awards, EEAAO is the overwhelming favourite to take home the Best Picture award this year, although some concern may be raised by the fact that AQOTWF pretty much cleaned up at the Baftas at the film's expense, which might be giving out the same CODA vibes this year because since it's a German film, it wasn't eligible to compete at a lot of these precursor awards.
Although my favourite out of all the Best Picture nominees is undoubtedly Spielberg's achingly lovely The Fabelmans, this award is EEAAO's to lose, and should it lose, I think it will be to AQOTWF.
Advertisement
Should win: The Fabelmans
Will win: Everything Everywhere All At Once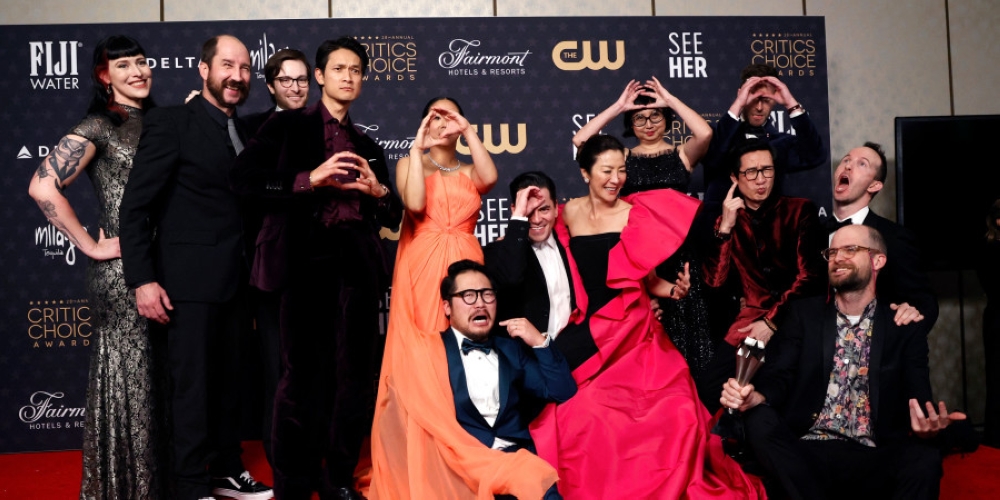 Best Director
Of all the nominees here, my heart will always prefer the more classical directing chops on display by Spielberg in The Fabelmans, but the win by the Daniels at the DGA surely points towards a Best Director win at the Oscars as well for the pair.
Only eight times in the DGA's 74-year history has its winner not gone on to win the Best Director award at the Oscars, and that is one heck of a pattern to ignore when making Oscar predictions. The Daniels it is then.
Should win: Steven Spielberg
Will win: Daniel Kwan & Daniel Scheinert
Best Actor
This is probably the tightest category to predict at this year's Oscars, with Colin Farrell at first seemingly leading the race with a Best Actor win at Venice (defeating fellow Oscar nominee Brendan Fraser), only to see Fraser then picking up wins at the Critics Choice Awards, and more crucially, the SAG awards.
But with Austin Butler not only winning at the Golden Globes, but also at the BAFTAS (beating Farrell), and with the Academy having a track record of rewarding actors and actresses playing real people, especially musical icons, even in weaker films (just look at Rami Malek in Bohemian Rhapsody or Jessica Chastain in The Eyes Of Tammy Faye), this could just be the clincher for him.
Still, the Academy loves a good comeback story, and there's no comeback story this year better than the one surrounding Fraser, so it's really a straight battle between Fraser and Butler.
My personal vote of course goes to the thrillingly insular performance delivered by Paul Mescal in Aftersun, but the nomination is already a win for him and that gorgeous little film.
Should win: Paul Mescal
Will win: Austin Butler
Best Actress
There are two schools of thought here when it comes to the Best Actress category. One says that two-time Oscar winner Cate Blanchett will win this because it's probably the only way for the Academy to be able to give an award to Tar, and her win at the Golden Globes, Critics Choice and Bafta awards can be seen to support this, but with the feelgood factor surrounding Michelle Yeoh from the very beginning of this Oscar season, topped with her late wins at the SAG and the Independent Spirit Awards, this very much looks like a lock for Yeoh, and a moment to treasure for us Malaysians when her name is called and she goes up to the stage to receive the award come Monday.
Should win: Michelle Yeoh
Will win: Michelle Yeoh
Best Supporting Actor
Like Michelle Yeoh, the feelgood factor and great comeback story surrounding Ke Huy Quan (aka Short Round in Indiana Jones and the Temple of Doom and Data in The Goonies to us 80s kids) is just too strong to let anyone else walk home with the statuette in this category.
Even if part of me thinks that Barry Keoghan's short but unforgettable work in The Banshees of Inisherin deserves something (and the double nomination for the film with Brendan Gleeson getting the other nod is bound to split the vote), I still think Ke Huy Quan should walk home with this one.
Should win: Ke Huy Quan
Will win: Ke Huy Quan
Best Supporting Actress
Jamie Lee Curtis' shock win at the SAG (where quite a large number of the Academy voters are from) might just mean that the Best Supporting Actress Oscar is going to be hers as well, especially when at first everyone thought that with EEAAO having two nominees in Curtis and Stephanie Hsu, the votes are going to be split.
There's a late campaign by Disney to push Golden Globes and Critics Choice winner Angela Bassett to become the first Oscar acting award winner for a Marvel movie, but her losses at the SAG and the Baftas might signal that the campaign was simply not enough.
If you ask me, Curtis may have the more fun and eye-catching role, but Hsu has the far deeper and more complex role, and she pulled it off with flying colours, but one simply cannot argue with the "patterns", especially when it comes to the Oscars.
Should win: Stephanie Hsu
Will win: Jamie Lee Curtis
Best Original Screenplay
By right, since EEAAO won at the WGA for this category, which is a strong indicator for Oscar glory as the WGA winners have also emerged with the Oscar seven times in the last 10 years, the one big asterisk here is that another predicted favourite here, The Banshees Of Inisherin, wasn't eligible for the WGA since it's a British film.
But this category tends to be won by the eventual Best Picture winner, so unless there's an upset in that category, this one is very likely going to the writers of EEAAO.
Should win: Everything Everywhere All At Once
Will win: Everything Everywhere All At Once
Best Adapted Screenplay
If we're talking about the sheer number of nominations, and the possibility of an award in this category as a consolation prize, then maybe AQOTWF is the logical frontrunner here.
But there are very few women competing in the big, non-gender specific categories at the Oscars this year, and there's a golden opportunity for the members of the Academy to partially correct that here by handing out the award in this category to Sarah Polley for her excellent screenplay for Women Talking.
The fact that she also won at the WGA and Scripter awards probably helps to give us a hint at where voters in this category are going.
It's going to be very close between Women Talking and AQOTWF, but I think there should be enough in the tank for Women Talking to prevail.
Should win: Women Talking
Will win: Women Talking
Best International Film
This one should be very easy, as none of the nominees here except for AQOTWF are also nominated in the Best Picture category. That should already be a ringing endorsement that this category is totally in the bag for AQOTWF, especially since it also scored big at the Baftas.
A win for any other film would definitely qualify as a big shock. I would've loved to see how things would've played out if the superb Decision To Leave, a film I adored to bits, was actually nominated here. That would probably have made things more interesting.
Should win: Decision To Leave (but it's not nominated!)
Will win: All Quiet On The Western Front
* This is the personal opinion of the columnist.