KUALA LUMPUR, June 23 — Refugees, immigrants and those of particular races or ethnicities were identified by local human rights experts to be more at risk of being subject to torture or ill-treatment in Malaysia in 2022, the latest edition of an international human rights tracker released yesterday said.
In the Human Rights Measurement Initiative's (HRMI) Rights Tracker 2023, it measured the Malaysian government's respect for five rights under the Safety from the State category, with Malaysia having the lowest score for the right to freedom from torture and ill-treatment, at 4.9 out of 10.
As a whole, Malaysia scored 7.0 out of 10 on its government's respect for the rights of Safety from the State, better than the two other South-east Asian countries which had an overall score for these rights — Thailand (5.4) and Vietnam (4.9).
But Michaelle Phoenix Yeo, HRMI's East and South-east Asia Lead, said a significant number of people in Malaysia "are not safe from various violations including torture and ill-treatment, and arbitrary arrest".
Advertisement
"Malaysia scored particularly low on the right to freedom torture and ill-treatment. It is one of the rare democracies that has not yet ratified the UN Convention against Torture and Other Cruel, Inhuman or Degrading Treatment or Punishment," Yeo said in a statement.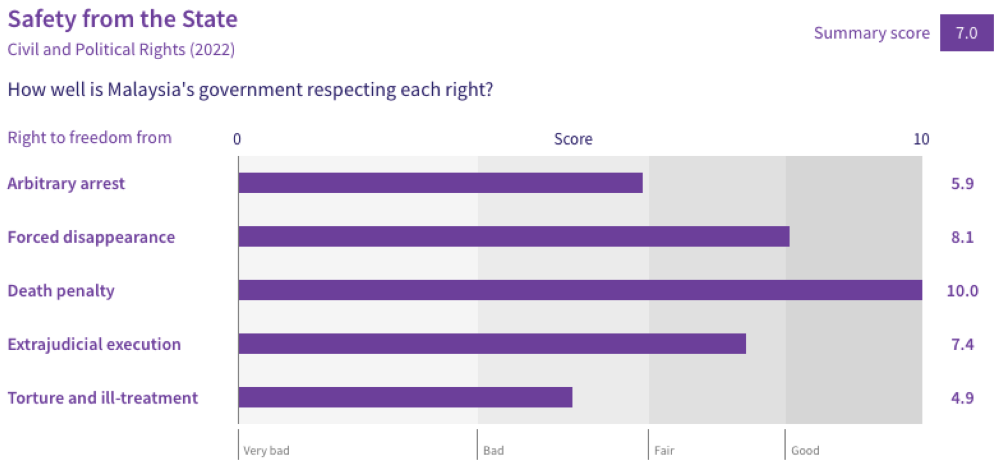 Who are the groups viewed to be more at risk?
Advertisement
In HRMI's survey of local human rights experts asked on who were especially vulnerable to torture and ill-treatment by government agents in 2022, they mentioned that "torture tends to occur in detention facilities, and there is lack of police accountability when deaths occur in custody".
"Refugees, mainly those of Indian and Indigenous descent are the biggest demographic affected," HRMI said of one of the points stated by the respondents.
According to HRMI, the survey respondents also said those who support the Opposition — particularly PKR or DAP — are subject to ill-treatment, and that LGBTQIA+ people are "at risk of torture, such as public caning". PKR and DAP were formerly the federal Opposition, but are now part of the ruling coalition since the general elections last November.
Based on the survey, 54 per cent of local human rights experts identified migrants/immigrants and refugees/asylum seekers as two groups being at risk of torture and ill-treatment, while others at risk include detainees or those accused of crimes (38 per cent), LGBTQIA+ people (38 per cent), people of particular races (38 per cent), those with particular ethnicities (23 per cent) and those with particular political affiliations or beliefs (23 per cent).
In the same HRMI survey, the experts said those especially vulnerable to arbitrary or political arrest and detention by government agents in 2022 include "anyone who speaks publicly against the government or demands their rights", and "Rohingya people and indigenous people, mainly Orang Asli".
The experts also mentioned artists (especially those who produce works that are satirical of the government or related to LGBTQIA+ issues) and those engaged in peaceful protests or demonstrations (especially those related to women's rights or LGBTQIA+ rights).
Those identified by the local experts as being at risk of arbitrary arrest include people with particular political affiliations or beliefs (identified by 69 per cent of experts), those who protest or engage in non-violent political activity (62 per cent), human rights advocates (46 per cent), migrants/immigrants (38 per cent), those of particular ethnicities (38 per cent), refugees/ asylum seekers (38 per cent), labour union members or workers' rights advocates (31 per cent), people of particular races (31 per cent), and people without a legal identity (31 per cent).
When asked in the survey to give context on who was especially vulnerable to forced disappearance or disappearance by government agents, the HRMI survey respondents said there was a lack of transparency about the "whereabouts of missing people, particularly Christian people, migrants, refugees, and LGBTQIA+ people".
The respondents also said "Malaysian Muslim people are reportedly sent away to government-funded religious camps", and also mentioned "pastors of religions that the government does not agree with, and their families" as vulnerable groups.
The full data from HRMI's Rights Tracker 2023 can be found at https://rightstracker.org/