KUALA LUMPUR, April 12 — Former prime minister Datuk Seri Najib Razak is probably the most high-profile prisoner known to be seeking a royal pardon in his criminal case currently, as he hopes for an early release from a 12-year jail term.
How does the pardon process work in Malaysia? Here's what we know:
1. Who can file a pardon petition and how often can this be done?
When contacted, former Malaysian Bar president Salim Bashir Bhaskaran told Malay Mail that seeking a pardon is considered after a person has exhausted all their legal remedies in court.
Advertisement
He said a petition for pardon can be filed by the prisoner himself, his family or by others on his behalf — such as a foreign embassy. (For example, the Selangor Sultan reduced a Philippine citizen's death sentence to life imprisonment in 2015, after appeals made by the family and the Philippine embassy.)
Under Regulation 113 of the Prisons Regulations 2000, a prisoner can send a petition on his conviction or sentence once to the Yang di-Pertuan Agong (or the state Ruler or state governor) "as soon as practicable" after his conviction.
The prisoner can send such a petition for pardon for the second time after three years from his conviction date and can subsequently continue to send such petitions every two years, unless there are any "special circumstances".
Advertisement
Apart from these rules on the frequency for the filing of pardon applications, Salim said there are "no limits" on the number of times it can be filed.
While Umno last Friday said it will appeal to the Yang di-Pertuan Agong for Najib to be pardoned, a 2015 news report cited the Perak Sultan as reminding prisoners to seek for pardons personally instead of forwarding or filing them through a "third party".
In a written parliamentary reply on November 15, 2016, minister Datuk Seri Azalina Othman Said told Ipoh Barat MP M. Kulasegaran that pardon bids can be filed by a prisoner, his family, his lawyers, non-governmental organisations and the Prisons Department, based on regulations 113 and 114 of the Prisons Regulations 2000.
For prisoners serving jail sentences of more than seven years, the Prisons Department would present a report every four years, and then every year after the 16th year for review on the prisoners' sentence, in line with Regulation 54, she had said.
Under Regulation 54, the report to be forwarded to the Rulers should include statements on the prisoners' work, conduct, mental and physical condition and effect of imprisonment on his health, with the Rulers able to decide whether to cut short part of the jail term or grant an early release.
2. Who do you appeal to?
It all depends on where you committed the offence.
Based on the Federal Constitution's Article 42(1), the Yang di-Pertuan Agong has the power to grant pardon for offences committed within the Federal Territories of Kuala Lumpur, Putrajaya and Labuan, while state Rulers have the power to grant pardon for offences committed in the states.
3. Who sits on the Pardons Board?
Under the Federal Constitution's Article 42, the Pardons Board for each state comprises Malaysia's attorney general (AG), the state's chief minister, and a maximum of three other members appointed by the state ruler or the Yang di-Pertua Negeri. The state Ruler or the Yang di-Pertua Negeri would also preside over the state Pardons Board's meetings.
For the Federal Territories, the Pardons Board comprises Malaysia's AG, the Federal Territories minister, and a maximum of three other members appointed by the Yang di-Pertuan Agong. The Yang di-Pertuan Agong chairs meetings of the Federal Territories Pardons Board.
4. Can you submit court judgments for your pardon application?
Salim said prisoners can submit "anything relevant" to the Pardons Board when seeking a pardon and agreed this could include court judgments if "relevant".
"The Pardons Board can make findings on their own based on the documents available. The applicant is open to submit any documents or evidence to assist YDPA in coming to his decisions," the senior criminal lawyer said, using the abbreviation for Yang di-Pertuan Agong.
After the Federal Court's 4-1 decision on March 31, 2023, where Najib failed to challenge his conviction and imprisonment in the case involving SRC International Sdn Bhd's RM42 million, his lawyer Tan Sri Muhammad Shafee Abdullah said both the majority and minority judgments would be submitted to the Yang di-Pertuan Agong to support Najib's pardon bid.
Asked about Najib's plans to submit these court judgments, Salim confirmed a prisoner can still furnish more documents at a later stage after they have filed a petition for pardon.
"Yes, they can supplement the documents if the decisions are yet to be made by the Pardons Board," he said.
Najib filed his application for a pardon on September 2, 2022, and no decision has been made yet on his pardon bid.
5. What is the Pardons Board's role?
Under Article 42(9) of the Federal Constitution, a Pardons Board shall consider any written opinion which the AG may have given, before the Pardons Board gives its advice on any matter.
But Salim said the Yang di-Pertuan Agong and state Rulers "hold ultimate discretion to decide on who, when and how pardons are to be exercised", and added that the law does not make it mandatory for a Ruler to act on the Pardons Board's advice.
"The Pardons Board acts only as an advisory body to the Yang di-Pertuan Agong, but the Rulers need not follow the suggestions or advice of the board.
"There is a plethora of case laws suggesting that the Yang di-Pertuan Agong or state Rulers holds special constitutional powers in deciding a pardon application, and His Majesty's decision is not susceptible or amenable to judicial review," he said.
This means the Rulers' decision on whether to grant a pardon for a prisoner cannot be challenged in court.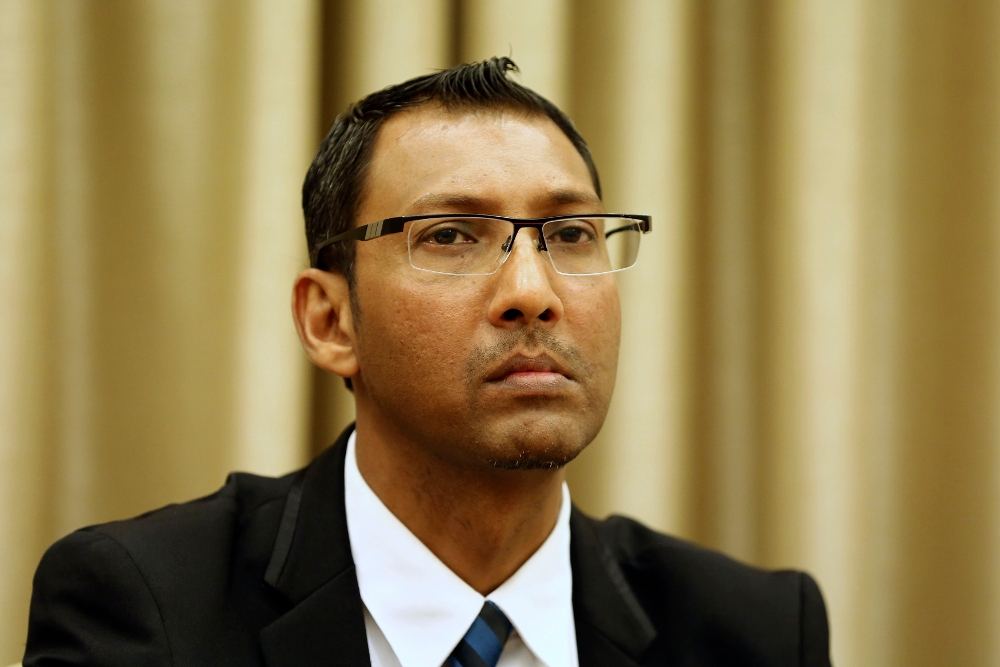 6. Are prisoners told why their pardon bids are accepted or rejected?
"There are also occasions where Rulers have granted pardons on auspicious occasions. Rulers have wide latitudes to manoeuvre and can take into account or call for anything relevant to His Majesty's whims," Salim said.
Salim said the Pardons Board does not have to call prisoners in for any hearing on petitions for pardons, as the Pardons Board can deliberate on its own.
He said the Pardons Board only informs prisoners of the outcome of their petition for pardons but is "not obliged to give reasons" for its decision.
He added that the reasons for pardon bid decisions are "unknown" and that it is at the "complete discretion of the Yang di-Pertuan Agong and Rulers".
7. How many get pardoned at any one time and what kind of offences did they commit? What factors are considered?
Based on news reports in recent years, prisoners such as those who were on death row for murder, firearms- and drug-related offences have received royal pardons, often in conjunction with events such as the state Ruler's birthday or coronation.
In 2015, the Johor Pardons Board met on March 5 over 10 death row prisoners' pardon bids and 13 bids for a review of sentences, with the Johor Sultan on March 20 deciding to pardon a prisoner convicted as a juvenile for murder and to reduce 10 prisoners' death penalties to life imprisonment.
After the Johor Pardons Board considered 30 pardon bids on November 16, 2015, the Johor Sultan six days later reduced four prisoners' death penalties to life imprisonment.
The Kelantan Pardons Board met on October 26, 2015 where it considered 37 pardon bids, resulting in the Kelantan Sultan deciding to pardon seven death row prisoners in conjunction with his November 11 birthday celebration. One was released, the remaining six could serve life imprisonment instead.
On November 3, 2020, the Perak Pardons Board considered 12 cases, guided by the Prisons Department's report and advice of the AG and board members. The Perak Sultan decided two days later to release two prisoners earlier, after being satisfied they had undergone rehabilitation while in prison.
A common thread in the news reports was the state Rulers expressing hope that the prisoners who had been pardoned would use their "second chance" to contribute to their families, community, and country.
In news reports on the Perak Sultan's royal pardon decisions in 2015 and 2020, it was stated that a pardon or reduction of sentence would be considered when the prisoners who applied had shown remorse, repented, and apologised, and displayed good behaviour while in prison and promised not to repeat their offences and shown determination to start a new life.
In a written parliamentary reply on December 2020, then minister in charge of Parliament and law, Datuk Seri Takiyuddin Hassan told then Sungai Buloh MP R. Sivarasa that the state pardons boards had considered 1,129 applications for pardons during the years 2015 to 2019 with 17.4 per cent or 197 of them involving death row prisoners. But he did not state the outcome of these pardon bids.
8. How quickly can a pardon petition be decided?
Salim said there is "no set of formal guidelines or regulations" to follow for the pardon process but said the Yang di-Pertuan Agong may exercise the power of pardon at any point during a prisoner's imprisonment.
Based on Salim's experience, the outcomes for applications for pardons could even be as short as months: "It can be within a short span of two/three months or longer... no time frame to be exact."
Based on news reports, the Yang di-Pertuan Agong had in conjunction with the National Day celebration on August 31, 2020 pardoned 13 prisoners, who had already spent about 19 years in jail to serve their life sentences since December 2001.
In a rare detailed public look at the pardons process, the Pardons Board met on September 4, 2019 and the Yang di-Pertuan Agong had upon its advice decided to pardon the 13 convicts at a later date.
The Pardons Board met again on July 24, 2020 and the Agong upon its advice consented for the 13 prisoners' release in August 2020, with the pardon granted due to their good behaviour and with hopes they would turn over a new leaf.
On September 13, 2022, the Malaysian Bar said Najib is entitled to seek a royal pardon, but said he did not deserve to be pardoned at such a juncture as he had at that time only been in prison for less than a month.
The Malaysian Bar had said Najib should first serve more of his 12-year jail term, as public figures in the past — then Opposition politician Datuk Seri Anwar Ibrahim, former minister Datuk Mokhtar Hashim and former Selangor menteri besar Datuk Harun Idris — had served a "substantial part" of their jail term before they were released on royal pardon. The trio had each served between three and eight years before their pardon.
After becoming a prisoner on August 23, 2022, Najib has so far served more than seven months of his 12-year jail sentence for the SRC case, where he was convicted of criminal breach of trust, power abuse and money laundering.
9. What is the effect of a pardon?
"The effect of pardon is to remove all legal punishments for the offences and to remove any disqualifications under the law," Salim said.
10. How can the pardons process in Malaysia be improved?
Currently, the dates when the Pardons Board holds meetings are not known to the public, Salim said.
Salim suggested that the Pardons Board meet frequently, adding that the Yang di-Pertuan Agong or Rulers could appoint a "senior criminal lawyer" to be made part of the Pardons Board to provide views.