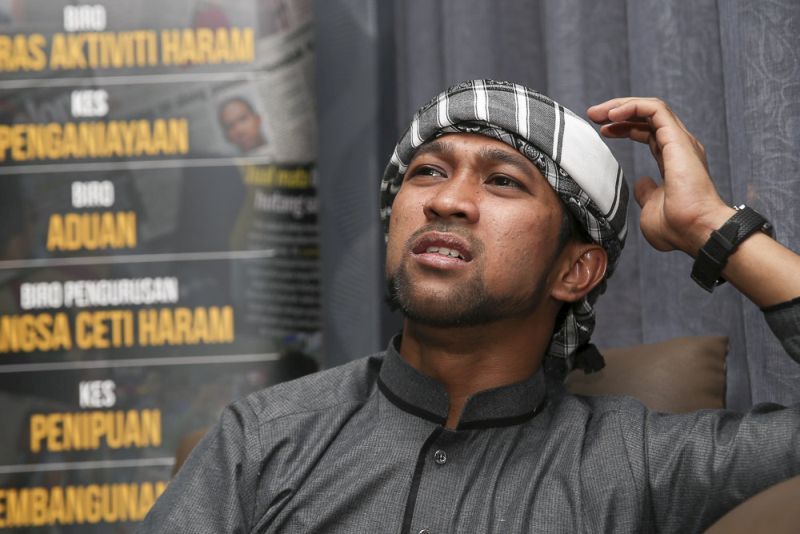 KUALA LUMPUR, Aug 11 — Yusuf Azmi has become somewhat of a social media phenomenon in recent months with his radical approach to championing consumer rights.
He joined the Malaysian Muslim Consumers' Association (PPIM) six years ago and has been appointed director of its special action unit.
Videos of the turbaned 28-year-old confronting car repossessors posted on PPIM's Facebook page spread and Yusuf soon found himself the centre of attention — and one might even say attraction — on social media.
But the father of six laughed off his sudden celebrity status, especially with the turban, saying the headgear was both a motivation and a reminder to keep him on the straight and narrow rather than to show off piety.
"It brings about a feeling of humility, which makes me not want to do anything bad. My wife also has told me not to remove the turban if I love her.
"I have said firstly I wear it because of Allah, secondly I wear it not to attract the attention of any women," he told ProjekMMO, Malay Mail Online's sister publication in Malay during a recent interview.
He also clarified that PPIM's campaign was not only for Malays or Muslims, but that the group will help consumers in a bind, regardless of their race or religion.
"This is a good platform for all consumers in Malaysia. It's not just for me or PPIM but for all of us," Yusuf said.
As an example, he cited the Caltex case in which PPIM spoke up for petrol station retailers across the board, noting that there was also a middle-aged Chinese owner who was affected as much as Malays.
Yusuf related that he was driven to join PPIM from his personal experience. He said he had experienced losses in business prior, and had been cheated over RM1 million.
"Before I was with PPIM, I sold cooking gas, ice cubes and ran three restaurants but all have since closed.
"At first, I was cheated more than RM1 million. After I joined PPIM, I realised that what people have gone through is worse than what I've been in," he related.