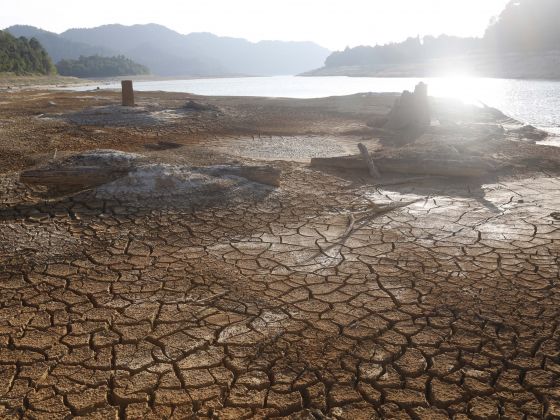 SINGAPORE, Jan 10 — There is a "significant risk" that Linggiu Reservoir in Johor may run out of water this year if 2017 turns out to be a dry year, and that could pose severe problems for Singapore and Malaysia, Foreign Minister Vivian Balakrishnan said yesterday (January 9).
If water levels in the reservoir — which discharges water into the Johor River to supplement its flow — hits 0 per cent, there will be many more instances when national water agency PUB will not be able to draw Singapore's daily entitlement of raw water from the Johor River. Johor's Semangar and Logi Air water treatment plants will also be affected, he said.
"Given the importance of Linggiu Reservoir to Singapore's overall water supply, the Singapore Government is watching the situation closely, and has raised the matter with the Malaysian government, most recently during the Malaysia-Singapore Leaders' Retreat on December 13," Dr Balakrishnan said in a written response to Member of Parliament Seah Kian Peng's (Marine Parade Group Representation Constituency) parliamentary query on Singapore and Malaysia's ability to fulfil their obligations under the 1962 Water Agreement.
He also said the Malaysian government had reaffirmed its commitment to upholding Singapore's rights under the 1962 agreement, and plans to put in place schemes to increase the yield of the Johor River and ensure that the Republic can abstract its entitlement even during periods of dry weather.
Under the agreement, Singapore's PUB may draw 250 million gallons of raw water from the Johor River daily. In return, Johor is entitled to receive a daily supply of treated water of up to 2 per cent — or about five million gallons a day — of the water supplied to Singapore.
But even in instances when the PUB could not draw its entitlement during dry seasons, Singapore has, out of goodwill, been providing Johor with treated water exceeding its entitlement — regularly supplying 16 million gallons a day. It has also, at Johor's request, supplied an extra five to six million gallons of treated water daily on several occasions, such as in June and July last year because of dry weather, as well as during the partial shutdown of Johor's water treatment plants for monthly maintenance.
The Johor River, however, is unable to sustain the abstractions from Singapore and Johor, even with the Johor River Barrage, which became operational last August to help fend off salinity intrusions. As a result, PUB has been discharging more water from the Linggiu Reservoir, which it operates, to support the present rate of abstraction.
That has led to drastic drop in water levels in recent years, from 84 per cent at the start of 2015, to 49 per cent at the start of last year, to the lowest recorded level of 20 per cent last October. As of January 1, it stands at 27 per cent, and Dr Balakrishnan said "there is significant risk that Linggiu Reservoir may fail (i.e. drop to 0 per cent) in 2017 if it turns out to be a dry year".
Singapore will cooperate with Malaysia to achieve a "mutually beneficial outcome", he said, with senior officials of both water ministries working closely to sustain the water supply. ― TODAY