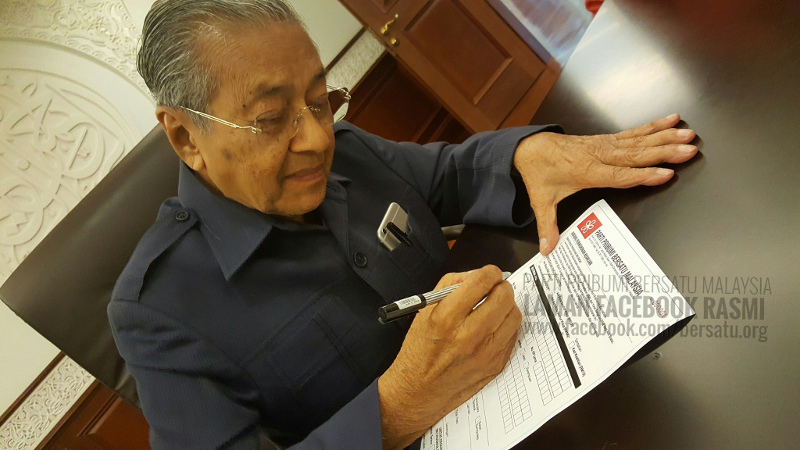 KUALA LUMPUR, Sept 15 — Parti Pribumi Bersatu Malaysia started life officially in tepid fashion yesterday, handing out 9,000 membership applications on its first day of registration.
The party that claims to rival Umno, which is 3.5 million-strong on paper, also registered Tun Dr Mahathir Mohamad as its first lifetime member, replicating his position in the Umno hierarchy prior to his resignation.
On the party's official Facebook page, which uses the "Bersatu" acronym that was expressly prohibited by the Registrar of Societies, PPBM also posted photographs of Tun Dr Siti Hasmah, Tan Sri Muhyiddin Yassin, and Datuk Seri Mukhriz Mahathir registering as life members.
"Today, the first day that party membership was open, the registrars received many people, even some who came from afar, on buses, taxis . all same to take up the struggle. Nearly 9,000 forms were distributed," PPBM wrote on the page last night.
PPBM said it hoped to return to its office in Bukit Damansara today to continue taking applications.
The party consisting of former and sacked Umno members claims that it will rival the Malay nationalist party, but the low-key response to its first day of registrations will continue to fuel questions of how it will take on the juggernaut that is the Malay nationalist party.
With the next general election less than two years, PPBM will need to rapidly increase its recruitment if it is to realise its claim of being an alternative to Umno, especially as its registration failed to trigger an exodus from the latter party.
Questions also linger about the ability of PPBM to stand on its own, with Dr Mahathir's son, Mukhriz, saying that his party is seeking PKR de facto leader Datuk Seri Anwar Ibrahim's blessings for their two parties to work together.
The need for Anwar's blessings also prompted Muhyiddin, who is PPBM president, to say that his party will join others in the opposition to work towards seeking Anwar's release from his current five-year prison sentence for sodomy.
However, one of Anwar's daughters, Nurul Nuha, recently revealed the bad blood that still festers between her family and Dr Mahathir, whom they accuse of sacking and imprisoning his former deputy on "trumped up charges" in 1998.
The RoS approved PPBM's registration last week, but warned that the party may be deregistered if it uses "Bersatu" as its abbreviation.