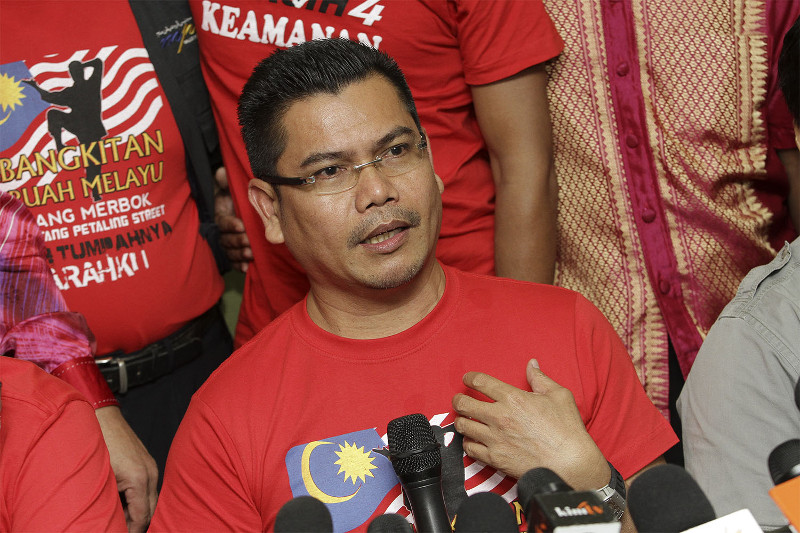 KUALA LUMPUR, Sept 10 — Amid continued silence from the actual organiser of the highly-touted "red shirt" rally planned for September 16, an Umno grassroots leader said today the demonstration was to serve as a lesson to the ethnic Chinese who purportedly prevailed at last month's Bersih 4 not to be rude to the country's dominant Malays.
Sungai Besar Umno division chief Datuk Jamal Md Yunos said Malay non-government organisations were compelled to rise now due to multiple acts during the Bersih 4 rally by the large Chinese turnout whom he accused of having "insulted the Malay leaders" after they were "brainwashed by DAP".
"The NGOs are thankful to Bersih which was banned. That rally helped the uprising of the Malay NGOs because of the insulting messages.
"Because of the rudeness of Bersih 4, that is why we are gathering at Bukit Bintang to give a clear message to the DAP Chinese not to be impudent to the Malay race," he told a news conference at a landmark of Malay culture, the Kelab Sultan Sulaiman here.
Jamal added that the participants in the Bersih 4 rally, which ran two days from August 29 to 30, had been indoctrinated to turn against Malays by federal opposition parties.
He singled out the predominantly Chinese DAP as the main factor, claiming that "90 per cent of those who were turned up for the Bersih 4 rally were Chinese DAP, which shows it was a rally for them".
"The other 10 per cent of other races is only a small amount whose thoughts have been brainwashed by the opposition," he said.
The organiser of the "red" September 16 rally is supposedly a Malay martial arts organisation called Persekutuan Silat Kebangsaan Malaysia (Pesaka), led by Senator Tan Sri Mohd Ali Mohd Rustam, according to information on its website.
According to Jamal, Pesaka has invited over 750 Malay NGOs to join in the rally on Malaysia Day.
He added that the organiser has also sent out invitations to all Umno divisions and other political parties including PAS, and claimed over 30,000 have pledged to attend to date.
"We had meeting with 750 NGO. We got agreement from all these Malay NGOs to join the rally organised by Pesaka.
"We give our full support to PESAKA for the rally on September 16 at Padang Merbok. We are expecting around 30,000 people only from NGO to attend the rally," Jamal said, adding that his Sungai Besar Umno division is mobilising 3,000 members for the rally.
The September 16 rally had raised a storm after word of it spread on social media networks in recent days, but no one had owned up as its organiser till now.
The rally has received unofficial support from some government officials, including Deputy Prime Minister Datuk Seri Ahmad Zahid Hamidi and Domestic Trade, Cooperatives and Consumerism Minister Datuk Seri Ismail Sabri Yaakob.
It is ostensibly in reaction to the Bersih 4 protest on August 29 and 30, and is touted to see a turnout of 300,000 supporters.