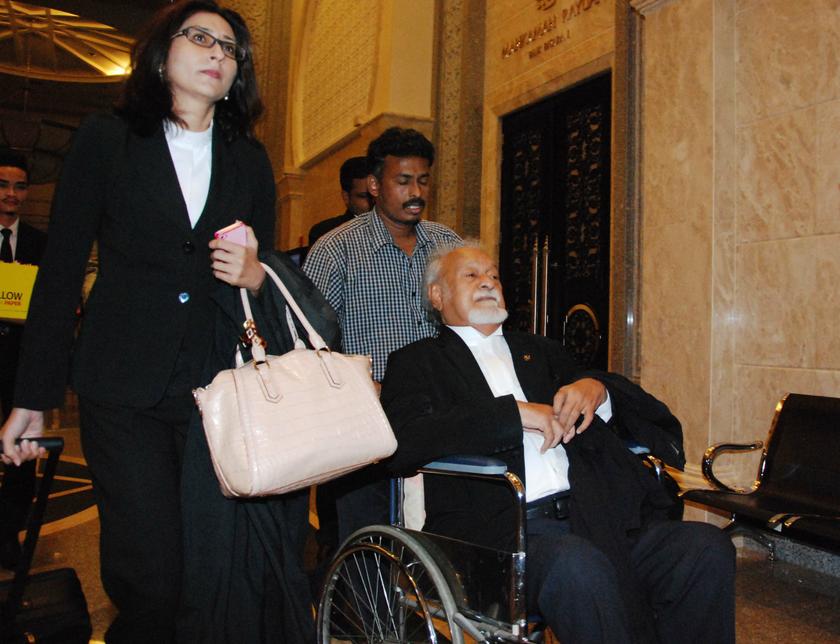 KUALA LUMPUR, April 18 — For many who had the pleasure of meeting him, the late Karpal Singh was an approachable statesman and lawyer who had time for everyone who sought his counsel.
The man, who had been dubbed "a friend to the oppressed and marginalised", was killed in a road accident in the early hours of Thursday. A previous road accident had already left him in a wheelchair.
Karpal was the MP for Jelutong for 21 years. At his death, he was the MP for Bukit Gelugor, having held the seat since 2004.
The DAP veteran left behind five children, four grandchildren, and his wife of over 40 years, Gurmit Kaur.
Here are ten choice quotes from his 44 years in the legal and political arena:
Opposition to Islamic state
"An Islamic state over my dead body"
Karpal was quoted as saying in a political rally in Sungai Pinang in 1990, leading his detractors to brand him as "anti-Islam".
He had since apologised for the remark, and explained in an interview last month with DAP's online news Roketkini the party's stand on hudud and Islamic laws:

"The DAP's stand against hudud is clear … The Federal Constitution provides for a secular state. So you cannot have in a secular state an Islamic law in the form of hudud. In a secular state, we cannot have laws other than secular laws."
The crime and constitutional lawyer
"It could well be that someone out there wants to get rid of him… even to the extent of murder… I suspect people in high places are responsible for this situation," Karpal alleged while defending Opposition Leader Datuk Seri Anwar Ibrahim against charges of sodomy in 1998.

This accusation led to him being charged under the Sedition Act in 2000, the first against a lawyer in court.
Karpal filed a lawsuit against the Yang di-Pertuan Agong for assault in 1986, but in the same 2014 Roketkini interview, he made clear his opinion on the monarchy:

"It is important for every citizen in the country to know, that no one, no one is above the law ... In the case of the king and the other rulers, the Special Court is the only court which I think is quite unfair because it is one-tiered … Even the rulers have the right to the rule of law."
The tricky political tiger
In 1982, Karpal's rival Datuk Seri Samy Vellu from MIC had dubbed himself as the "Hindu lion" and referred to Karpal as "the tiger of the court".

Karpal's moniker as the "Tiger of Jelutong" was derived from the confrontation, when he responded: "(Samy) could be the lion, and I could be the tiger, because there are no lions in Malaysia!"
In a 2010 interview with English daily The Star, Karpal said that his youngest son was supposed to be named after him. But that was before he was arrested during Operasi Lalang in 1987:

"There was a lot of gossiping at the Sikh temple. People were saying you cannot have two tigers because one will eat the other. When I came out, I found out that his name had been changed to Man Karpal!"
"But Mr Speaker, what is more interesting is this tape," said Karpal before dumping the pornographic videotape of former Deputy Speaker D.P. Vijandran to the latter's unsuspecting replacement Datuk Seri Ong Tee Keat in 1992.

Karpal risked being charged with possession of pornography, and had made an elaborate arrangement involving a flameproof briefcase and a small bottle of petrol to burn the videotape in Parliament if his plan to introduce the evidence failed
The audacious move has been described in his biography by Tim Donoghue as the"biggest bluffs of his political career".
Personal life
"I am religious, but I'm not one to go to the temple every week. I believe that the principles by which you live is a measure of your faith," said Karpal in a 2010 interview.

Karpal did not keep his hair long nor wear a turban as required by the Sikh faith.
"There are always people who are insensitive, we just have to take it … There is nothing you can do about it. We cannot be discouraged, as that's exactly what our enemies would want," Karpal said in another interview with The Star in 2006, after he was mocked by Barisan Nasional MPs in Parliament.

Karpal had just started using the wheelchair after a car accident in 2005 subsequently paralysed him from waist down.

The legacy of Karpal Singh
Karpal died just weeks after he was convicted of sedition over his remarks on the Perak Sultan's role in the 2009 state constitutional crisis. Faced with the possibility of losing his seat, Karpal had remained cool.

"The fight goes on. You knock out one Karpal Singh, a hundred Karpal Singhs will rise," he said last month.