KYIV, Nov 20 — She may be from a remote Ukrainian village, but Tetyana Kogut has rubbed shoulders with some of the world's most powerful Western leaders.
The 36-year-old train hostess never thought she would meet celebrities or heads of state when she started working as a "providnytsa" — a sleeping car attendant — 19 years ago.
But since Russia's invasion of her country she has taken on an unlikely role, welcoming and catering countless VIPs travelling to show their support for Kyiv.
"I've accompanied dozens of passengers — presidents, prime ministers, princes...," she told AFP.
Advertisement
In Ukraine, where all commercial flights have been grounded since the start of the war, night trains remain an integral part of the nation's transport system and one of the only ways to get in and out the country.
They have been impressively punctual despite the war, and fares are relatively cheap.
For Ukraine's Western supporters, they have no choice: Transport by train, usually from Poland, is the quickest way in.
Advertisement
Each carriage is manned by one or two hosts who check tickets, serve tea and coffee, and keep things quiet and clean.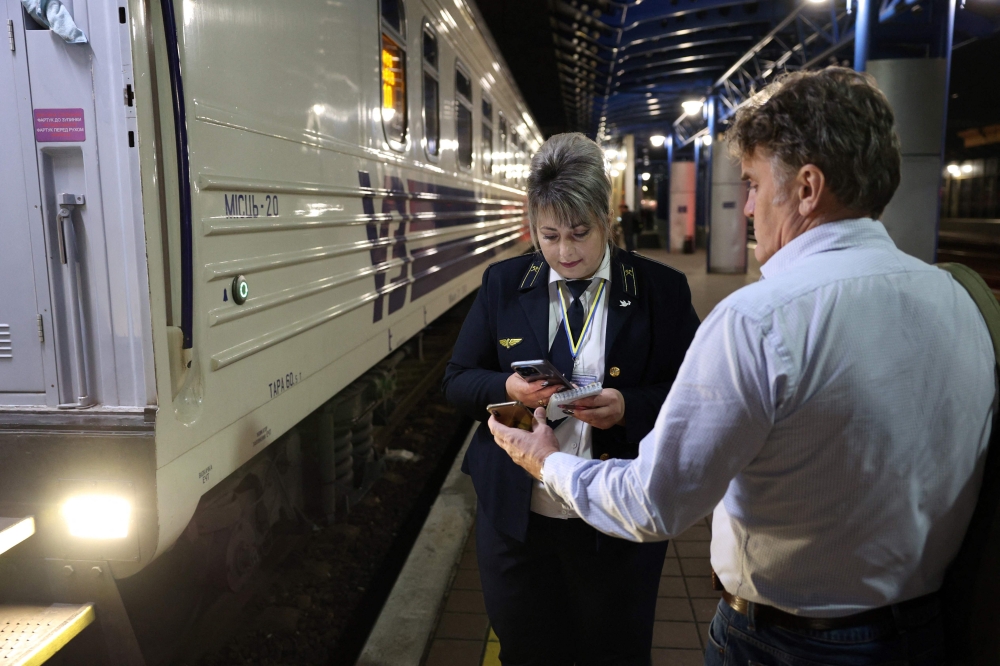 Tetyana is from Golovetsko, a village two hours from the western city of Lviv, where she still lives with her husband and teenage son.
At the start of the invasion, she worked for weeks, sometimes under bombardment, on civilian evacuation routes.
500 delegations
After Russian forces were forced to retreat from the outskirts of Kyiv in spring 2022, Western politicians began pouring into the capital.
Dozens of hosts and hostesses were given the task of accompanying these delegations.
The first such delegation was that of European Parliament President Roberta Metsola at the beginning of April 2022. The train crew realised there were going to be VIPs when they saw security guards at the station in Poland.
Over a year and a half later, Tetyana has stopped counting her VIP guests, but she has learned enough English to offer tea or coffee and understand the questions of her passengers.
"They thank us for our work and say: You've stayed in the country, aren't you scared?" she said, sitting in a compartment on train 091/92 between Kyiv and Lviv.
In total, Ukrainian railways have carried more than 500 official delegations during the 21 months of war.
For security reasons, information about the journeys is often kept under wraps.
But details are sometimes released later, like when German Chancellor Olaf Scholz and then Italian Prime Minister Mario Draghi teased French President Emmanuel Macron about his supposedly posh compartment during a visit to Kyiv in June 2022.
The passenger Tetyana has accompanied the most is former British Prime Minister Boris Johnson, with whom she travelled four times while he was head of government and after he left office.
He gave her his hat with the London Underground emblem.
'I would have preferred peace'
Johnson, Tetyana said, also comforted her during her "worst journey" on August 24, 2022, when a Russian strike on a railway station killed at least 25 civilians, including two of her colleagues.
Some politicians are just happy to arrive on time.
A team led by German Foreign Minister Annalena Baerbock was "very impressed" with the punctuality of her train, which arrived in Kyiv exactly on schedule, Tetyana said.
"They said that in Germany, that doesn't happen," Tetyana said.
Her train has been late only once, by a quarter of an hour, Tetyana said, after a tree fell on the tracks.
"We had to explain (to the delegation) that it wasn't bombardment but simply the rain," she joked.
She has since built up "a little museum" of souvenirs offered by her passengers, including badges, thank-you notes, pens and notebooks.
"I never imagined that I would be able to meet presidents of other countries and talk to them", Tetyana said, "but I would have preferred peace at home and to see them only on television." —AFP