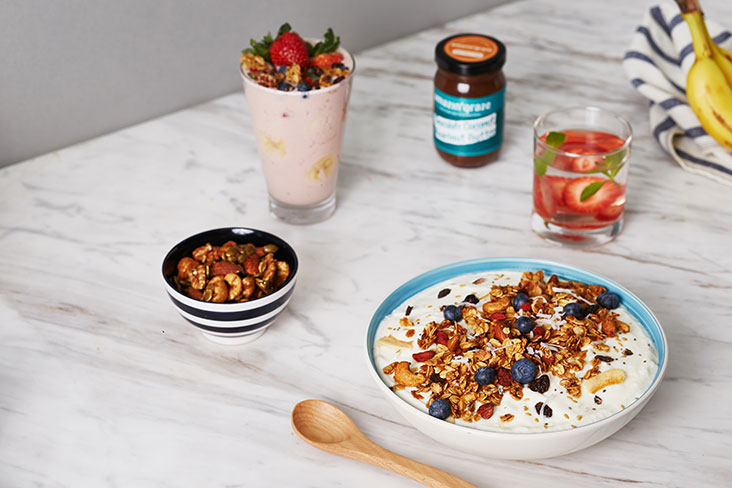 KUALA LUMPUR, Sept 30 — The owners of homegrown healthy snacks brand Amazin' Graze started their business from scratch.
"It's lots of blood, sweat and tears," they say. Fast forward three years and from just three of them — Amy Zheng, Ching Yi Lee and Sabrina How — they have grown to a company of 40 employees!
Today, they have four product lines offering more than 30 flavours. For Chinese New Year, Hari Raya and Christmas, they have seasonal ranges.
Their products can be found at more than 200 retailers located in Malaysia, Singapore and Hong Kong. Not content to rest on their laurels, Amazin' Graze aims to become an Asian healthy snacks with a global reach in the next five years.
In May 2015, Amy and Ching Yi started out from their home kitchen with a passion to bring healthy snacks to the local market.
Their first range of granolas included flavours such as blueberry goji coconut, salted gula Melaka, gingerbread and hazelnut black forest. They also offered coconut curry lime nut mix and rosemary pepita crisp.
Later, they roped in Sabrina who brought her catering experience to the table. After five months, they relocated to a central kitchen and a retail space located at Sentul. "The whole baking from our home kitchen... I said, we had to stop baking and hire a team," said Amy who once worked at Boston Consulting Group.
"It's not okay to be status quo. We must always be thinking of the next step...how do we want to grow bigger." That push for the trio to just concentrate on the business rather than the nitty gritty of producing, was the right direction for the company.
Their big break came when Ben's Independent Grocer (BIG) offered to place their products. "They told us... you're new, you have an exciting range and we want to give you a try," said Amy.
It didn't happen overnight of course. It took participating in many markets before an employee from BIG recognised their potential. Usually, products are charged a listing fee to be placed in a supermarket but as BIG liked their products, they waived the fee.
Once Amazin' Graze got in, it was a race to prove themselves. Amy recalls how they invested heavily in marketing and sampling sessions. An online push was also made to alert their customers about where they were.
"You have to work very hard. Till today, it's the same. Every time we do well, you get the licence to ask for more space or a better space. It's a real estate spot in the supermarket," said Amy.
As sales come from online and supermarkets, Amazin' Graze uses both channels. Amy adds, "We have to do both. We have no choice... we have to be an e-commerce as well as traditional business." Aside from established markets in Singapore and Hong Kong, the brand has also expanded to Manila, Brunei, and the United Kingdom. Their latest market is China.
From Day One, the brand has stood proud with its local slant. Whether it's the ingredients they use, or the familiar flavours such as kaya, or even the Chinese New Year favourite, love letters. It's a totally Malaysian brand.
"There is an underlying motivation on why we're doing this... we want people to be proud of a locally grown Malaysian brand." This was spurred by how people would put down anything made locally, claiming it's inferior and the quality is not up to standard.
Amy adds, "What I am seeing is a renaissance of Asian brands that are even better than the Western brands."
In terms of benchmarking Amazin' Graze, they look towards global FMCGs (fast-moving consumer goods) such as Kellogg's and Nestle. This entails how they do product positioning, packaging design and how they merchandise their products.
The difference (and advantage) that Amazin' Graze has is speed since they are smaller. "I think we have something they don't have... a nimbleness and flexibility, an ability to innovate and experiment at a faster rate. We can do that to stay ahead of the curve," said Amy.
In the beginning, it was a steep learning curve. For instance, their healthy cookies and other experiments like crackers, breadsticks, and etc. didn't quite take off. "We realised very quickly that people don't like too many options and you need to focus on building your brand on a hero set of products."
They also realised that they needed to build the brand first before branching out to new products. Hence the introduction of their nut butters which came much later. It was also easier with this range since it was a natural extension of their nut mixes while cookies would have entailed an entirely new process.
This month, the company also unveiled a new Amazin' Graze. Firstly, the packaging has gone through a major revamp. Gone are their signature brown coloured packets. Now there are richer and bolder colours. Also in the design are local ingredients to highlight the brand's Asian roots. Even the logo has taken a bolder step. From from that discreet leaf on top of the packet, it has been replaced with a bolder font for their name.
In addition, tweaks have been made to their key products such as granolas and nut mixes. Based on customer feedback, they have removed all dairy from the products. This is also due to environmental and ethical concerns.
In terms of sweeteners for their products, the molasses has been replaced with coconut sugar, which is healthier and locally sourced. Even the nut mixes have seen a slight change whereby each nut is now coated liberally with the local herbs and spices, making the flavours more evenly distributed.
Earlier this year, the company moved to a bigger production facility, in line with their next five years' expansion plan to global markets. Spanning three floors — a total of 9,000 square feet — their production capacity is up to 2,000 kilograms a day. Also slated for the last quarter of this year... halal certification.
In mid-November this year, another chapter will open for the team... their first F&B outlet. Partnering with BIG, they will be opening Glow, a smoothie bar. This will be located at The Linc at the intersection of Jalan Ampang and Jalan Tun Razak. Expect smoothie bowls with granola toppings and nut butter blends to give you that satisfying, yet healthy, kick.
If you're looking for a sweet cool treat that is healthier, opt for their yoghurt bar. There'll be thick, creamy Greek yoghurt paired with your choice of toppings.
Also in November, you can look forward to their Christmas range. Next year, there will be a push to release Amazin'SuperBars that will offer snack bar sizes. Under their Amazin'Kids range, they will be launching healthy children's snacks.
If Amazin' Graze didn't take off, she'd probably still start another health product, which she believes is a growing industry as the products are sustainable. "It's our responsibility to create more products that are both healthy for our bodies and the Earth. If people are not innovating, we're in trouble."
Amazin' Graze
Tel: 03-4065 0325
Website: www.amazingraze.co
Instagram: @amazingraze.co
Facebook: Amazin' Graze