KUALA LUMPUR, Aug 27 — Started about four years ago, Biji-Biji is an initiative that promotes sustainable living.
The founders, Rashvin Pal Singh, Zoe Victoria, Azam Hisham and Gurpheet Dhillon, all shared the same vision to do something that is kinder to Mother Earth.
Today, they have 40 people in the team including interns and volunteers.
Norashahera Haleem, a managing partner for the ethical fashion arm, shares how Biji-Biji started their maiden project. "It so happened that the first project was an order for bags. So they (the client) wanted something that can be multi-purpose, upcycled or a green technology for the bag.
Advertisement

Biji-Biji's upcycled tote bags from used advertising banners.

"They (the founders) came up with the idea of making a bag out of banners with a bit of seat belt influences in terms of handles. That was the first experiment and the first time they used the seat belt material."
Banners here refer to used PVC advertising banners.
Later, that same client commissioned Biji-Biji to produce 2,000 bags from the banners as door gifts for the World Innovative Forum KL. With help from volunteers, family and friends, they made that large order happen.
Advertisement

One of the seat belt bags comes with a strap (left). Seat belt bags are Biji-Biji's signature designs under the fashion arm (right).

It was a huge stepping stone for the social enterprise as after that conference, they started to get orders from corporate clients.
Previously Biji-Biji worked only on B2B but nowadays they have switched to B2C which means you see more of their products on the streets.
If you've seen someone carrying a bag fashioned from discarded seat belts, it's most probably from Biji-Biji. The initiative also produces bags made from banners and used carpets. Be assured that all their materials are cleaned and the upcycling is conducted in such a way that quality is not compromised.

The Balsam bag is a bucket bag that's made of seat belts (left). The Peony tote is the best-seller (right).

Sometime back, the social initiative hired Sarawakian Maatin Shakir as their in-house designer to revamp the design of their bags to be competitive with other brands. Another hire with fashion experience is Elaine Hong who studied fashion design in Paris.
"Besides that, everyone else in the team also helps design as well. Biji-Biji has got about 40 people so sometimes people come and help to design and give ideas and things like that, we just make it happen," said Norashahera.

The making of seat belt bags takes skill and patience.

So far the Seatbelt Bag series is the most popular. The Peony bag which is a tote bag with a zipper and compartments is a hit. Each season they release limited edition pieces for the Seatbelt series when they manage to procure special colours like blue or pink.
For instance, the Peony in Sand and Orange is a limited edition where vivid orange stripes are contrasted against a neutral colour while the Camelia II in Red and Champagne really stands out as a limited edition clutch.
When it comes to trademarks for their products, Biji-Biji believe in sharing their ideas via Open Source. This encourages people to duplicate their ideas and upcycle their own bags or whatever innovations that they have produced.

The vertical garden made of banners and seat belts (left). Camelia clutch in limited edition colours (right).

Norashahera is also upfront that currently their products are not fully made of 100 per cent recyclable materials. However she hopes that the social enterprise can reach 100 per cent in the future.
At this moment, they have their own internal controls to ensure each product has a certain percentage of recyclable materials. She adds, "For me, I will make sure the bag is made with at least 60 per cent recyclable materials."
Whenever possible, they will try to use old clothes to make the lining. However as their bags are sold online, customers prefer to choose the colours so they need to buy new material to make it more consistent.

Ardeshir Hamedani, an intern at Biji-Biji shows how to generate power using a bicycle (left). String art made of recycled materials (right).

The seatbelts are bought from factory suppliers who were already planning to discard them as they cannot pass quality control. Usually they come in various colours and so on.
They also try to source their materials locally, ensuring they reduce the carbon footprint. Each ethical fashion piece is also unique because they are all handmade.

One of the first products Biji-Biji made and designed.

As for the products made of banners, these are one-off pieces since you can only produce one bag from one banner. Sometimes the placements and patterns are the same, making it completely different from other brands in the market.
You can purchase the bags via Biji-Biji's website or Fashion Valet. They also stock their products at 10 retailers around Kuala Lumpur and one in Australia.
Other than bags, Biji-Biji is also pushing forward with an ethical clothes line. Their first piece was a collaboration with Miss Malaysia Earth contestant Janice Chai — an eco dress fashioned from straws, plastic bottles, bubble wrap, metal wires and discarded old fabric.
Norashahera says that the upcoming clothing line is going to be minimal, evergreen as well as the opposite of fast fashion. It will be versatile where people can use it for different occasions and events.

Biji-Biji's folders and cardholders made of upcycled materials.

"It's slow fashion. It can be high fashion but it's just not fast fashion. Ethical fashion is not just the material, it's also a lot about the process, the procurement like where do we find our fabrics, how people are making it in what conditions and we have to make sure that they are paid fairly and things like that," explained Norashahera.
"So we like to include people from marginalised communities and make sure that they are working in a good and safe environment, pay them fairly. People cannot expect recycled items or upcycled fashion to be cheap just because it is used but the quality is still there," she said.
Their latest project focuses on the Japanese kimono to produce a collection that will be marketed at a higher price range. "We are repurposing and making new products out of old kimonos or used kimonos which is very valuable in terms of quality... they are all handmade," said Norashahera.

From left: Furqan Aslam, Nursufia binti Abdul Kamil Rizal, Ardeshir Hamedani, Elaine Hong, Ivy Khoo, Janice Chai (Miss Malaysia Earth 2017) and Ashfaq Ahmed.

This project is a collaboration with a Japanese company based in Japan, which is selling and producing kimonos. Biji-Biji will take the off-cuts and vintage materials to upcycle.
"They just couldn't find anyone or any idea to reuse it so they are engaging with us so we are making clothes, even traditional clothes as well, baju kurung or cheongsam or whatever from Japanese kimono and also modern clothing and bags," she explains.
Other than bags and clothes, expect a household item line such as table mats, bottle water holder as well as house slippers. Currently these items are still at the prototype stage so keep an eye out for them.
Next on Biji-Biji's horizon is a multidisciplinary educational hub known as Me.reka. It will also be a marketplace for all sustainable products gathered from Malaysia and the South-east Asia.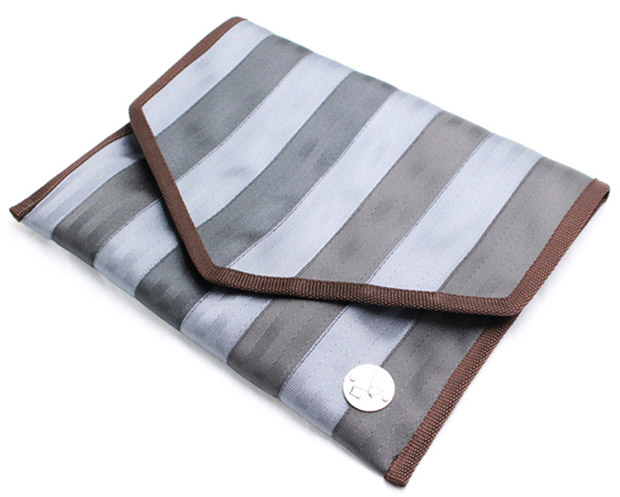 Use this seat belt bag as a clutch or a laptop case.

Located in Publika, it will span an area of 12,000 square feet and it is envisioned as a place where ideas, innovation, sustainability, creativity and collaborative projects will be born.
Due to open this October, with a soft launch in September, it's a place for alternative education where anyone can pick up a skill, be it virtual reality, design, art, engineering — basically anything under the sun.
"Me.reka project is kind of like within Biji-Biji because we have a few things going on. Ethical fashion is one and in recent years we have been focusing more on education.
"The first few years that Biji-Biji operated we were still figuring out a lot of things and learning how to do a lot of things ourselves in terms of upcycling and doing sustainable projects so by now we have learned a few things which we are ready to share with others," said Zoe Victoria, one of the co-founders of Biji-Biji.

Pouches made from felt carpet materials.

Zoe explained that Me.reka was firstly set up to share what the team has learned. The second reason is to enable everyone to get empowered to do sustainable projects by themselves and to just make things by themselves, solve their own problems or the problems within their own community.
One of the components of Me.reka is a textile lab where people can learn how to stitch, design, make their own clothes and bags, which will be supervised by Biji-Biji's fashion team.
You also have a wood and metal workshop which is equipped with the requisite tools. Me.reka will also have rapid prototyping which is going to be laser cutting and 3D printing.
Also in the pipeline is more educational-based virtual reality programmes. Look out for the electronics lab where you can learn how to code and do simple wiring and soldering.
"We have a couple of multi-purpose classrooms where we can host workshops on arts and crafts, which is more fun, artistic things — I think it's quite friendly for people of all ages to get involved in that. And we have a cafe as well," said Zoe.
Find out more about Biji-Biji and Biji-Biji Design on their website and social media sites.
Website: www.biji-biji.com and www.bijibijidesign.com
Facebook: www.facebook.com/bijibijiinitiative