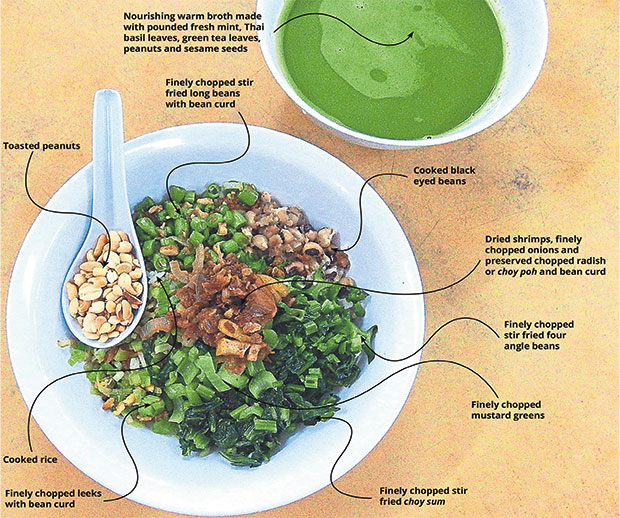 KUALA LUMPUR, Oct 4 — Take a page from the Hor Poh clan, a Hakka sub-group and go for a bowl of wholesome lui cha (thunder tea). You will find a mixture of stir fried greens, preserved radish or choy poh, bean curd and nuts, all served with rice. On the side, you will be served with an aromatic green broth made from pounding herbs, tea leaves, toasted seeds and nuts together. Mix it all up and enjoy the bowl of goodness as it's believed to lower your cholestrol.
Traditionally, lui cha is served to welcome the new Lunar Year but nowadays it is available on a daily basis. As it is touted as a health food, it's prevalent in organic and vegetarian eateries. It's an acquired taste as some hate it while others just can't get enough of it.
The dish is a labourious one to make, as each of the ingredients needs to be prepared ahead — chopped into small bite sized pieces, stir fried lightly for it to still remain crunchy or toasted in the case of the peanuts. Tradition calls for the aromatic green broth to be pounded using a pestle made from guava wood in a ceramic bowl with grooves. That pounding motion gave this dish its thunder tea moniker since a lot of elbow grease goes into making that green broth.
The broth is made by mixing water with the green paste formed by pounding fresh Thai basil and mint leaves, dried tea leaves, peanuts and sesame seeds together. It is usually served with green vegetables like long beans, sweet potato leaves, leeks and spinach, carefully chosen for their contribution to the taste of this dish. The lui cha is also served with toasted peanuts, choy poh, bean curd and black eyed beans.
Nowadays the dish is not limited to rice only. Ying Ker Lou, the Hakka eatery found at major shopping malls, serve their version with Hakka noodles or as fried rice, side-by-side with the traditional rice version.
Hor Poh Cuisine Restaurant, 36, Jalan 6/38D, Taman Sri Sinar, KL. Open: 11am to 3pm, 5.30pm to 9.30pm. Tel: 03-62778903. Closed on Tuesdays.
It's worth your time to look for this hidden gem nestled in an area between Mont Kiara and Kepong. You will spot the lui cha at almost every table with a selection of the ingredients laid out in individual bowls. The servers go around with a large teapot filled with the piping hot green broth to pour into a bowl for you. What you will notice is this broth is incredibly aromatic, as they don't skimp on the ingredients. Equally satisfying is the appetiser of crispy deep fried bean curd sheet. On the same addictive level, you have their stuffed bean curd with pork mince and salted fish, just like the Hakkas used to make it.
EcoGreen Organic, 12, Jalan Aminuddin Baki, Taman Tun Dr Ismail, KL. Open: 10am to 10pm.
If you're looking for an organic and MSG-free version, EcoGreen serves up their lui cha with steamed organic brown rice, organic vegetables, nuts and seeds. Served in a bowl, you mix everything together with the warm green broth made with fresh mint and Thai basil leaves which is sprinkled with sesame seeds.
Restoran Soon Lee, 38, Jalan 1/19, PJ. Open:9am to 2.30pm. Closed every second Monday of the month.
Look for this six-year-old stall that serves Hakka lui cha for breakfast and lunch. You get a variety of around nine vegetables in your bowl of lui cha, like mustard greens, leeks and the rarely-seen four angle beans. This stall also offers a taste booster in the form of dried prawns sautéed with onions, which can be omitted if you're a strict vegetarian. There's also a choice of white or brown rice for you. Other goodies within this popular shop include their kuey teow soup and Seremban siew pow.
Restoran Gembira, 39, Jalan SS24/8, Taman Megah, PJ. Open: 7am to 2pm. Closed every second Monday of the month.
Tucked in a corner, this stall serves vegetarian food including Hakka lui cha. Unlike other places, the lui cha is served on a plate so be cautious when mixing the broth and ingredients together with the brown rice. The broth here tends to be a darker green colour but it is mild tasting.
Kun Yam Thong temple, Jalan Ampang, KL.
Every Friday, the Chinese temple serves lui cha prepared by their volunteers. This version is served with brown rice, sweet potato leaves, cabbage, choy sum, choy poh, bean curd, black eyed beans and long beans. The rice is also sprinkled with toasted peanuts and sesame seeds. Mix it all together with the green broth made from aromatic basil and mint leaves for a satisfying meal. Once you are finished, clear the dishes yourself as this place is run like a canteen.