KUCHING, July 24 — As a mother, Christina Lendai could not hold back her emotions when her one-year-old son Philip Lai Jung Pah finally received his Malaysian citizenship today.
Speaking to The Borneo Post, she said she felt relieved now that she could think about the future of her son.
"It has been a long struggle, but I am fortunate and grateful because my son finally received his citizenship," the 20-year-old from Serian said when met at the citizenship presentation ceremony here at Wisma Bapa Malaysia in Petra Jaya here.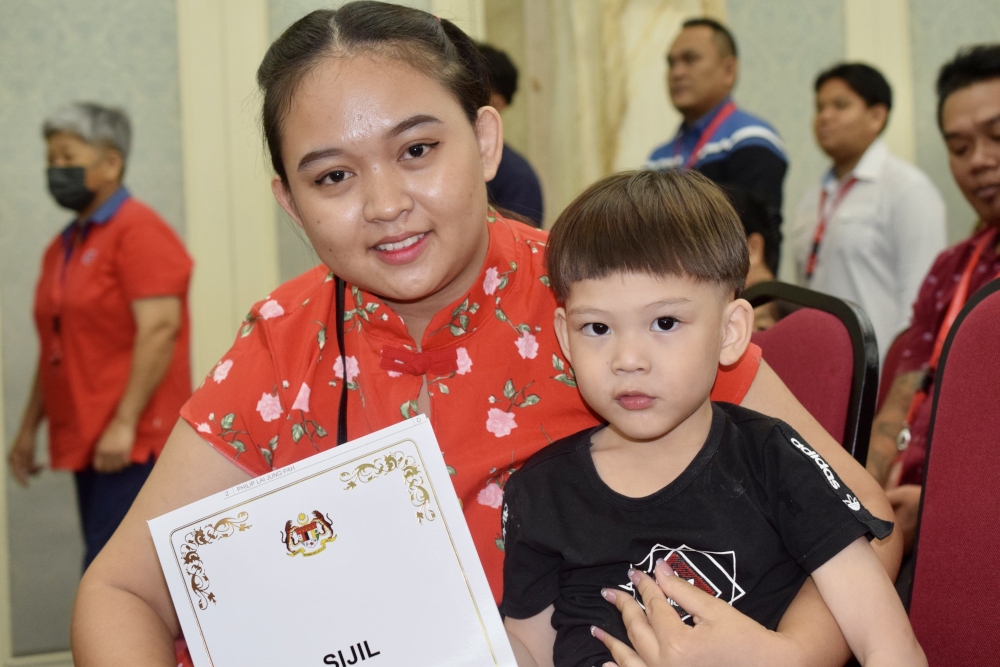 Advertisement
Philip is one of 60 individuals who were presented citizenship approval letters by Home Minister Datuk Seri Saifuddin Nasution Ismail in the ceremony.
The 60 recipients today were part of 946 applications that the Ministry of Women, Childhood and Community Wellbeing Development submitted to the Home Ministry earlier this year.
Christina herself knows how difficult life is without citizenship, as she too is stateless.
Advertisement
She said she had applied for her citizenship for a long time, but had yet to receive any response from the authorities.
Sharing some of the challenges, she said she was only able to attend school up until Primary 6.
"I could not attend school after Primary 6, because we needed to have IC when we reach the age of 12.
"What could I do? It really broke my heart because all I could do was watch all my friends continue their studies and go to secondary school," she said while holding back tears as she recalled her struggles.
Another mother, Junaidah Jamuni from Kampung Sejingkat, also shared her contentment when her adopted daughter Siti Nabila was now a Malaysian.
The 39-year-old said it was like a magical day to wake up after 11 years waiting for such recognition for her daughter — a Malaysian.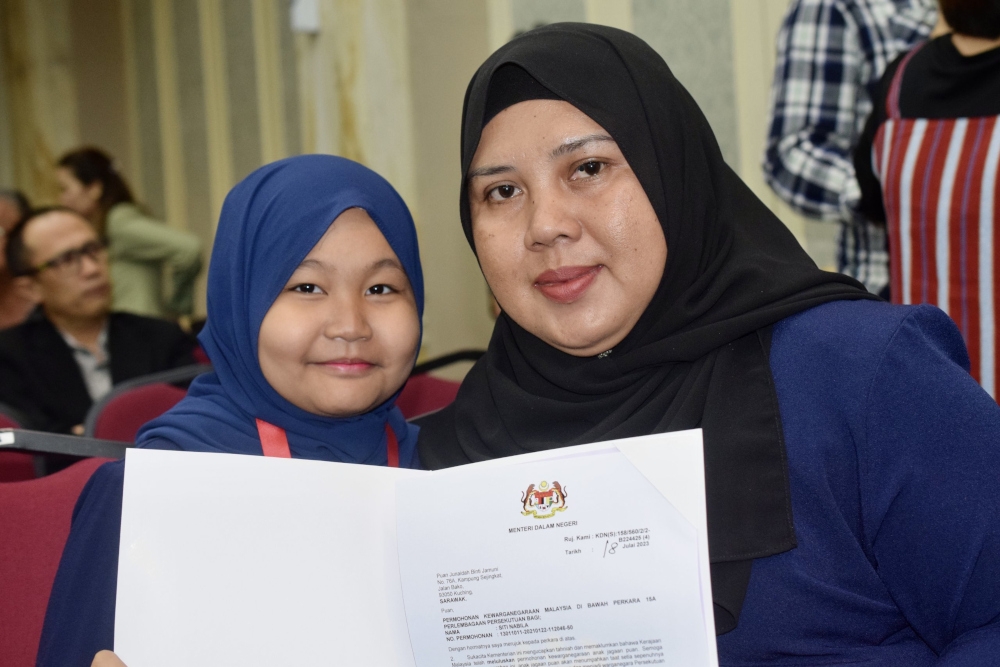 In addition, Junaidah shared that her daughter had to stop going to school for the past two years due to cancer.
"The cost was not cheap, because she did not have an IC. We spent thousands of ringgit but that does not matter because my husband and I love her like our own daughter," she told The Borneo Post.
Junaidah said that they decided to adopt Siti Nabila nine years ago, because her parents were undocumented Indonesian migrants without the means to raise her.
However, the kind couple was left in dire straits after Siti Nabila's birth parents ran away before the adoption process was completed. — Borneo Post