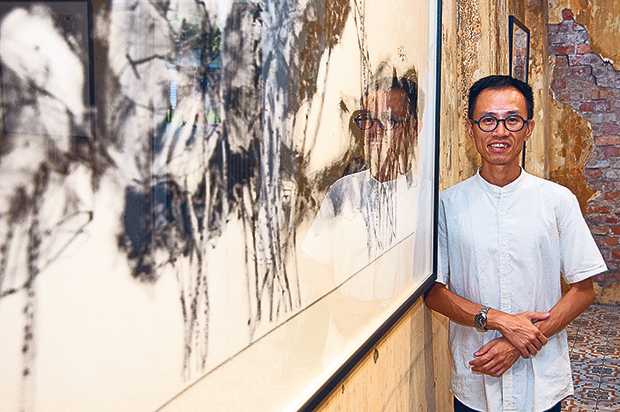 Subscribe to our Telegram channel for the latest updates on news you need to know.
---
GEORGE TOWN, May 22 — Known for his graphite and watercolour sketches of buildings and streetscapes of Penang, Ch'ng Kiah Kiean's rise to fame in the art world is one that is almost meteoric.
The 42-year-old has been sketching and drawing buildings since his school days so naturally, he went into architecture and graduated as an architect.
He worked as an architect for a short period before venturing into graphic design for 10 years. Though he only became a full-time artist two years ago, Ch'ng held his very first solo art exhibition back in 2000, the same year he graduated from USM with a Bachelor of Architecture degree.
He held another exhibition in 2002 and by 2009, held another solo at Seni Mutiara Gallery and also published his first art book, Sketches of Pulo Pinang. The book was an instant hit. He is also one of the founder members of Urban Sketchers of Penang and is a blog correspondent of Urban Sketchers.
In 2011, he published his second compilation, Line-line Journey, which was also snapped up almost immediately after its release. By then, Ch'ng already had a large following of fans and started getting invitations to give talks and lectures on urban sketching.
He published two more books, Sketches Diary of Penang published by National Taipei University and Sketches of Asia-Pacific published by Yuan Ze University, Taipei, last year.
This year, Ch'ng showed new works after he started experimenting with twigs and ink paintings back in 2011. He recently held the Ink-Between solo exhibition at Hin Bus Depot Art Centre, his first series of ink and twig paintings of his interpretation of Nature.
Here, Ch'ng shares his story on his love for sketching and painting.
In his own words:
This is something different from my architectural sketches. If I have an idea, I will just interpret it. All these works in Ink-Between were done in my studio. Mushrooms… the staghorn fern which is my neighbour's. A tree I saw somewhere.
I like traditional Chinese paintings a lot. This is my reinterpretation of the traditional way. These pieces are quite recent, that I started from two years ago. I have 30 pieces, 12 are smaller pieces. I've liked painting since I was a child. I studied architecture and I did graphic design for 10 years. Now I'm a full-time artist. I started full time about two years ago.
I started with graphite pencil and water colour. Now I'm more into ink. I find the lines created by using the twig and Chinese ink are very different. It's something you can't achieve with normal tools like fountain pens. I go into this because of the Chinese traditional philosophy. I don't know how to explain it.
Since I was in high school, I go out with my friends to do outdoor sketching a lot. I think after I become an urban sketcher, it makes me more connected to the world. I started urban sketching with Urban Sketchers in 2011, about five or six years ago. Normally, I go all around Penang to do the sketching. Penang is my favourite place to sketch. If I travel anywhere, I will sketch too. I like the architecture in Penang a lot because I'm a Penangite, I'm from Penang. The architecture here is quite different from elsewhere, we have a different mix of cultures that we can see from the buildings here.
I've sketched a lot of buildings everywhere in the past five, six years. I have done maybe about 500 pieces. I didn't sell all of it, I do still keep some of it. When I sketch, I do it on location so most of my architectural pieces are smaller pieces, not like these bigger paintings done in my studio.
When I was younger, I like to draw buildings. I started with watercolour and most of my subjects were buildings. I prefer buildings and still-life, I'm not very good with drawing humans. This is why I studied architecture, it's somehow related. I worked in an architect firm for a very short time.
Urban sketching is good not only for artists but for everyone. I would advise people to join urban sketchers to start urban sketching. This is because when you go outdoors to sketch, you learn something from the location. You get to observe the details, you can feel the space, it is very real. It is very different from drawing from a picture. Sketching is very easy and simple. Everyone can do it. All you need is a pencil and paper. When you practise, you can improve. Always practice will make things improve. So everyone can draw.
This series, all I need is just paper and I can start work. Sometimes I will refer to a photograph. A larger piece takes about two hours to finish. Normally for buildings it will take three hours, for a typical piece, I will sit there to sketch it all on location.
Nowadays, most of the time, I spend my time organising my art and planning out my latest books. I will compile my sketches of Penang and my travel sketches into two books. My previous two books are sold out. I will re-compile all my sketches for the Penang book. And I will compile another book for sketches of other places. I will do the graphic design and layout for both books on my own but I'm not sure who will be publishing it yet.
Sketching is my first love. I will never regret going into this line. Everyday I just enjoy doing my art. To me, it's not working. I don't think I'm successful, I'm still learning. We have to work hard and work smart in everything. Reading is quite important to me. It is important to read about art theory and everything. It's not only practise, we have to read to improve ourselves. I will be having another show of my sketches in Italy in September and I will be teaching a workshop there too.