KUALA LUMPUR, Nov 15 — World Diabetes Day, if you didn't know, is on November 14. Diabetes has become a concern in many countries including Malaysia where it's estimated that one in five people are diabetic.
Apple just sent out the latest findings from both its ongoing health studies, the Apple Heart and Movement Study (AHMS) and the Apple Women's Health Study (AWHS).
Glucose and physical activity
Diabetes is a condition where blood sugar or glucose is elevated with Type 1 diabetes being an inability to produce enough insulin while Type 2 is the inability to properly use insulin.
Advertisement
The study saw subjects equipped with continuous glucose monitors (CGM) adding their data to information already collected about activity, sleep, steps and menstrual cycles that combined help researchers to look at glucose and its effects on health and performance.
Participants in the study were only included if they shared at least 100 days of CGM data, averaging 100 glucose measurements per day regardless of whether they had reported having diabetes.
The study analysed participants with CGM data as well as at least 50 days of exercise minute and step counts from the Apple Watch, and found that as step count and exercise minutes increased, so did the amount of time where glucose levels fell below 70 mg/dL.
Advertisement
What it highlighted was the important role of physical activity in glucose management as well as how important it is to monitor for low glucose during and after exercise, especially if using medications meant to lower glucose.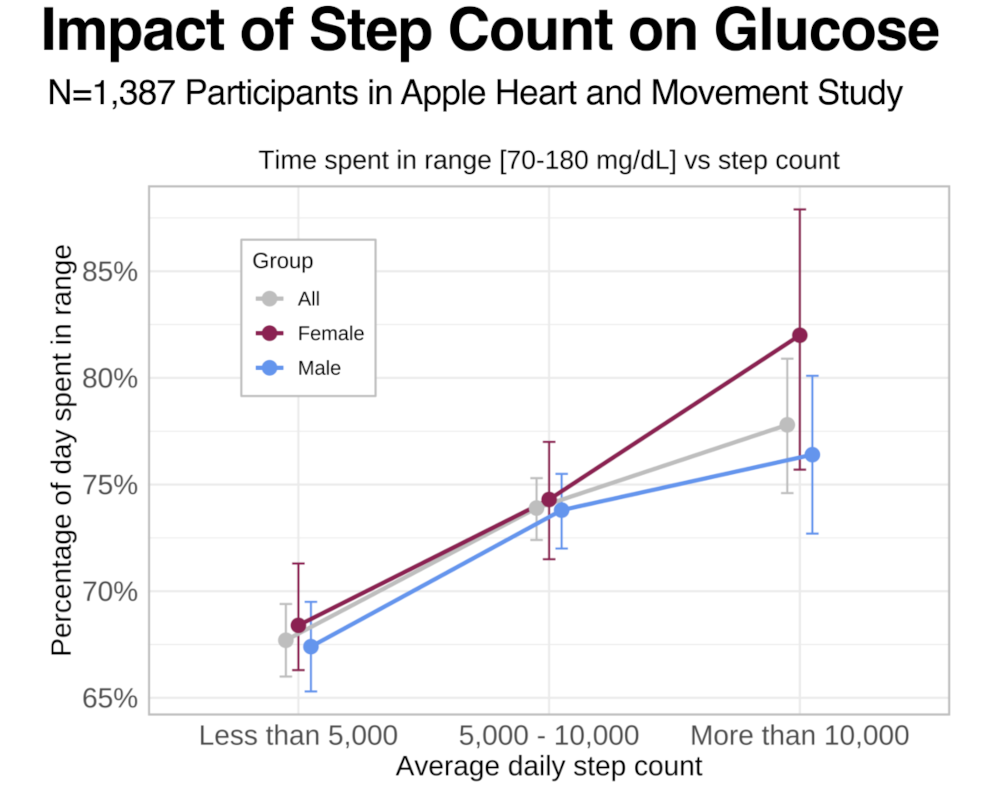 Participants who self-reported having a body mass index of greater than or equal to 30 kg/m2 or a higher risk for insulin resistance were seen to have a consistent trend of less time in the glucose range below 70 mg/dL, less time within the target range of 70-180 mg/dL and more time above the max target range (more than 180 mg/dL) compared to other participants.
Menstrual cycles and glucose levels
The first day of a period is when the follicular phase of the menstrual cycle begins, where estrogen increases and this increase has been linked to changes in insulin sensitivity and glucose.
During the luteal phase, after ovulation happens in mid-cycle, progesterone levels instead increase while estrogen levels decline.
Data was taken from 231 individuals who had given their consent prior, who had reported six consecutive cycles and were excluded if any hormone use was reported, such as contraceptives.
Across 1,928 cycles analysed, there was more time spent where glucose levels were within the target range during the follicular phase when progesterone levels were lower (68.5 per cent of the day), compared to the luteal phase (66.8 per cent).
Having polycystic ovary syndrome (PCOS) as well as a body mass index greater than 30kg/m2 also saw a specific shift in glucose levels, as participants who reported those conditions spent less time within the range of 70-180 mg/dL during the follicular phase than other participants.
The study does note however that further studies that control for factors such as age and other medical conditions might be needed to establish a causal relationship between glucose and activity or phases of the menstrual cycle.
However it does seem that the analyses do reinforce the potential benefits of physical activity, as well as hormones, on glucose levels.
You can read the full statement on the study here.