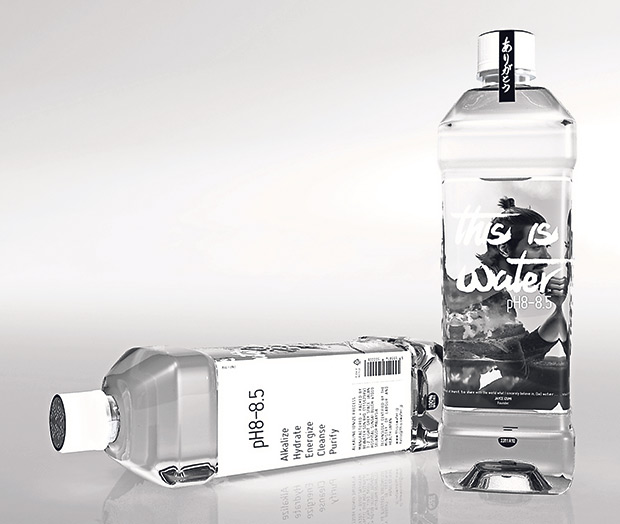 KUALA LUMPUR, June 5 — We consume it every day, hot or cold, in its pure form, flavoured with fruits, brewed with coffee beans or beer hops, infused with tea leaves or as savoury soups. Drinking water is such an intrinsic part of everyday life (and survival) that it is not something one even thinks about — we just do it. But one man didn't just think about water, he studied it for 20 years and changed the way we look at this essential liquid.
Dr Masaru Emoto is best known as the author of Messages from Water, a photographic collection published in 1999 that showed what frozen water looked like under a microscope. Prior to freezing, the water was exposed to a variety of words, music, photos, or prayers. The results were mesmerising, to say the least.
The frozen droplets that had received positive or soothing influences revealed stunning hexagonal crystals. Those that were treated with negative or disturbing elements showed up as irregular masses that were murky or mottled.
The photos supported Dr Emoto's theory that intention and human consciousness can affect the molecular structure of water. In short, water that has been subjected to positive and healing actions is better, cleaner water.
So why should the rest of us care? Consider this: The human body is made up of at least 70 per cent water. If we are what we eat, we're also what we drink. You could be watching your food intake, but are you drinking water just as sensibly? Quantity is important while quality is paramount.
Just ask Jayce Izumi, a model-actor-film-maker who hails from Gunma prefecture, about an hour from Tokyo, who has been working and living around Asia for more than a decade. For the last three years or so, he has been in and out of Malaysia for work.
One thing that bugged him as he travelled around the region was how difficult it is to find good quality water. Check the labels on the bottled drinking water that are sold locally and you will see that most are pH7 or below, making them acidic or neutral at best.
"In Japan, we care a lot about our water and in particular, alkaline water. We don't just drink it, we use it for various purposes, from cooking to praying. To make soba, for example, you must use alkaline water," says Jayce. "Think about it, even our blood is alkaline." Contrastingly, our diets and lifestyle habits like stress and late nights cause acid levels in the body to spike.
Inspired by Dr Emoto's research and driven by his personal health and fitness philosophies, Jayce wanted to make quality alkaline water an easily available item on Malaysian shelves. He teamed up with a local partner, fellow film-maker Pamela Noer who also manages Jayce's modelling career, to do just that.
The duo spent two years studying about water and doing the necessary homework, which included contacting Dr Emoto's foundation in Japan and even looking into Malaysia's recycling facilities and statistics.
They travelled to Japan to learn about the technology behind the process of making alkaline water, which is certified by Japan's Ministry of Labour and Health. They then spent another six months developing the brand and building the company, based at a new commercial square in Sungai Buloh.
Their product is called This Is Water, because "this is the water you should be drinking." The pH reading is between 8 and 8.5, as it fluctuates throughout the day and is typically higher in the morning. "At this level, it's suitable and safe for everyone," Pamela explains. "If you lead a very active lifestyle, you can start with a higher pH. Otherwise, you'd want to ease into it. People have been known to throw up when they first drink alkaline water and the pH is higher than what their bodies can handle."
She does, however, caution diabetics and those with gastric-related conditions when it comes to drinking the water. "Alkaline water goes into your blood stream faster and so is not suitable to be taken with fast-release medications."
Alkaline levels aside, This Is Water is more than just water. It draws upon Dr Emoto's teachings, emphasising infusing the water with positive, healing energy. And it starts from the very beginning of the production process.
The lab is an airy space with a semi-open layout where air wells let in natural light while exposed brick walls and potted greens create an organic effect. Before starting work, all staff must go through a nine-step preparatory "ritual" that involves washing and drying their hands thoroughly before changing into proper lab outfits (scrubs, shoes, cap, face mask and ear plugs).
Then they take three deep abdominal breaths to clear and calm the mind, and say "arigato." During production, soothing music is played; studies have shown that a frequency of 528 kiloHertz creates the best vibrations. Classic instrumentals by Beethoven and Mozart are among the preferred tracks, as are those by John Lennon.
The water goes through seven filters — more than what hospitals in Japan use for their water — with the main one fitted over the building's roof, to keep unwanted elements from contaminating the water that is stored in a designated tank.
Activated charcoals and an electrolysis machine are also part of the production line. The latter can produce 1,000 litres of alkaline water per hour but at the moment, their production is kept to a smaller amount as they are taking time to test the water at regular intervals and run lengthy analyses to check for quality and consistency.
This Is Water is sold in 100 per cent BPA-free plastic bottles, the next best option after glass. "We initially wanted to use glass bottles but then we found out that the recycling rate for glass items in Malaysia is very low," says Pamela. "Thailand, for example, recycles about 80 per cent of their glass but we are nowhere close to that. We didn't want our product to end up creating more waste so we decided on BPA-free bottles, which is the most recycled item in this country."
As Jayce puts it, "We care for the environment as well as people." Hence, the infusion of positive energy doesn't stop at the production process but is incorporated in the packaging as well. Jayce has put his personal stamp into the key details. He created This Is Water's logo by handwriting it using a traditional brush.
A
s a young child, his grandmother taught him the fine art of calligraphy and the strict discipline that comes with it. The practice has remained with Jayce, and he cannot start writing until he gets into the right sitting-on-knees position on the floor.
His penmanship can also be seen in the kanji for "love" and "gratitude" — the same virtues that Dr Emoto advocates through his work — that adorns the sides of the bottles. The cap is covered with stickers that show Japanese traditional waves and clouds motifs, attached to a scroll with the hiragana for "arigato" that's also handwritten by Jayce.
The writing is admittedly less than perfect, but as the Japanese philosophy of wabi sabi goes, there is beauty in imperfections. More importantly for This Is Water, "I give my love to it. You can think of it as a gift from a friend."
Granted, there will be those who think that alkaline diets are little more than fads. At the same time, there are those who extol the virtues of Kangen machines, which allow you to tap into alkaline water at home, are becoming increasingly popular.
Jayce takes a pragmatic approach to those who question the benefits of This Is Water. "It's not magic water. The basis of what we do is that the body is capable of healing itself and since it's made up of at least 70 per cent water, why not feed yourself the best and cleanest water available?," he reasons. "Whether you believe in what we do or not or whether you're drinking This Is Water or others, what's more important is what you believe and what's in your mind. You could be drinking good water but if you're thinking destructive thoughts, you negate the positive effects. As far as we're concerned, there's no harm in creating and delivering the best product possible.
This Is Water is available in 500 millilitres and 1 litre bottles (the recommended retail price is RM4.50 and RM8.50, respectively) at Cold Storage, Jason's Food Hall, Mercato, Village Grocer and BIG (Publika and Glo Damansara), as well as the following outlets:
Camp5 Indoor Climbing Gym
EZ501, 5th Floor, 1 Utama Shopping Centre, Bandar Utama, PJ
Citrus Cafe & Restaurant
2F-25A, 2nd Floor, Bangsar Village II, KL
Opika Organic Market & Restaurant
LG105/106, Old Wing 1 Utama Shopping Centre, Bandar Utama, PJ
Olfactory Bulb
15-2 Jalan PJU5/13, Dataran Sunway, Kota Damansara, PJ
Vivian Chong is a freelance writer-editor. Read about her travel and lifestyle adventures at http://thisbunnyhops.com/