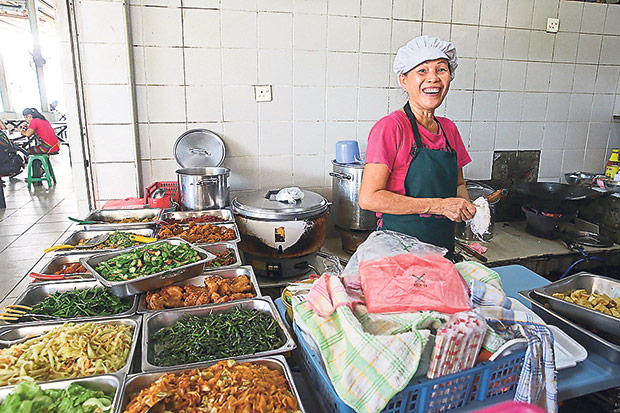 Subscribe to our Telegram channel for the latest updates on news you need to know.
---
KUALA LUMPUR, April 10 — It's time to debunk the myth that Bangsar is just a hip hangout place with its bars and expensive restaurants. In fact, if you look carefully, it's a place that also has affordable eats that won't burn a hole in your wallet.
"Actually a lot of people think Bangsar is expensive but it's not," said Cathy Kee, one of the regular patrons at the Bangsar Vegetarian stall.
Located at Bangsar Selera food court, the vegetarian stall run by the friendly Hong Mook Yin is a prime example of service with lots of heart. Her patrons praise her for being patient and good natured.
Most importantly, the food she serves is clean (she uses filtered water), delicious and everything is fresh. Prices are also kept incredibly reasonable. Expect to fork out RM3 for two choices of vegetables with plain rice or RM4 for three choices of vegetables with plain rice.
You need to add an extra 50 sen, should you choose the healthier brown rice. The prices vary depending on the amount you take. In this case, Hong veers towards accepting generous portions ladled on her patron's plates. Another draw for many diners is the free soup that you can help yourself to.
Get here early as food is ready by 11am and finishes by 1.30pm. Usually, she serve about 17 varieties each day. She varies the dishes except for a few must-haves like the vegetarian char siew, fried beancurd skin and curry vegetables. There are daily specials like porridge on Tuesdays, fried loh shue fan on Wednesdays and fried Vit's dried mee on Saturdays.
Hong who lives in Serdang started this place about eight years ago. Previously working in a factory that made shoes, she retired since her eyesight wasn't as sharp as it was in her younger days. Instead she decided to open this vegetarian stall.
Most of her family members are vegetarian and in the food business. Her mother used to run a vegetarian stall in Serdang where Hong helped out during the festivities. Hong's brother who operates his own vegetarian stall in Semua House was the one who taught her to cook the dishes and found her this place to trade.
She prefers to keep her prices low even though she earns less. "I remember how it is to be hungry so I am doing good to others and following the Buddhist teachings," explained Hong who is happy to get to know people via her stall.
She's not fully vegetarian since she also eats seafood. However, she practises a no-meat diet as she has a violent reaction whenever she consumes meat.
Sadly, Hong tells us that her time is limited at the food court as she's received notice of its renovation. The authorities have requested they start relocating from April 30 to May 15.
She understands that the renovations will take up to one year but she's keen to return back to running her stall once it's completed. Currently she has no plans on where she will be temporarily relocating her vegetarian stall during the renovation exercise.
Many also flock to Lucky Garden especially Bangsar Fish Head Corner that is run by the affable owner Anuar who is always in front of a huge pot filled with fish curry. A long snaking queue can be seen during lunchtime at this 30-year-old plus business.
This is where you get a satisfying meal for a whopping RM3! It's simple fare. Just a plate heaped with fluffy rice that is doused liberally with aromatic fish curry with a few pieces of lady's fingers.
You select a piece of fried chicken marinated with spices or fried fish from the trays placed in front of you. This is followed by a scoop of lightly blanched bean sprouts that is crunchy and refreshing. If you are feeling decadent, order the fish head curry that comes in various sizes.
Just a few doors away, you have Restaurant Sin Lai Ping that houses Loke Tin Mix Rice. Started about three years ago, it's owned by the Beh family who also run the popular night time dai chow at the restaurant.
They also have a branch in PJ New Town known as Lucky Garden Mix Rice that was set up about two years ago. Unlike the Bangsar stall that is open from 9.30am to 2.30pm, their PJ outlet is open throughout the day and it offers free drinks with soup. It's run by Oscar Beh, the second generation in the family. The Bangsar stall is run by his brother, David Beh and Oscar's wife, Samantha Wang.
Dishes for Loke Tin Mix Rice start rolling out from 9.30am onwards. Expect to dine on an array of 30 dishes. By the time the lunch hour approaches, you can expect a whopping choice of 100 dishes!
Popular must-haves are their sweet and sour pork, nam yue fried pork and vinegar pork trotters. The vinegar pork trotter dish is served in individual bowls and is available only on Tuesdays, Thursdays and Saturdays.
Prices are kept reasonable here as a choice of three vegetables with rice is RM4 while a choice of two vegetables and one meat dish is RM5. However, the prices may differ on the amount you scoop onto your plate. There's also plain porridge available.
Up on the second floor of Menara Mutiara Bangsar, you will find a bustling food court. It's a popular haunt for the staff from the nearby offices. Zoom in on the ever-popular Nasi Beringin stall.
Often you find the stall workers busy packing food as offices would order a couple of hundred packets for an event. Unlike other Malay stalls, prices are clearly spelt out on a board. You can select a piece of fried chicken for RM3, or beef rendang for RM4. They also have sambal egg for RM1 and plain fried bean curd for RM1.
The al dente rice grains that resemble nasi minyak is charged per portion: RM2 for full portion and RM1 for half portion. This makes it easier to work out a meal for yourself for RM5 and below.
Variations include going vegetarian with say a choice of beancurd or sambal egg with the acar made with chopped cucumbers and pineapples. If you love your rice, pair the full portion of rice with a piece of fried chicken, the mildly spicy sambal and aromatic gulai. As there's a continued demand for the food here, the chicken is fried in batches that keeps it fresh and juicy.
Over at Stall No. 9, you have the friendly couple, Panir and his wife Kalavathy, who serve an incredibly reasonable priced set lunches. They have been in the business for about 30 years when it was just a roadside stall. The stall also sells at breakfast and teatime.
Previously his vegetable set was RM4 but this March, he had no choice but to increase it to RM4.50. "Vegetable prices have gone up by 20 per cent due to the drought and El Nino effect." It's a satisfying meal paired with a chilli fried bean curd, three types of vegetables, dhal and the tangy rasam.
Since he works on a set meal basis, he can afford to offer a piece of fried fish or chicken with three types of vegetables and rice doused with curry for a very reasonable RM5. Everything is cooked fresh in the morning. Moreover, he also offers free water and customers can help themselves to mango pickle and fried dried chillies at the counter.
As he relies on repeat customers, he believes that raising the prices to tackle the rising costs would jeopardise his relationship with them. "We have come to this profession to do business. We cannot increase price to burden the customers. I give them from my heart and they get their value for RM5."
To accompany your meal here, make sure you order kopi ais from Stall No. 18. The coffee is topped with a thick froth from pulling the drink a few times. It's also fragrant as they brew it using the Unta coffee brand. Even their teh tarik is smooth and not too cloyingly sweet.
Bangsar Vegetarian Stall
Stall No. 41, Bangsar Selera, Bangsar, KL
Open: 11.30am to 1.30pm (Monday to Saturday). Closed on Sunday
On the first and fifteenth day of the lunar month, there is breakfast served from 9am onwards
Bangsar Fish Head Corner
No. 2, Lorong Ara Kiri 2, Lucky Garden, Bangsar, KL
Open: 11am to 3pm. Closed on Sunday
Loke Tin Mix Rice
Restaurant Sin Lai Ping, 16, Lorong Ara Kiri 3
Lucky Garden, Bangsar, KL
Open: 9.30am to 2.30pm (Monday to Saturday). Closed on Sunday
Nasi Beringin
Stall No. 20, Menara Mutiara Bangsar
Jalan Liku, Bangsar, KL
Open: 10.30am to 3pm. (Monday to Friday). Closed on Saturday, Sunday and public holidays
For orders, contact 012-3252552/019-3463606
CM Panir Selvam & Kalavathy
Stall No. 9, Menara Mutiara Bangsar
Jalan Liku, Bangsar, KL
Open: 7.30am to 5pm. (Monday to Friday)
Closed on Saturday and Sunday
We may have missed some hidden gems in Bangsar or elsewhere so email me at [email protected] with any recommendations you have for affordable and tasty eats we should highlight to everyone.