KUALA LUMPUR, Nov 16 — For the vast majority of us Malaysians, WhatsApp is the main form of online communication, so much of our lives is stored in our chats. As such, porting over our chat history when we get a new phone is a high priority, and that means using a built-in function to back up to either iCloud (for iPhones) or Google cloud storage (for Android devices),
Google has let you back up your WhatsApp chat history for free since 2018, but the company has now announced that backups will soon count towards your cloud storage quota. This, Mountain View says, is similar to how they are handled on other mobile platforms (by which it clearly means iOS and iCloud).
Every Google personal account—which is required to sign in to the Google Play Store to download WhatsApp in the first place—comes with 15GB of free cloud storage (triple what Apple offers, Google proudly claims), shared between Google Drive, Gmail and Google Photos.
If you run out of space to back up your chat history, you'll have to either delete some items or purchase more storage through Google One. You can also delete things like photos and videos directly from WhatsApp itself, which will reduce the size of the backups.
Advertisement
The change will affect WhatsApp Beta users first starting next month and will gradually roll out to other Android users from early next year. However, those using Google Workspace for school or work will be unaffected...for now.
How do I back up my WhatsApp chat history?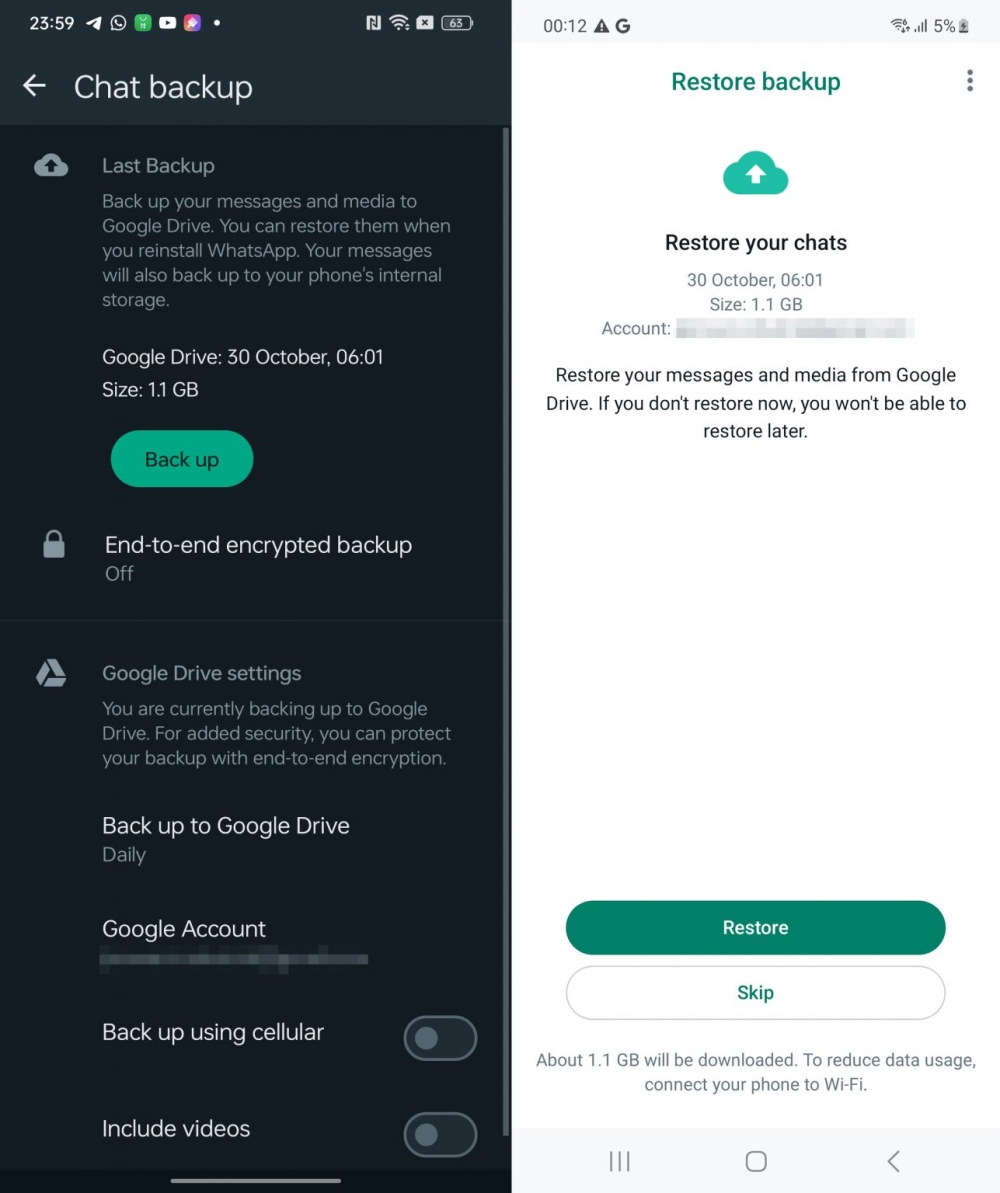 Advertisement
Despite the change, WhatsApp chat backups on Android will continue to work the same way as before. To do so, you'll have to open WhatsApp and tap on More Options (the three dots on the top right), then select Settings and then Chats. From there, you can tap on Chat Backup and then Back Up Now. You can also set the app to automatically back up your chat history daily, weekly or monthly. Note that all of this (apart from the fact you can simply tap on Settings on the bottom right of the app) also applies to iPhone backups.
From there, restoring your chat history on another phone is as simple as installing WhatsApp, accepting the terms and conditions, verifying your number and tap on Restore when prompted.
There are other ways of transferring your chat history if you don't want back ups to take up valuable cloud storage space. If you have both your old and new phone at hand, you can select Transfer Chats (under More Options > Settings > Chats) on your old phone, then go to your new phone, install WhatsApp and tap Start on "Transfer chat history from old phone" (after verifying your number). You will then be prompted to scan the QR code being displayed on your old phone.
As for transferring chat histories between Android devices and iPhones, you won't be able to use your backups. Instead, you'll have to transfer all your old phone's data to your new phone, using either the Move to iOS app from Android to iOS or Android's built-in data transfer feature (via a cable connecting the two devices) from iOS to Android. We should point out that the latter only works on devices running Android 12 or later. You can also use Samsung's Smart Switch app if you're moving to a Samsung phone. — SoyaCincau