KUALA LUMPUR, Sept 21 — Lux Optics, maker of iOS photography apps Halide and Spectre, just announced a new app that is exciting enough to get me to write about it while on leave.
Orion turns any iPad with a USB-C port into an external HDMI monitor and considering that dedicated portable monitors or even camera external displays cost upwards of RM500, I just had to try it.
The standard app is free to download but an extra in-app payment of RM22.90 will unlock additional features: upscaling HD video with an AI-powered 4K upscaler, 3-way retro CRT emulation and being able to adjust video brightness to darker than even the default system brightness.
What you need to make it work
Advertisement
I happened to have a couple of USB-C dongles that I got during the pandemic when I had brief delusions about streaming games from my Switch.
Neither of the dongles I used were expensive, each being under RM50.
What's important is you do not buy a USB-C hub made for video output.
Advertisement
You instead need to search for a USB-C hub for video capture and a quick search on online webshops found them to be in the range of RM30-RM50.
It's not a large download on the App Store — I had it installed and running in less than five minutes on a 300Mbps internet connection.
You'll be greeted with a quaint screen that imitates the unboxing of a package, tearing off a strip to reveal a simple manual of sorts.
The interface itself is delightfully retro. As an 80s kid it brought me back to the days of CRT TVs and IBM PCs.
It was an intentional decision to invoke memories of past designs. On Lux's announcement page, they said as much.
"When we set off to design the app, we really wanted it to be fun. Starting with the basic idea—a portable screen—we thought of the era where televisions and video were still exciting, fresh technology. The techno-utopia of the early 1980s came to mind. We find this a delightful aesthetic."
I wish the tutorial had a more step-by-step approach to it but once I got the right dongles to connect to the right machine (HDMI cable connected to the Switch, connected to my USB video capture dongle, that was then connected to a USB hub as my dongle didn't have a USB-C connector) it detected my Switch console in seconds.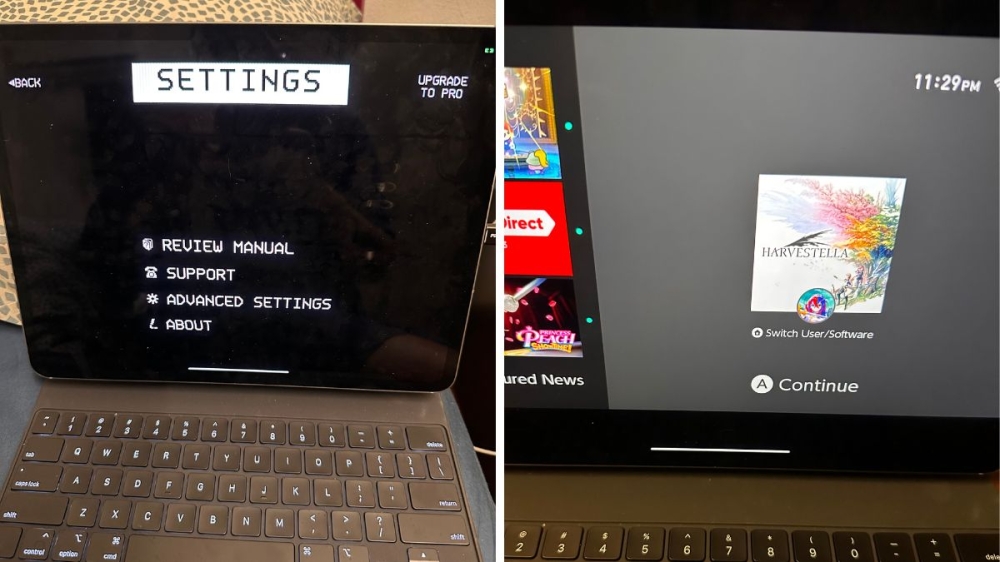 To make it less complicated, you could just use a USB-C video capture dongle that plugs in directly to your iPad, with an HDMI cable connecting the dongle and your desired device.
As it's a wired connection, there was no discernible lag for me and yes, I did pony up for a Pro version as it's a one-time purchase and will let me enjoy higher scaled-up graphics from the Switch to my iPad.
Would you find it useful? If you already have a USB-C iPad the app gives it more utility as you don't even need to have a Mac PC, as it works with ordinary computers, consoles that use HDMI (PlayStations/XBox/Nintendo Switch) and cameras.
For non-USB-C iPad users, I don't think it's worth the hassle using a Lightning to USB-C adapter to a dongle unless you have plenty of dongles around to see if it works.
Still there's no saying it won't work either so you can test it out on your own device, I can only confirm it works fine on a MacBook Pro M2 Max as well as the v2 Nintendo Switch (non-OLED).
Lux did manage to test a few dongles and confirm whether they worked, with the list viewable here.
Interestingly Elgato's expensive HD60X dedicated capture card doesn't work with the app and neither does Anker's USB-C to HDMI adapter, while my generic, no-brand cheap capture card and USB-C adapter combo did.
Disclaimer: I didn't get paid for this review, found out about Orion on X and paid my own money for the in-app purchase.
You can download it for iPad on the App Store here.