SEPTEMBER 28 — Prime Minister Anwar Ibrahim hopefully enjoyed his week-long sojourn at the United Nations General Assembly. Much of the accumulated accolades would have dissipated quickly from his mind during his 22-hour flight to KLIA from New York.
Right on the money, three sitting ministers were on site waiting for him last Tuesday. Home truths on the tarmac.
There is gossip over a potential rice shortage and the ringgit hit another low, RM4.70 to the dollar. Which then ratchets up Cabinet reshuffle rumours.
When asked, the prime minister said he'd have a think about it. That just magnifies things further.
Advertisement
But how much attention is appropriate for a potential Cabinet shake-up?
One wonders if the PM seriously has reservations about his team 10 months into the administration, or better to assign this as an elaborate strategy to distract the country, until the 2024 Budget session next month.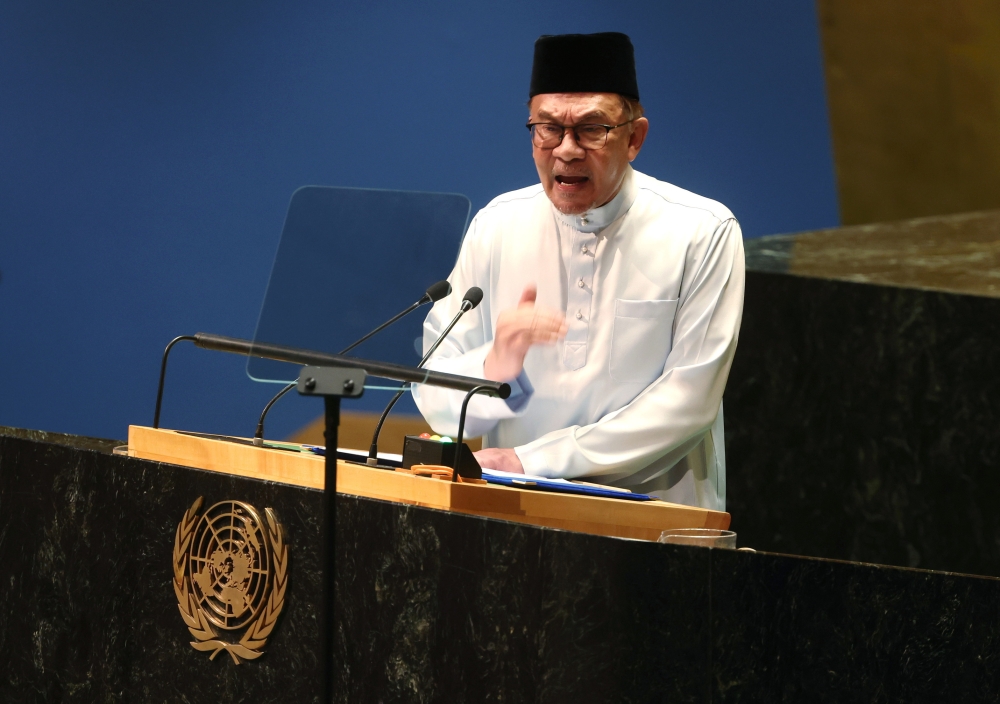 Advertisement
A healthy majority with a little help from his friends
The 147-seat total for the unity government is one shy of a super-majority in Dewan Rakyat.
There is no glaring disunity among the 19 parties which are subsidiaries in four coalitions in support of the government.
Regardless of the impending Kemaman by-election — following a court ruling — or the ongoing Pelangai state by-election, Anwar has a stable government. In fact, a Kemaman win might bring the unity government a super-majority without relying on the single from Muar — held by MUDA's Syed Saddiq Syed Abdul Rahman who belatedly departed from the government benches.
Short version, Anwar stays on top if the coalitions are content. Which is why a substantial Cabinet reshuffle appears highly unlikely.
The PM is only pressed to name a replacement for Salahuddin Ayub, whose domestic trade minister portfolio remains vacant since his death on July 23, 2023.
Empty for two months, the fragile state of affairs forced a delay to after the state elections last month and indeed the Pulai by-election — to measure MP count for Amanah in relations to the other parties in the bloated unity government.
The Islamist party inside Pakatan Harapan only held seven seats — five of them in Selangor — after Salahuddin's demise. Two minister spots for seven seats held sounds generous — when there are only 28 ministers selected from 147 seats. Amanah retained the Pulai parliamentary seat on September 9, 2023. Now back to eight MPs, Amanah getting back its ministership is more palatable.
These are the calculations Anwar has to take into account, all the time.
As a comparison, India is governed by the National Democratic Alliance which has 36 parties. But Prime Minister Narendra Modi's BJP holds 301 of the coalition's 334 seats, or a 90 per cent grip of the total. Anwar's PKR only has 31 of the 147 of the national unity government. A paltry 21 per cent, and eight ministers.
Shuffle or fill up?
If Salahuddin's replacement is a like for like, then the natural Amanah submission would be Dzulkefly Ahmad, three-time Kuala Selangor MP and health minister during the second Mahathir Mohamad administration (2018-2020).
Will there be more to this? In a time of criticism over the handling of the economy and a sliding ringgit, a reshuffle can be a double-edged sword, either accepted as a proper and appropriate correction mid-stream or a sign of a government in trouble.
Though, there is an elephant in the room.
If Dzulkefly returns to Cabinet, will Anwar be tempted to swap him with Dr Zaliha Mustafa — revert him to the health portfolio and pass the Sekijang MP to domestic trade?
This can be the soft landing for the situation which does not appear to be too radical.
An experienced hand to the ministry in need of urgent reform and Zaliha to a ministry the first time MP can cut her teeth better at.
Much ado about nothing?
There is the nagging chatter about either menteri besar, Aminuddin Harun (Negeri Sembilan) or Amirudin Shari (Selangor) called to Putrajaya but it would end up a huge misstep for Anwar.
An Aminuddin exit fuels unwanted debates about an Umno MB in the state where they are the single largest party with 15 out of 36 seats, and this column does not have to get into the permutations possible if Amirudin is uprooted from Selangor.
Too many things can go wrong in Selangor when the MB position is gambled, as Anwar is personally aware over the last 10 years.
Anwar must prioritise stability over a knee jerk reaction.
The obvious question then is whether to play with the East Malaysian ministers and their parties.
Both Borneo partners GRS and GPS prefer status quo and a period of quiet while they see out more Malaysia Agreement-related and -prompted measures. They rather Anwar not play wizard when he better serves them as a shepherd of a diverse flock.
There is no point to drag DAP into this debate too. They are set with their complement in Cabinet.
Umno as head of Barisan Nasional is over the moon to have six ministers (out of 18 seats) all from his party — the overrepresentation of Umno in government aids Deputy Prime Minister Zahid Hamidi to deflect mounting pressures from within the party. A minister for every three seats.
28 is not infinite permutations
So, while it seems the PM has much wriggle room, the dynamics of many potent and strategic partners in their first ever co-operation leaves Anwar stuck. And it probably is better for him.
Can it be imagined he moves, let alone remove, Rafizi Ramli his party number two?
With all partners in steady trajectories, as suggested above, Anwar only has his party mates to reorder, if he wants to.
Fahmi Fadzil, first-time MP Fadhlina Sidek and Zaliha may be nervy, but Chang Lih Kang, Nik Nazmi Nik Ahmad and Saifuddin Nasution hold both seniority and senior elected positions in the party so therefore not at threat.
When these realities are bunched together, Anwar is not quite free to undo his Cabinet for now.
It is going to be the naming of one minister, and possibly a swap at two ministries. That does not constitute a major reshuffle, just a minor correction — mostly expected and hardly surprising.
This does not mean Anwar is off the hook as the economy and public perception is a worry even with stable support. If by mid-2024 there are inadequate amounts of upticks, a proper reshuffle might just be the card to play.
* This is the personal opinion of the columnist.