SEPTEMBER 12 — Being a Tottenham Hotspur fan isn't easy. The club has disappointed the fans so many times in the past two to three years I wasn't sure I could handle any more pain.
And much pain there was, as everything went downhill after the incredible Champions League Final appearance in 2019.
Perhaps the exhaustion of reaching the greatest final in European club football simply burnt out the players; barely two months after the Final (which they lost 2-0 to Liverpool) Tottenham were humiliated 7-2 by Bayern Munich.
After this game the writing was on the wall for Mauricio Pochettino. He was eventually fired in early 2020, to be replaced by Jose Mourinho, the "Special One" of European football.
Advertisement
About a year later, Mourinho was fired on the spot for refusing to take the team out for training on account of Tottenham joining some nonsensical "super league" (an idea which was stillborn, thank God).
Even before that, Tottenham wasn't exactly killing it in either the Premier League or the Europa, a 3-0 defeat to RP Leipzig being a critical signpost.
Mourinho was briefly replaced by Nuno Espírito Santo who was himself fired after barely two months into the 2021/2022 season as, supposedly, he wasn't even Spurs' seventh choice for manager.
Advertisement
Next came the volatile Antonio Conte and for a few months Tottenham rode high again, managing to make Top 4.
Then it all fell apart again in late 2022.
The club's fitness coach died from leukaemia, Spurs' performance fell (after a good opening few games). Conte himself had to undergo gallbladder surgery.
Spurs were dumped out of the Champions League by AC Milan. All of which, coupled with the more than occasional outbursts at press conferences from the fiery Italian, eventually led to Tottenham not renewing Conte's contract (which was expiring in mid-2023).
This meant three managers in four years for Spurs.
The bottom of the barrel was reached in April this year when Tottenham let in five goals against Newcastle within 21 minutes, three of them coming within the first 10. That 6-1 defeat cost Conte's interim replacement, Christian Stellini, his job the day after.
Tottenham continued to lose a few more games, finishing eighth for the 2022-2023 season. For the first time in forever, they didn't qualify for any European competition. And the club's greatest goal-scorer Harry Kane looked set to leave.
That's how bad things were...until the arrival of a new manager by the name of Ange Postecoglou.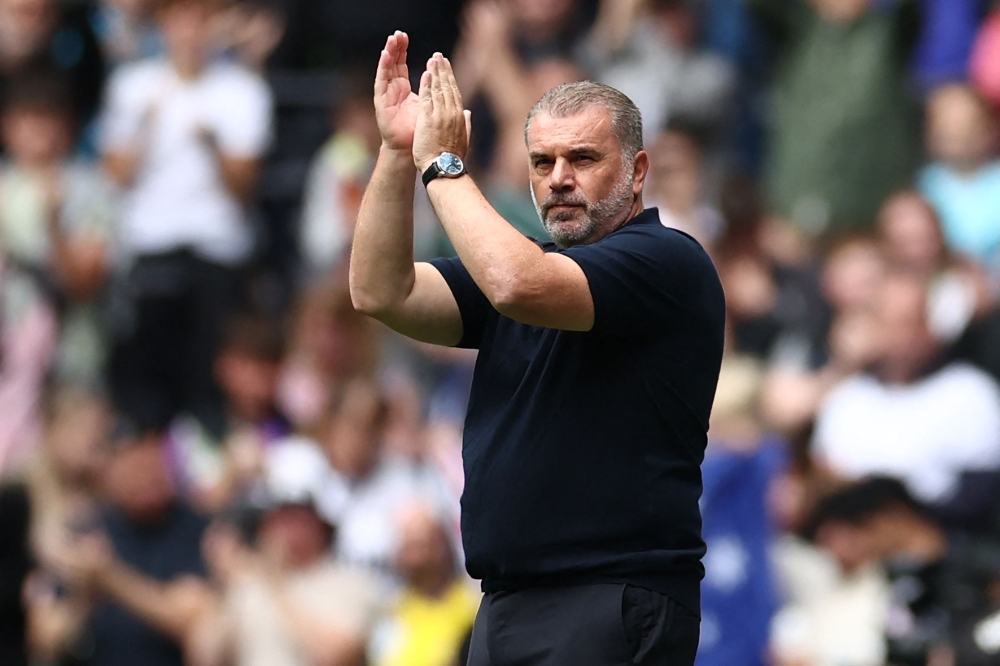 The power of Angeball
If there was ever a person for whom the term "a breath of fresh air" can be 100 per cent applied to, it would be Ange Postecoglou. We are only into four games of the 2023-2024 Premier League season and everybody is already talking about the impact he's had on the squad.
Before joining Tottenham, Postecoglou had coached in Australia, Japan and Scotland. Nobody was exactly super-enthusiastic about this "second-tier" coach managing a top-flight English Premier league football club and, honestly, me and some of my Spurs friends didn't give him more than a few games before he'd be threatened with the axe (see Note 1).
Oh boy, were we (gladly!) wrong!
Since the start of the 2023-2024 season in August, Tottenham have three wins from their first four games, even beating Manchester United at home for the first time probably since football was invented.
Spurs has scored 11 goals and conceded only four, and are now #2 in the table behind that juggernaut known as Manchester City.
Nobody who knows anything about football would believe for a second that Ange Postecoglou isn't the main driving force behind this Spurs resurgence. The changes he's made are themselves more than worthy of a Harvard case study.
Almost the very first thing he did was to push aside the key players who formed the first team under Mourinho and Conte and make away for the fresh young players, some of whom have never seen first team roles in Spurs before. Veterans like goalie Hugo Lloris, Eric Dier, Pierre-Emile Højbjerg, Davinson Sanchez etc were effectively marginalised.
Some writers speculate, not without basis, that there have been very unhealthy cliques in the club, some of which may have been preventing progress.
Postcoglou's blood-transfusion of first team players, as it were, can be easily interpreted as a major step towards smashing these blockages.
Also, Kane's departure, at first bemoaned by the fans, is now seen as a blessing in disguise because with Tottenham's star talisman gone, the team needn't revolve around him anymore.
Postecoglou has even told journalists that his goal when joining a new club is always to create change by doing things differently even if this means short-term results fall.
In the context of Spurs, this meant at the very least ensuring that many of the same players playing in previous years had to stop playing. He wants a substantially different Tottenham from the one his predecessor left him with and, by the looks of it, he's made it happen.
Ange Postecoglou has essentially come in and torn up the "org chart" entirely and put in fresh new young names, breathing a new culture of experimentation, daring and courage into the team.
Hence, since the start of the league in early August, Tottenham has been starting at least seven new players who never started under Conte.
Postecoglou has even picked 18-year-old Ashley Philips as Spur's centre-back ahead of Eric Dier (a "time-tested" English international) who, incidentally, has not been given a single minute of playing time under the new manager.
If that doesn't spell "mini revolution", nothing does.
Thrust in key positions today are young players like Yves Bissouma, Destiny Udogie and Pape Matar Sarr, all three of whom were barely even on the bench during Conte's time (and whose average age is around 20) yet now are thriving.
New signing James Maddison, bought from Leicester City for £45 million pounds (RM56.3 million), would now be easily worth £100 million on the strength of his performance in the first four EPL games alone.
This guy is potentially the next Gazza, constantly weaving himself throughout the field, making plays out of nothing and even helping himself to two goals in the past month.
Speaking of new signings, against Burnley two weekends ago another new attacking midfielder, Manor Solomon, was introduced and immediately made an impact through two assists to Son Heung-Min (who scored a hat-trick).
Fresh faces, fresh mentality, fresh culture, fresh football. And the results so far have proved that "Angeball" (a delightful term summing up Postecoglou's influence on Spurs' game) isn't a fad.
The fans are loving what they see, the commentators are singing Postecoglou's praises and even Robbie Williams sang a short song about Ange!
I can't foresee the future. I don't know how far Angeball can take Tottenham. They may lose the next four matches and Postecoglou may be fired before Christmas. Or Tottenham may win their first trophy in a million years next year.
Whatever the case, I and every Tottenham fan can only hope the spirit behind Robbie William's jingle keeps groovin' on:
And through it ALL!
We'll play the way we want to, with big Ange Postecoglou (whether I'm right or wrong)
It's big Ange BALL!
So you can keep your Pochettino, Conte and Mourinho (and even Christian Gross)
Everywhere we go... we're lovin' big Ange instead.
Note 1: Tottenham has, at least on two occasions, fired their manager after barely two months or so after the start of the league. The latest was Nuno Espírito Santo but before that Juande Ramos was let go very early in the 2008-2009 season when he managed only two points in eight games.
This is the personal opinion of the columnist.