PUTRAJAYA, Aug 31 — Communications and Digital Minister Fahmi Fadzil today called on Malaysians to keep the Jalur Gemilang flying until September 16, which marks Malaysia Day when the nation was founded.
At the close of this year's 66th Merdeka Day celebrations here, Fahmi told reporters that more than 100,000 people were recorded to have attended the day's events in the morning, calling it one of the best in history.
"These Merdeka celebrations have been exceptional and memorable especially seeing the Agong take his time and walk to meet and greet the people, which will be his last time today.
"Seeing the outpouring of emotion and admiration towards him and vice versa was beautiful and I'd like to acknowledge that," he said.
Advertisement
He also said the government will be going on a unity tour with a programme called the 2023 Kembara Merdeka Jalur Gemilang Convoy (KMJG).
The nationwide tour will head to east Malaysia on September 3 and end with a Malaysia Day celebration on September 16 in Kuching, Sarawak.
"So thank you all for coming out and keep the Jalur Gemilang flying high until September 16," he said.
Advertisement
Cheers rose from Malaysians who lined the main avenue in Putrajaya when the Yang di-Pertuan Agong Sultan Abdullah Ri'ayatuddin Al-Mustafa Billah Shah and Permaisuri Agong Tunku Azizah Aminah Maimunah Iskandariah walked up to them at the end of the national parade.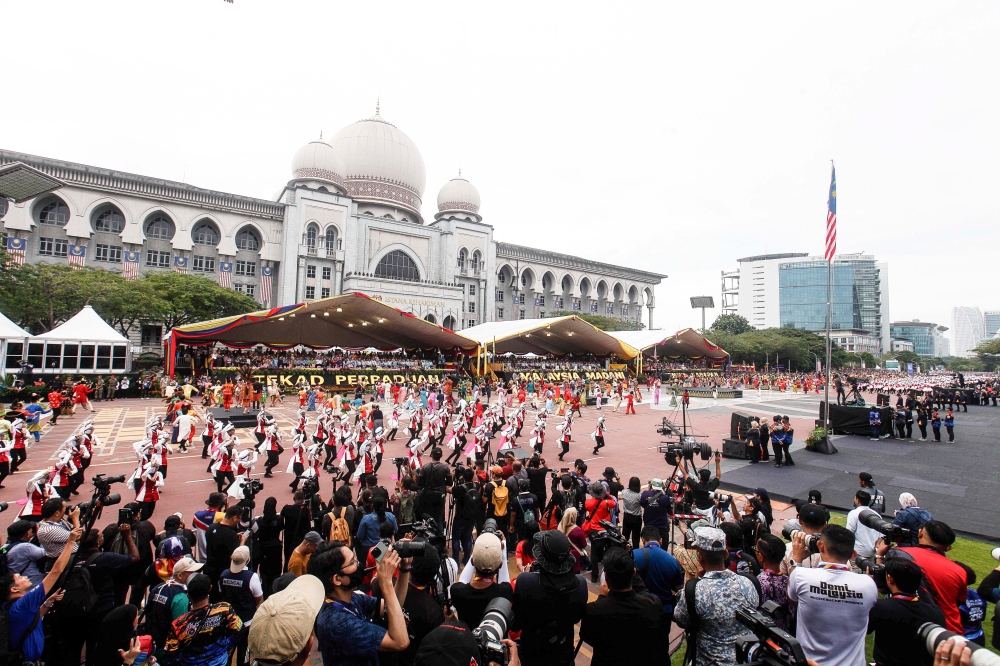 Many, including children, surged forward to greet and shake hands with the King and Queen.
The crowd dissipated after about half an hour of interaction as the royal couple returned to their car.
The 66th Merdeka Day celebrations today saw many spectacular performances, including from 42 members of the Red Warrior acrobatic team from the Armed Forces who used 66 Royal Enfield motorcycles in their show.
The VAT69 police commando team wowed the crowds with their sky dive while 36 various bands participated.
There were also 400 participants who played percussions, 17,262 participants during the march while 534 tactical assets were mobilised along with 100 animals ranging from horses to canines.
The parade began at 8am and ended at 11am.