KUALA LUMPUR, July 21 — Over half of Malaysians are nervous about products and services that use artificial intelligence (AI), according to a recent survey by market analysts Ipsos.
However, the survey also showed that most Malaysian respondents joined their South-east Asian counterparts in being more positive about AI's benefits in the workplace.
"Malaysians, like other countries in Asia, have a positive attitude towards AI and associated products and services. A younger population with the ability to adapt to the latest technology and the role technology plays in improving the quality of life in developing countries might be contributing to this outlook.
"However, AI does make some Malaysians nervous, especially with the possibility of AI changing the nature of jobs or replacing current jobs altogether. Hence general excitement about AI is balanced with an anxious restraint about fundamental changes AI might bring to daily lives in Malaysia," said Azamat Ababakirov, senior research manager at its public affairs division said in an accompanying statement.
Advertisement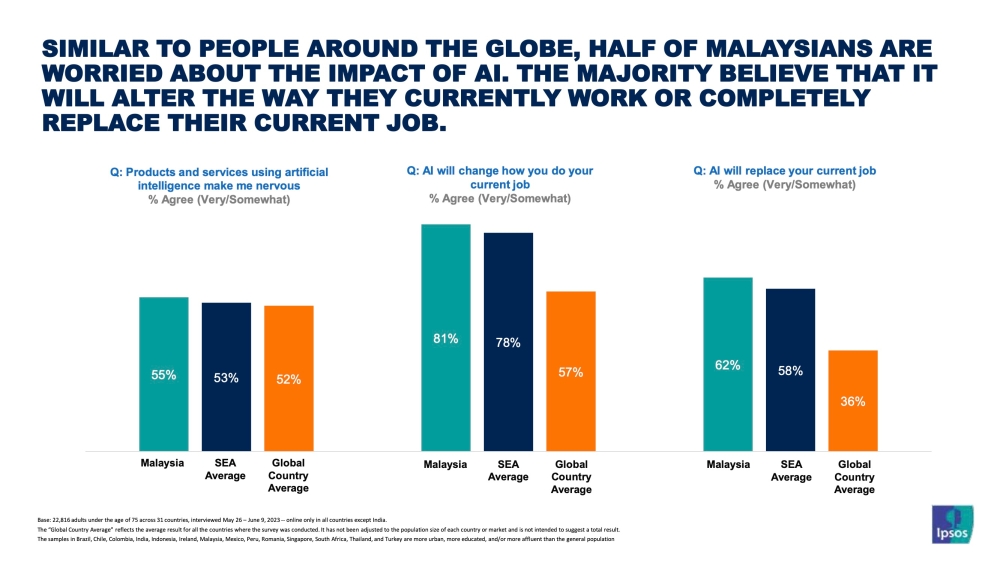 The survey showed that 55 per cent of Malaysian respondents were nervous about AI compared to 52 per cent on average globally, while 62 per cent of Malaysian respondents felt they would be replaced by AI compared to just 36 per cent globally.
Additionally, a whopping eight in 10 — at 81 per cent — of Malaysian respondents felt AI will change how they do their current job, compared to 57 per cent globally.
Advertisement
Following the trend of the average South-east Asian, 69 per cent of Malaysians said products and services using AI have more benefits than drawbacks, compared to 54 per cent globally.
Similarly, 78 per cent of Malaysians believed AI will profoundly change their daily lives in the next three to five years.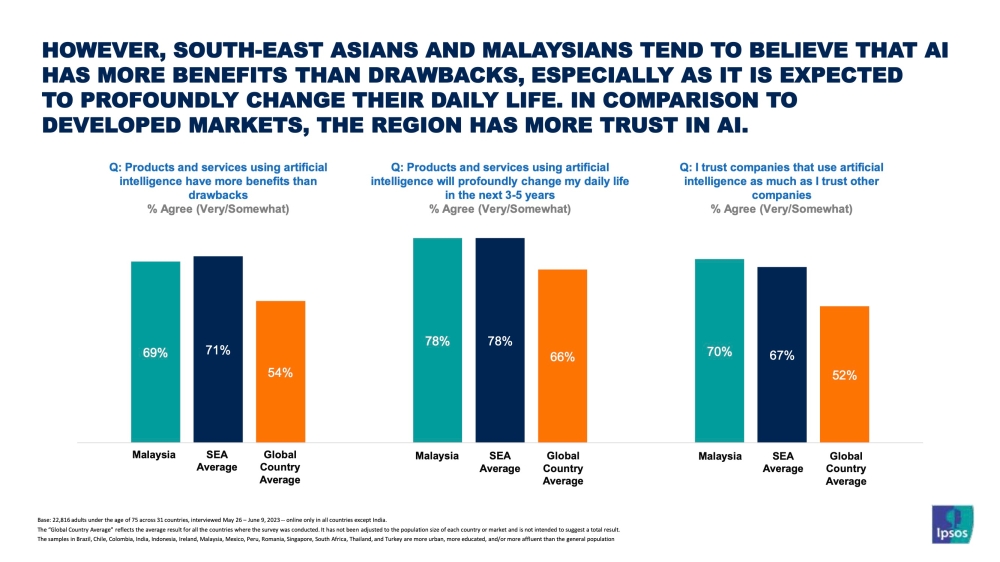 However, the survey also showed that Malaysians tend to overestimate their knowledge of AI.
Among Malaysian respondents, 65 per cent said they have a good understanding of what AI is while 68 per cent said they know which types of products and services use AI.
"Malaysians, like their neighbours in South-east Asia, tend to overestimate their knowledge of AI and the types of products and services where AI is being used," Ababakirov added.
"Artificial Intelligence is fast evolving and will continue to do so at an accelerating pace in the near future. Individuals and governments need to be conscious and ready to face the societal transition that follows, while enjoying the benefits of AI adoption."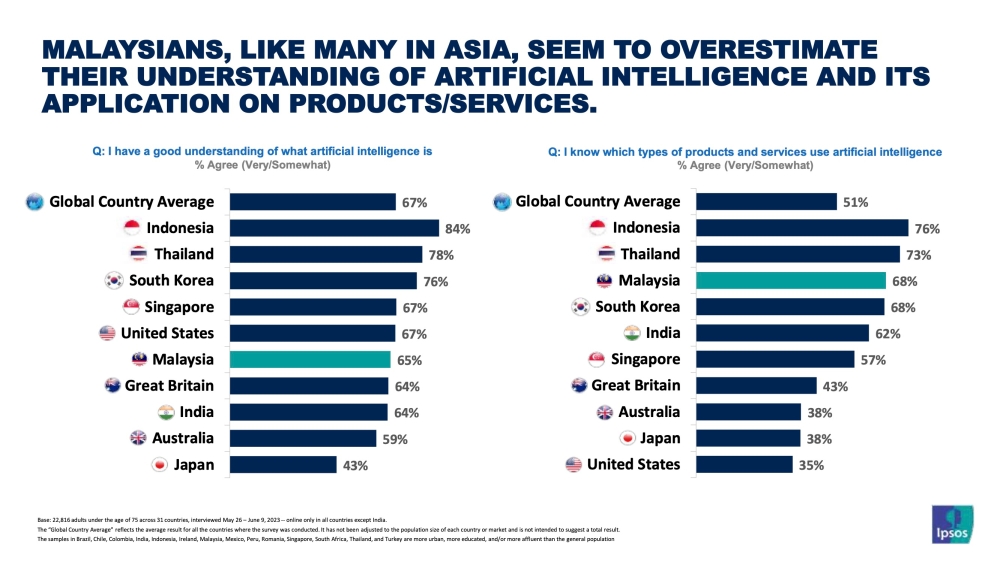 Ipsos said the survey involved 22,816 adults under the age of 75 across 31 countries. The interviews were done online between May 26 and June 9 this year.
It also conceded that the samples in Malaysia (and some other countries) are more urban, more educated, and/or more affluent than the general population.
In June, Science, Technology and Innovation Minister Chang Lih Kang told the Parliament that the government would develop a framework to regulate the use of AI in Malaysia.
In a written Parliamentary reply, he also said that Malaysia was also aiming for the AI industry to create 10,000 positions in the country and eventually grow the country's economy by 30 per cent.