KUALA LUMPUR, Nov 17 — An initiative to monitor hate speech on social media during campaigning said it found that race-based narratives especially espousing "Ketuanan Melayu" or Malay supremacy have ramped up ahead of the 15th general election (GE15).
The Centre for Independent Journalism (CIJ)'s Social Media Monitoring Initiative said its interim findings for the campaigning period between October 20 and November 15 also pointed to PAS president Datuk Seri Abdul Hadi Awang as what it called "one of the key amplifiers of divisive, racist, intolerant and hate-based narratives".
"Race and religion-based hate speech have been weaponised to create fear and antagonism against the Chinese, thus attempting to influence Malay-Muslim voters to vote against Pakatan Harapan (PH) if they want their Malay and religious rights not to be eroded and influenced by non-Muslims.
"It continues to narrow the space for more inclusive politics in our democracy," said Universiti Sains Malaysia's communications expert Mahyuddin Ahmad in a statement.
Advertisement
It pointed to a remark by Hadi, who is contesting in Marang under Perikatan Nasional (PN), for using a dog-whistle remark calling for violence against certain ethnic groups, with an anti-DAP social media post invoking God's power in punishing certain ethnic groups by eliminating them.
This remark was also flagged by #KamiNampak another initiative to monitor the use of racial and religious rhetoric in the 15th general election, which yesterday categorised it as "public incitement to genocide" as it contains elements that justify the erasure of individuals based on identity-based characteristics.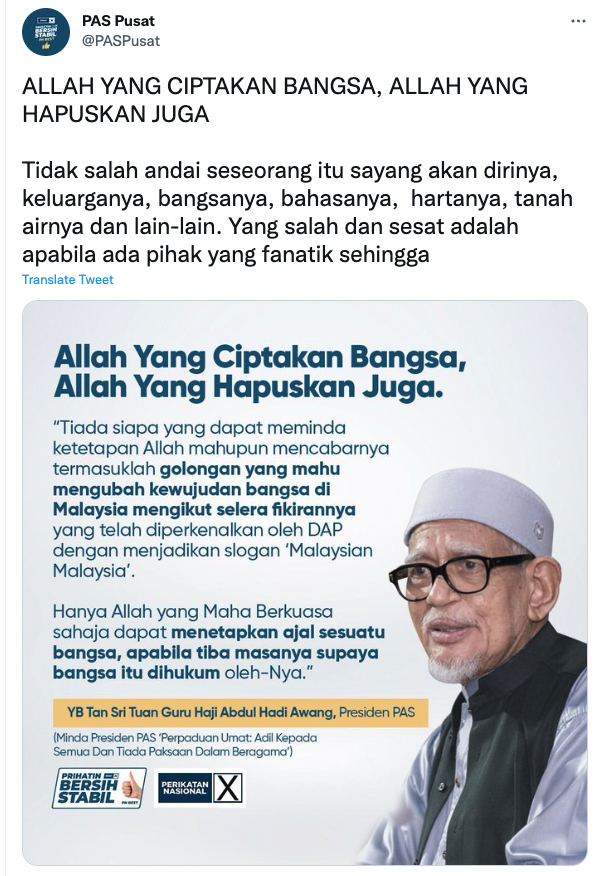 Advertisement
CIJ also highlighted other PAS campaigners such as Sik PAS Youth chief Mohd Shahiful Nasir Mhd Nasir, as well as celebrity supporters like Jamal Abdillah and Zul Huzaimy for using inflammatory narratives and resorting to trigger fear among Muslim voters, inciting violence against "infidels", and calling for Malays to unite and fight against the ethnic Chinese and Indians.
The initiative highlighted how Hadi and PAS have used a tactic it called "red-tagging" by continuing to accuse rivals DAP of being Communists, citing alleged atheism and "promotion" of the queer community.
It also flagged Gerakan Tanah Air (GTA) for emphasising that the fate of the Malays here only rests with it, and PH's use of race card by saying PN will rule the country like the Taliban.
The initiative monitors the severity of hate speech during the election period, with partners from USM, University of Nottingham Malaysia and Universiti Malaysia Sabah.
It reviewed 52,012 unique posts during the interim period, and found that race-based narratives topped the chart with 32,066 posts.
This was followed by religion (13,338), gender and comments targeting the lesbian, gay, bisexual, transgender and queer community (5,161), royalty (3,968), and comments targeting migrants and refugees (2,246).
It said was prevalent across the four major platforms monitored: Facebook at 31,969 posts, Twitter (18,165), TikTok (1,803 posts) and YouTube (75).
Out of the combined 45,404 posts on race and religion, CIJ said 7,763 included posts with racist and religious slurs and vulgarism, 26 included hostile and dehumanising language, and four were posts calling for outright attacks against non-Muslims.