KUALA LUMPUR, Nov 17 — In an award ceremony held today, the Michelin Guide unveiled its second edition for Kuala Lumpur and Penang.
Dewakan was awarded with two Michelin stars in a promotion for the KL restaurant that received one Michelin star last year.
According to the guide, the two Michelin Star distinction is defined as "restaurants with excellent cooking, worth a detour!" where the personality and talent of the chef and his/herteam is evident in the refined and expertly crafted dishes.
Previously a Michelin Selected restaurant, KL restaurant Beta was awarded one Michelin star today.
Advertisement
Its chef Raymond Tham humbly said, "All I want is people to enjoy a meal in Beta rather than chase for a Michelin star."
Beta joins three other restaurants awarded one Michelin star last year — KL's DC by Darren Chin, Penang's Au Jardin and Penang's Auntie Gaik Lean Old School Eatery.
According to the guide's definition, the one Michelin Star distinction represents "high quality cooking, worth a stop!"
Advertisement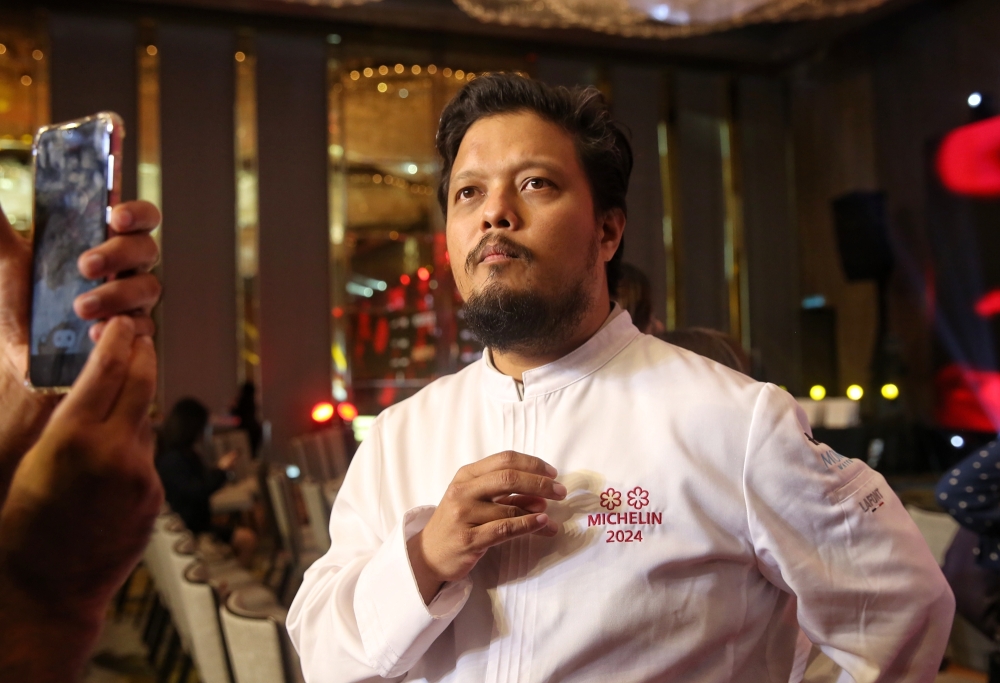 In addition, four Michelin Special Awards were also given out. In their press statement, Michelin explained that these awards "aim to highlight talented individuals who contribute to enhancing the gastronomic dining experience."
This year saw the addition of a new award namely the Opening of The Year Award sponsored by UOB Malaysia. Michelin explained that "this award is given to a chef, host or restaurant manager, for the successful opening of a dining venue over the past 12 months, with a creative degustation concept and a cuisine approach which has had an impact on the local gastronomic scene."
UOB Malaysia Head of Cards and Payment Products Doreen Lee presented the award to chef Ramesh Thangaraj from KL's Jwala which opened early this year. Jwala which means "fire" in Sanskrit, elevates the art of tandoori cooking.
The Service Award, sponsored by FunNow Malaysia, was given to Wan Mohd Zulkfieli from Gai by Darren Chin. As FunNow Malaysia General Manager Benson Chang explained, this is in recognition of the service skills to enhance the dining experience. Last year's Service Award was given to Leanne Lim from Dewakan.
The Sommelier Award was given to Yap Cze Ying from Hide who wears two hats there, namely sommelier and restaurant manager.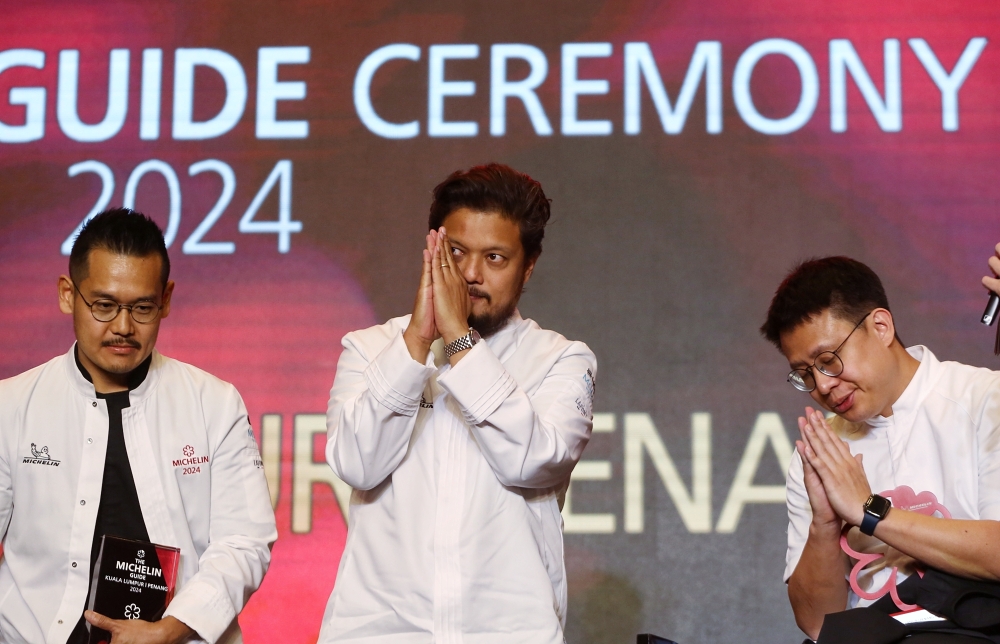 Penang's Gēn Johnson Wong Jia Liang was honoured with the Young Chef Award. Last year's Young Chef Award was also given to a Penang establishment namely Au Jardin's Lim Yan You.
The award, per Michelin, "recognises a young chef working in a restaurant of the selection, and whose exceptional talent and great potential have impressed their inspectors."
The ceremony also saw new Bib Gourmand establishments. Full details of the Bib Gourmand list can be found here.
Michelin also added a total of 25 new Michelin Selected restaurants: 16 from KL and nine from Penang.
The Selected Restaurants category means the establishments have met the criteria set by the inspectors but at this moment, they don't qualify for a Bib Gourmand or a Michelin Star.
They can be upgraded to a Bib Gourmand or Michelin Star, as seen in this year's promotions for Beta, Bibik's Kitchen and Sri Nirwarna Maju.
Dropped from the list of Michelin Selected list this year are Anjo, Cava, OpenHouse and Sushi Kazu.
The list of new Michelin Selected — Kuala Lumpur:
Bōl
Café Café
Entier
Frangipaani
Jwala
Ling Long
Malai
Marini's on 57
Nadodi (previously in the list but mentioned as they have relocated to new premises)
Seed
Shanghai Restaurant
Sushi Masa
Tanglin (Bukit Damansara)
Tenmasa
Teochew Lao Er
Wagyu Kappo Yoshida
New Michelin Selected — Penang
888 Hokkien Mee (Lebuh Presgrave)
Air Itam Duck Rice
Ceki
Fook Cheow Cafe
Jit Seng Hong Kong Roasted Duck Rice
Penang Famous Samosa
Richard Rivalee
Sambal
The Pinn
They join last year's Michelin Selected restaurants, per the Michelin Guide's website which are:
Michelin Selected Restaurants — Kuala Lumpur
Akar Dining
Aliyaa
Bref by Darren Chin
Cilantro
Dominic
Eat and Cook
Elegant Inn
Ember
Flour
Gai by Darren Chin
Hide
Kayra
La Suisse
Li Yen
Limapulo
Marble 8
Passage Thru India
Playte
Qureshi
Skillet at 163
Soleil
Sushi Ori
Sushi Taka
Tamarind Hill
The Brasserie
Ushi
Vantador
Yun House
Michelin Selected Restaurants — Penang
Air Itam Sister Curry Mee
Ali Nasi Lemak Daun Pisang
Bali Hai Seafood Market
Bao Teck Tea House
Bee See Heong
Bite N Eat Dindigul Biryani
BM Yam Rice
Chao Xuan
Curios-City
Fatty Loh Chicken Rice
Feringgi Grill
Flower Mulan
Gẽn
Goh Thew Chik Hainan Chicken Rice
Il Bacaro
Jawi House
Kebaya Dining Room
Kota Dine & Coffee
La Vie
Lao Sang Tong Bak Kut Teh
Misai Mee Jawa (Butterworth)
Pitt Street Koay Teow Soup
The Pinn
Tok Tok Mee Bamboo Noodle
WhatSaeb Boat Noodles
Woodlands
* A previous edition of the story contained an error which has since been corrected.