KUALA LUMPUR, Oct 5 — From the moment our hairy, burly ancestors discovered fire, a simple equation became apparent to us: meat + fire = chest-thumping, ooga-booga-euphoria.
Then skewers got added into the mix — courtesy of some brilliant individuals, no doubt - and centuries later we lucky modern folk get to indulge in everything from shish kebabs to kushiyaki and of course, at the very peak of culinary innovation: the corn dog.
Put the wieners down for a second though, and come a little closer to home to pick up some satay instead.
Disputed origins aside, there's a reason it's so beloved across South-east Asia in all its variety and abundance: it abides by that same primal principle - you get joy and head-tilting happiness when you bring meat on a stick together with fire.
Advertisement
Unlike Indonesia, where satay can vary wildly depending on where you are, satay Kajang has become far and away the most popular variety in KL and beyond, and if you ask most Malaysians, they'll have a go-to spot.
Knowing a good satay spot is like knowing a good doctor — no, it's more important than knowing a good doctor.
The best a doctor can do for you is like, save your life, but the best a good satay spot can do for you is earn you the admiration of your friends, your colleagues, and who knows?
Advertisement
Maybe even the sweet, ambrosiac approval that you've longed for from your family. Inject it into my veins!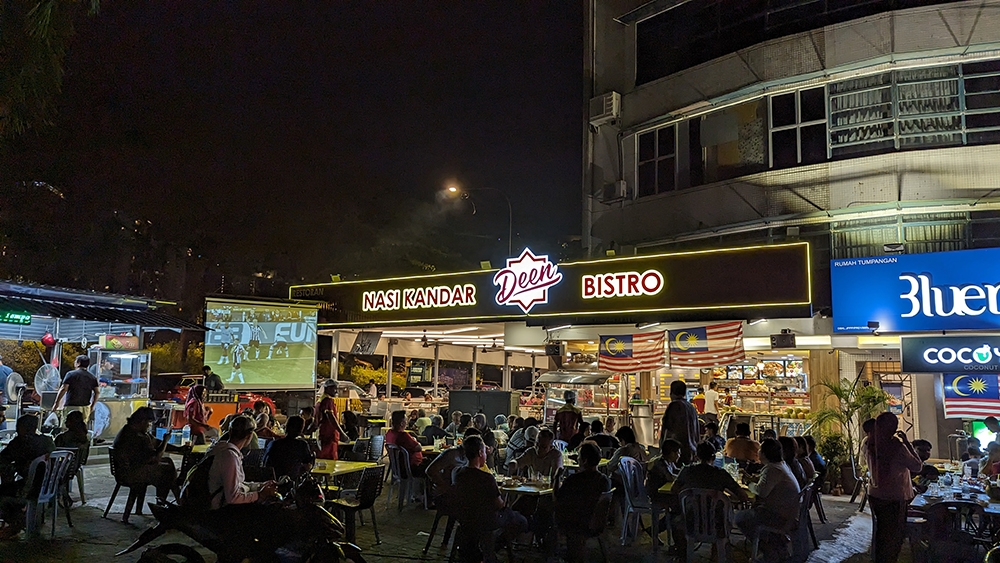 Perhaps I am being a tad hyperbolic.
But Satay Kajang Zai in Hartamas gives three good reasons to inspire such praise: satay ayam (RM1.20 per stick), daging (RM1.50 per stick) and kambing (RM1.80 per stick).
It's located by the front of Nasi Kandar Deen Bistro, and on a good night, it announces itself by smell rather than sight.
Follow your nose and you'll find yourself wading through a sea of people to get to the pot of gold at the end of this smoky, meaty rainbow.
It's a sight to behold: skewers, in the hundreds, lined up on a grill that's long like a conference table.
Inside, licks of flame dance and spit as fat drips down onto the white-hot charcoal, sending smoke in the air that sends all kinds of feel-good signals to your brain.
To better understand why the satay here is so good, it's helpful to know what makes a bad stick of satay.
It usually materialises in one of two ways: soft, limp and tasting like wet cardboard or hard, stringy and tasting like a bitter disappointment.
Safe to say, that's not the case here.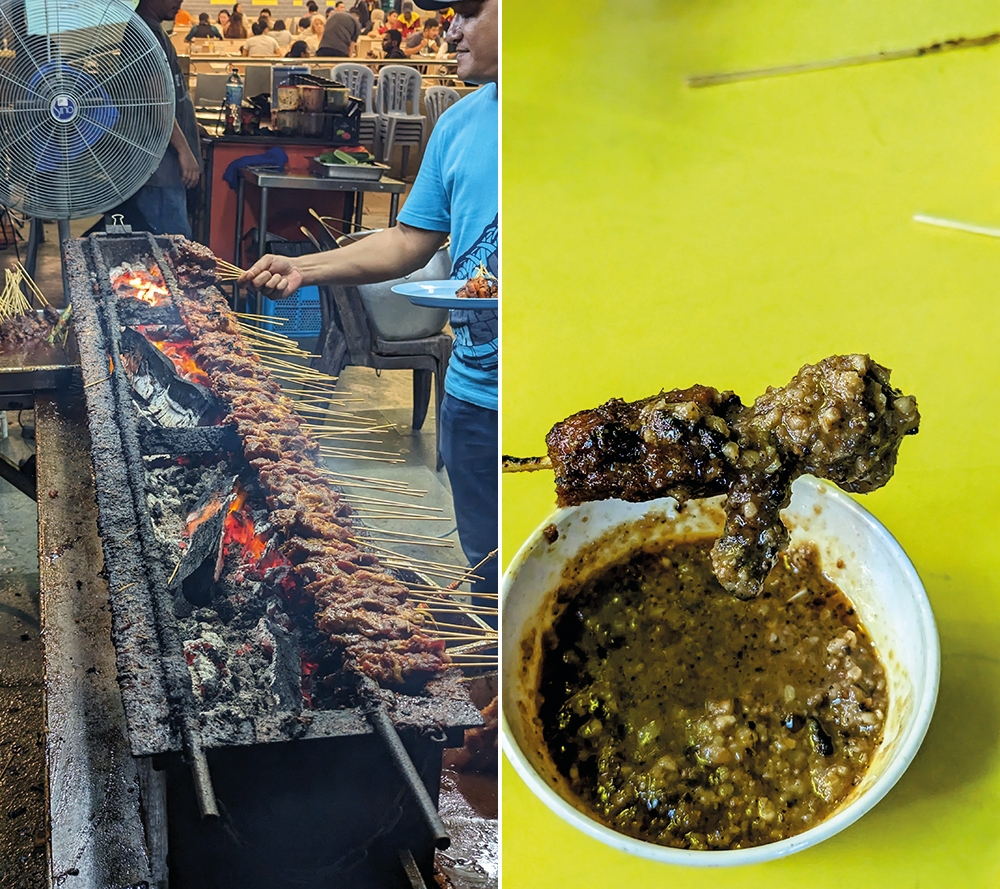 Chicken, usually the blander, leaner meat, is instead a blank canvas on which the marinade can show off, with turmeric and lemongrass standing out the most.
The marinade is on the sweeter side and works remarkably well with the slightly gamey lamb, which I can comfortably say was the best on the night.
As with the lamb, the beef had the perfect ratio of fat to lean meat: when there isn't enough fat, which happens far too often, you get tough, chewy meat that's overdone.
Here, the fat is nicely rendered out, with each drop of grease covering every inch of tender, succulent meat in that glorious smoky aroma from the charcoal.
This yields crisp, smoky charred bits that are worn like badges of honour, the little golden nuggets of flavour that they are.
Last but not least, the peanut sauce is a winner.
Chunky and thick with plenty of peanuts, it's a far cry from the many watered-down versions elsewhere.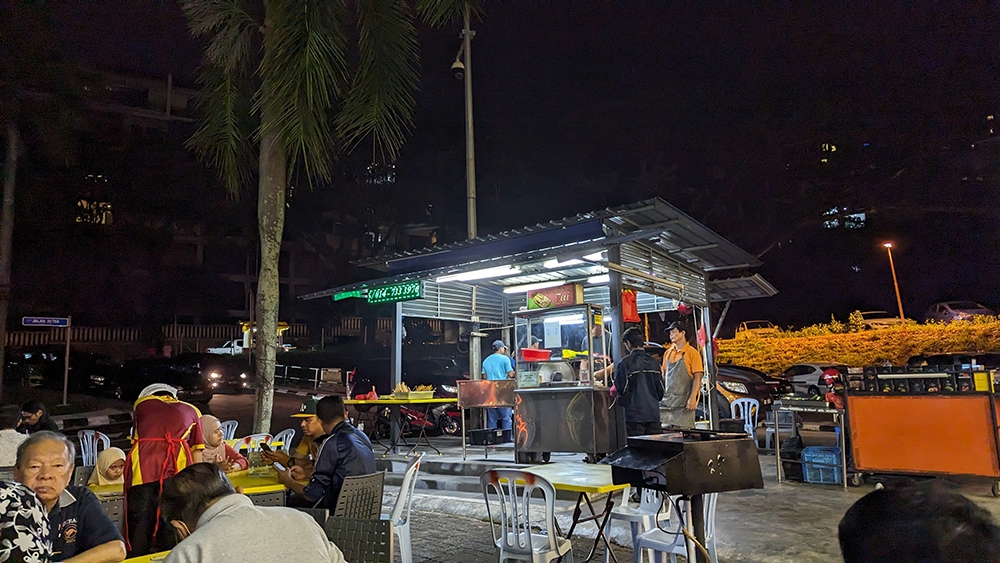 It's really, really good satay, but will it impress your friends? Your family? Maybe your crush from work?
One bite in and you probably won't even care. Go on, take another.
At the end of the day, all that remains is meat, fire and a happy, content human. Ooga Booga.
Satay Kajang Zai
Stall in front of Nasi Kandar Deen Bistro, 2, Jalan 31/70a, Desa Sri Hartamas, Kuala Lumpur
Open daily, 4pm-12am (best practice is to call/WhatsApp to check ahead)
Tel: 018-312 0206/014-733 3976
* Follow us on Instagram @eatdrinkmm for more food gems.