KUALA LUMPUR, June 21 — The Finance Ministry-owned 1Malaysia Development Berhad (1MDB) had cited then prime minister Datuk Seri Najib Razak when urging for Deutsche Bank to help the company quickly transfer out US$1 billion to two overseas accounts in September 2009, and had even gave a specific time of wanting it to be done before 4pm on that day, the High Court heard today.
Jacqueline Ho, former managing director (head of global markets corporate sales) of Deutsche Bank (M) Berhad (DBMB), said this while testifying as the 30th prosecution witness in Najib's trial over the misappropriation of more than RM2 billion of 1MDB funds.
She said 1MDB had on September 29, 2009 provided Deutsche Bank with two documents, including Bank Negara Malaysia's September 29 written approval to 1MDB to transfer out US$1 billion of the company's funds to 1MDB-PetroSaudi's BSI bank account for the purpose of acquiring a 40 per cent share in the purported joint venture firm of 1MDB PetroSaudi Limited in the British Virgin Islands.
Bank Negara Malaysia's approval for transactions above RM100 million is required in order to comply with Malaysia's foreign exchange regulations, with Ho saying that Deutsche Bank had relied on such an approval as Bank Negara Malaysia was known to be stringent in approvals of transactions for investments abroad.
The other document provided to Deutsche Bank was a September 26, 2009 1MDB board meeting minutes where the directors approved then 1MDB executive director Casey Tang as the authorised officer to approve and execute the US$1 billion transaction to be transferred specifically to the joint venture firm's account.
However, on the morning of September 30, 1MDB officials informed Deutsche Bank to transfer out the US$1 billion of 1MDB funds to two bank accounts instead, with instructions to split the funds into two transactions of US$300 million to a JP Morgan bank account and US$700 million to an RBS Coutts bank account without telling Deutsche Bank who were these account holders.
Ho today spoke of multiple efforts and steps taken by Deutsche Bank to check on the sudden change in instructions for the US$1 billion before it made the transfers, including obtaining confirmation that Bank Negara Malaysia had approved this change.
Upon checks by Ho, Tang had claimed that both accounts belonged to the joint venture account 1MDB PetroSaudi, while 1MDB staff Stephenny Chow — who was introduced by Tang to Deutsche Bank as the person who would be liaising with the bank on the remittance or overseas funds transfer instructions — in an email said that the JP Morgan account belonged to the joint venture firm and the RBS Coutts account belongs to PetroSaudi International.
While explaining it is not the practice of banks to carry out due diligence on the recipients of funds as those are not their clients, Ho said Deutsche Bank had also carried out the standard checks to ensure that both the joint venture firm and PetroSaudi International were not on any list for sanctions or criminal watch list.
As Chow said the names of the account beneficiaries should be omitted from the remittance instruction or the funds transfer paperwork, Ho said Deutsche Bank had asked for an explanation and that Tang had then claimed this was a directive from 1MDB's joint venture firm PetroSaudi International.
After being asked by Deutsche Bank to provide a revised approval, Tang then came to Deutsche Bank's office with a new written approval from Bank Negara Malaysia on September 30 itself to confirm that the US$1 billion of 1MDB funds would be sent out in two transactions to the two accounts in JP Morgan and RBS Coutts.
Ho said Deutsche Bank's then CEO Raymond Yeoh had also contacted a Bank Negara Malaysia official named Wan Hanisah on the US$1 billion being split to two entities and that the latter had said it was 1MDB's business decision, explaining that Deutsche Bank then understood it to be that the central bank did not object to these transactions and that these were in compliance with the central bank's foreign exchange rules.
Ho said Tang had asked Deutsche Bank to carry out the US$1 billion transfer as soon as possible as it was allegedly a government-to-government transaction.
"Later, Casey Tang continued to persistently press upon DBMB again, that DBMB needed to speed up the money transfer process as the then prime minister, Datuk Seri Najib Tun Razak, wanted to make a press statement on the 1MDB joint venture project with PetroSaudi International Ltd. As such, we were urged to accelerate the US$1 billion remittance process into those two accounts," she said today.
Najib's lawyer Wan Aizuddin Wan Mohammed objected to this part of Ho's testimony on Najib's press statement as allegedly being hearsay, but went on to ask how this had happened.
Ho said Tang had came to Deutsche Bank's office — which is in the same building as 1MDB's office — and made the request to quickly carry out the transaction.
"He said can you all process this transaction quickly, we are going to sit here and wait and give us the confirmation, can you do it before four, because the press statement by prime minister, he's going to announce it, we need transaction to be done before that," she said.
Aizuddin: This purported representation by Casey motivated you to undertake this transaction as soon as you can?
Ho: I don't think — I guess yes and no. In the sense we would have done it on that day anyway, it would go through a queue, for US$ transactions we would probably finish it by around five or six something in the evening, but because he wanted it done before four, I had to ask my operations to prioritise the remittance before other clients.
Aizuddin asked if Deutsche Bank would have delayed the US$1 billion transaction until the next date or if her conduct would have been different from the normal process if Tang had not mentioned the prime minister wanting to make the press statement.
Ho then said Deutsche Bank would certainly not have delayed it to the next day, as the client 1MDB via its officer Tang had "given very strict instructions to send it out on 30th" September and that there was no way the bank would have delayed it.
Asked if she knew how Najib fit into the entire 1MDB matter then, Ho said: "At that point of time, we were told this is an important G2G (government-to-government) transaction, the bank was under the impression that 1MDB would be like Khazanah Nasional in the sense it would be a government investment vehicle.
"So from that point, obviously since it is owned by the Ministry of Finance and Datuk Seri Najib was finance minister as well, so it's only natural that he would want to give a press statement about a large investment," she said.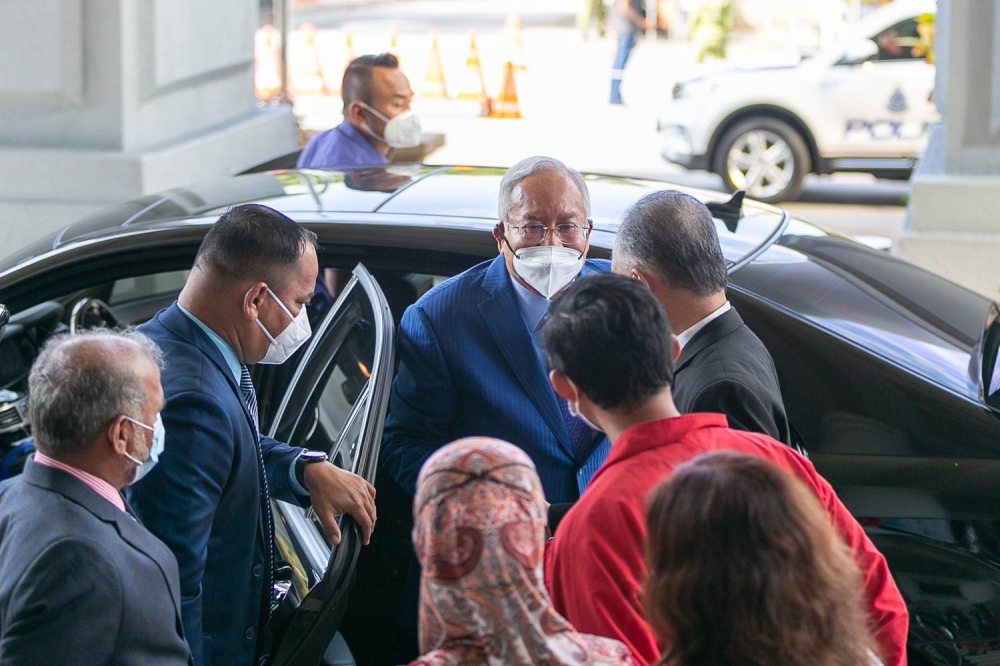 After the US$1 billion transaction was completed and the funds were sent out to the two bank accounts at around 3pm that day, Ho said she had checked and found that the press statement was indeed made at around 4pm the same day based on an online version of a news article.
She said she had passed the news article to Deutsche Bank's compliance department in an email thread as part of documentation on the client 1MDB's representation that they have a joint venture and investment and the public announcement about it.
Among other things, Ho said 1MDB had insisted on leaving out the name of the two accounts' holders that would be receiving the US$1 billion sum from Deutsche Bank's remittance instruction, and that Tang had even said it was 1MDB's external lawyers who instructed for the remittance instruction to be in that form.
Even though Ho had said it was unusual as remittance instructions typically would have the bank account number and name of beneficiary to enable the receiving bank to check if the money was transferred to the correct account and that such a bank would likely reject such transfers if no beneficiary name is given, she said Tang had said 1MDB was willing to bear the risk.
In hindsight, Ho said she now knows that the US$1 billion transaction was for fraudulent purposes.
Asked if she now knows whether the status of the US$1 billion investment was a true investment as well as based on what she had read in the news about 1MDB and what authorities had hinted or told her during the 1MDB investigation, Ho said: "I guess what was hinted or implied, it was fraud essentially, yeah." She agreed the US$1 billion that was supposed to be sent to the purported joint venture firm 1MDB-PetroSaudi had instead went elsewhere.
It was only a couple of days after the US$1 billion was sent out that Deutsche Bank had found out that one of the accounts — which received US$700 million — was actually Good Star Limited, instead of PetroSaudi International as claimed by 1MDB initially on the day of the transactions. At that time, Deutsche Bank had asked 1MDB but 1MDB had claimed Good Star was a subsidiary of 1MDB's purported joint venture partner PetroSaudi International Limited.
Aizuddin: Now I come back to this hindsight thing, so you now know for a fact that US$700 million was wrongly sent and Good Star is an entity owned by Low Taek Jho?
Ho: Yes, correct.
On October 2, 2009, RBS Coutts had emailed Deutsche Bank to ask for the beneficiary name of the account which received the US$700 million, with Ho then asking 1MDB if she could release the name to RBS Coutts.
It was on October 2 that 1MDB's then CEO Datuk Shahrol Azral Ibrahim Halmi had replied to say the US$700 million recipient account was owned by Good Star Limited, with Ho then having asked why 1MDB had given the different beneficiary name on the day of the funds transfer on September 30 and Shahrol then said it was PetroSaudi which wanted the funds sent to its purported subsidiary Good Star.
Explaining why Deutsche Bank could not check on Good Star's identity, Ho said: "We can't check that because Good Star is not our client, 1MDB is our client and we have to trust the representation of 1MDB. As CEO of 1MDB, he said this is a subsidiary of PetroSaudi International and PetroSaudi International Limited wants it transferred directly to the subsidiary, we take that as good because at that point, we did not have any cause to distrust whatever 1MDB was telling."
Ho confirmed that Deutsche Bank had updated Bank Negara Malaysia about the change in beneficiary to be Good Star, and confirmed she was not aware of any adverse reaction taken by Bank Negara Malaysia in response to such information.
She confirmed that Deutsche Bank had also at that time conducted checks on Good Star and similarly found it was not subject to sanction or on any criminal watch list.
In this trial, a lawyer appeared today to hold a watching brief for Deutsche Bank.
On the first day of trial, the prosecution had said it would show that US$24.5 million of the US$700 million to Good Star had ended up with a "Prince Faisal", who had then allegedly transferred US$20 million (equivalent to RM60,629,839.43) to Najib's personal bank account in two transactions of US$10 million each in February 2011 and June 2011.
As for a US$110 million which Deutsche Bank helped 1MDB to convert from ringgit on May 27, 2011, Ho confirmed that 1MDB had on the same day instructed Deutsche Bank to transfer the US$110 million to an RBS Coutts bank account number with the beneficiary name stated as only "11116073.2000".
Among other things, Ho said Deutsche Bank had asked 1MDB who the account holder was and that 1MDB had at that time concealed the actual identity of the account holder by naming another beneficiary, and that she now knows that the account is actually owned by Good Star.

Lee Ann Ting, a relationship manager at the financial institution unit at Standard Chartered Bank Malaysia Berhad, today testified as the 31st prosecution witness.
Najib's 1MDB trial before High Court judge Datuk Collin Lawrence Sequerah resumes tomorrow, with the prosecution saying that former finance minister II Datuk Seri Ahmad Husni Mohamad Hanadzlah is expected to be cross-examined tomorrow and that another banker would be called in to testify.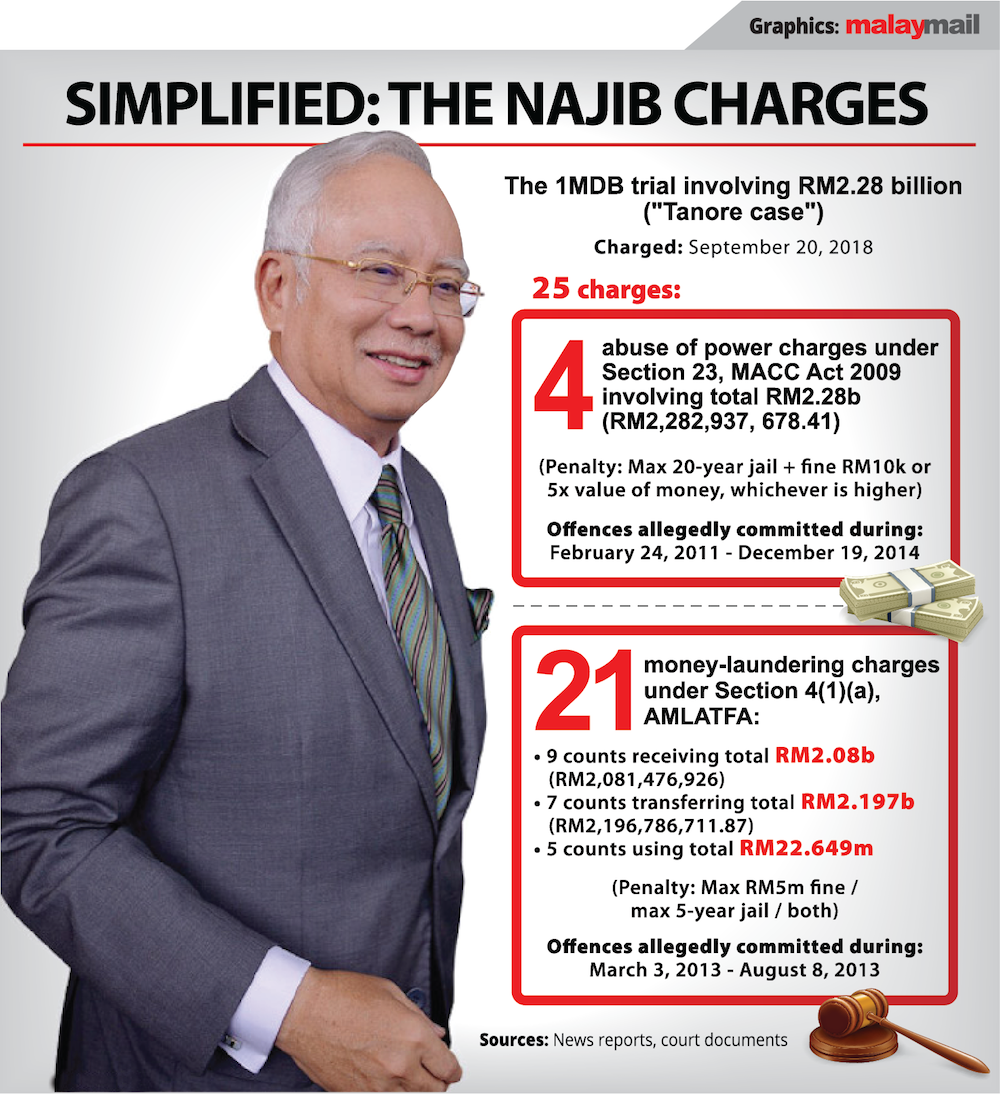 MORE TO COME